These aren't your usual electric bike reviews. I've used and sold electric bikes for nearly two decades and I want to share with you which are the best electric bikes and the worst electric bikes I've seen over that time.
After helping thousands of customers over the years, I know which electric bikes have given the most joy to owners and which have been the most trouble. This is my personal pick of the best electric bikes I've encountered over the past two decades.
Some manufacturers have made bikes that appear in both lists. Some manufacturers have improved over time, some have not. Occasionally there have been design dead ends. There are also some electric bikes that have proved perfectly reliable and satisfying for years.
If you're searching for a new electric bike or have seen a used one that looks like a good deal, take time to read this first.
We also list the electric bikes with known problems that it's best to avoid. It could save you a lot of money and disappointment or encourage you to spend a little extra to secure something special.
The lists are in approximate chronological order, oldest first. If a price is given, it's the price when new at the time.
The Best Electric Bikes
Honda Step Compo 2001-2003
One of the very earliest folding electric bikes and still doesn't look too dated. It was very light, well-designed, using the type of motor that eventually became near-universal and even spawned a few copies.
Rumour has it that it began life as a pit bike for the Honda Formula 1 team but soon found its way into Japanese consumer electronic stores. Never officially exported outside of Japan a small market for grey imports sprung up in the early-2000s in the UK and USA.
What stopped it being the perfect e-bike for everyone? Well, it was rather small for most US & UK adults to ride, it only came with a short-range battery with limited speed and only 3-gears to choose from. The tiny wheels, 16-inch like the Brompton folder's, could make for a shaky ride on potholed streets.
But as a last-few-miles transport between mass transit and your ultimate destination, it was the best thing going in at the beginning of the century. You could even ride it without a battery (my girlfriend at the time happily rode it in London unpowered). Reliable too.
A magical electric bike for its time that has never really been bettered.
eZee Quando 2003- present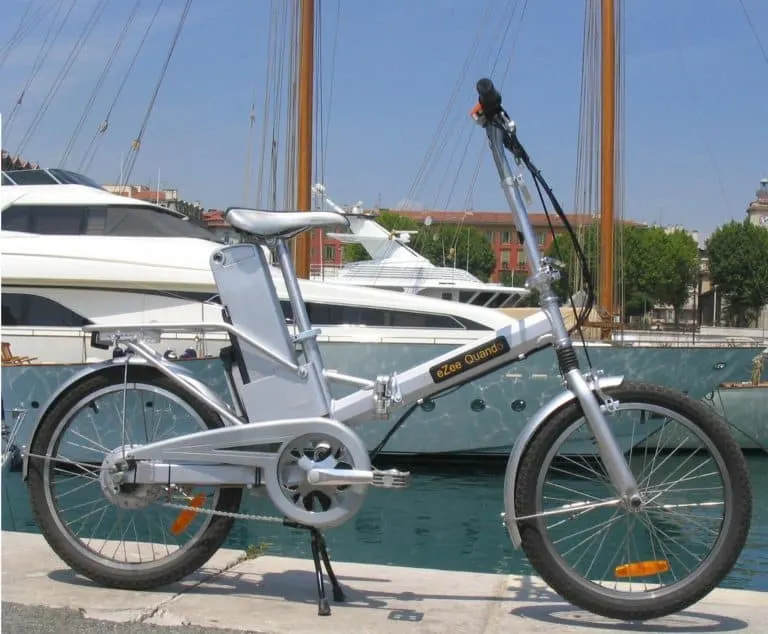 Folding electric bikes were surprisingly common in the early days. The Quando was unusual in that it had a larger-than-average battery capacity, came fully equipped with lights, mudguards, luggage rack and was operated by a twist throttle.
It was a viable folding electric motorcycle that whizzed along at… well, it was hard to tell as there was no speedo, just a sequence of red, amber and green battery lights. It also had only a single gear in its original form.
Heavier than the Step Compo but still just about possible to carry on and off a train without injuring yourself or anybody else. I had a lot of fun on an eZee Quando.
Always popular with RV owners, private pilots. I wish I still had one.
Here's the original review from A to B magazine, published 2004
Kalkhoff Pro Connect 2008-2011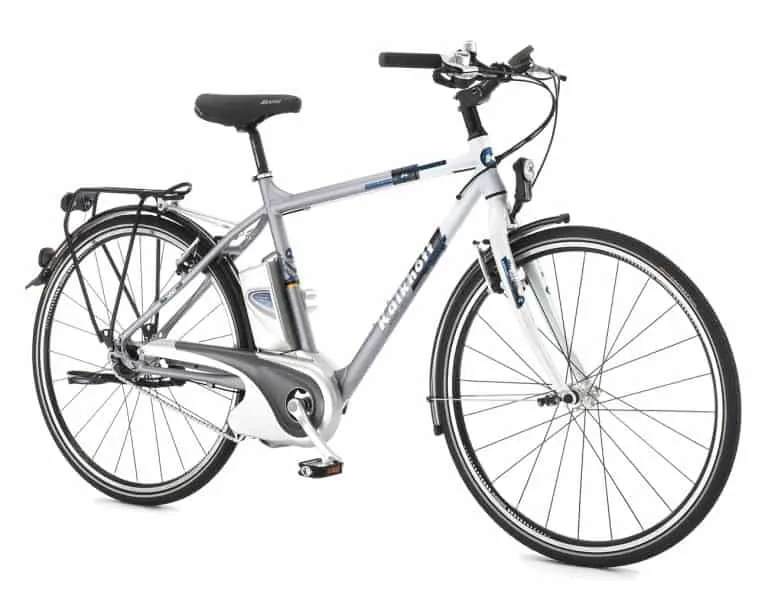 There was a time when Kalkhoff, the most prominent brand out of Derby Cycle in Germany, made arguably the best electric bikes in the World. We call it Kalkhoff's Golden Age.
It didn't last though, as we shall see in our next article, but they had a very good run for 4 or 5 years. We'll look at three of their best bikes next.
First, the Pro Connect was a genuine breakthrough in 2008. It was lighter, more capable and better-looking than almost anything on the market, the possible exception being similar bikes from Swiss Flyer, but they were around 50% more expensive and harder to find.
One of the first European bikes to come fitted with a Lithium-ion battery it made good use of a Panasonic centre motor, though only the 26-volt version. However, this was plenty for most people and its reliability was legendary. There are still hundreds, maybe thousands of Panasonic-powered bikes from this era still in use.
Kalkhoff Agattu 2008-2011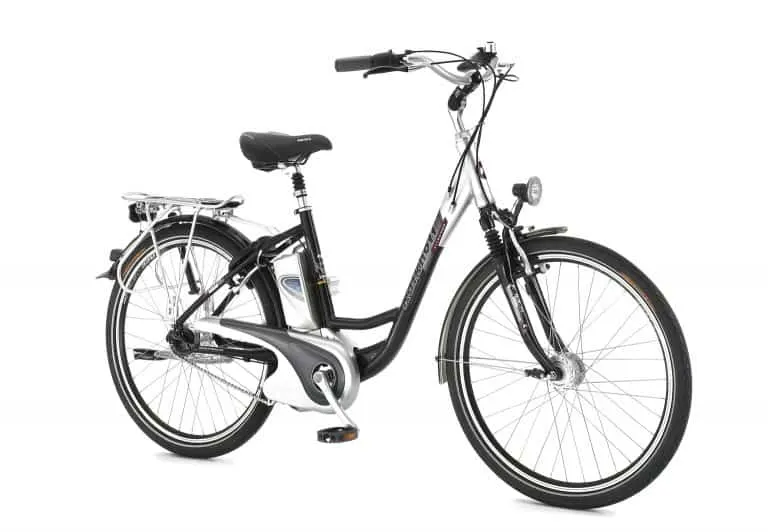 The sister bike to the Pro Connect, released at the same time and aimed at providing convenience and comfort.
But the Agattu's record would be blighted by what Kalkhoff did next, so if you see an Agattu on the market check that it has a Panasonic and possibly a Bosch motor, or a very late model Impulse motor. But even then, Impulse is probably best avoided.
These Panasonic-powered models and variations like the Tasman and Connect Lady were the best in class in their day and sold accordingly. Itself an update of the legendary Giant Lafree, it has been much-imitated and improved upon since then.
Kalkhoff Endeavour BS10 2012 – 2014 Speed Pedelec
Most electric bikes whizz along at about 15mph but some are capable of assisting to almost twice that speed. These are known as Speed Pedelecs and are sometimes denoted by the letters "HS" or the number "45" in the model name. The 45 means 45 kilometres per hour, the equivalent of about 28mph.
Fast e-bikes are downright illegal in some territories. In other places, like the UK and Europe, they can be registered, insured and used on roads with the right licence. In a few places they can be used without restriction – Denmark went this way recently.
If you are able to ride a fast e-bike or speed pedelec legally, you are in for a treat because high-speed assisted cycling is one of the most thrilling ways to travel.
Kalkhoff produced a couple of speed pedelec models before the Endeavour, notably the Pro Connect S10 and Pro Connect S27. But it was their Endeavour BS10 which proved to be their first truly viable, high-performance pedelec.
It didn't have the longest range or the most sophisticated equipment but it was light, fast and very reliable. It became one of the best-loved Kalkhoff models of any type and many of them are still conveying their owners around at incredible speeds even today.
If you ever see one for sale it's definitely worth considering – take a test ride, check the battery and follow our other used electric bike tips. Ex-demonstrator e-bikes can be a good way to find an older model.
Winora Yakun Tour 2017 – present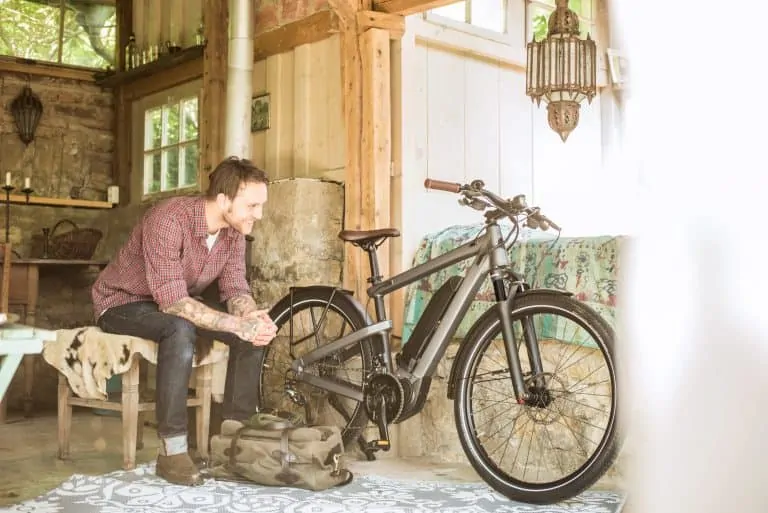 Its looks don't appeal to everyone but this is a powerful, durable, very rideable e-bike and a bit of a dark horse.
What sets the Yakun apart from other Touring bikes is its Yamaha PW-X motor. Usually, you'd only find this motor on high-end electric mountain bikes, rides that were stripped of lights, fenders and all the equipment that makes a bike suitable for daily use or long tours.
But for some reason, Winora decided to fit that sporty motor to this bike. Even better, 2020 versions will come with the even better Yamaha PW-X2. The only drawback is that its range is limited by the 500Wh battery, with no larger options available.
Winora isn't a well-known brand outside the German market, but if you find a local dealer selling this bike, it's well worth test-riding and adding to your shortlist.
Here's the 2020 Winora Yakun Tour
Riese & Müller Roadster HS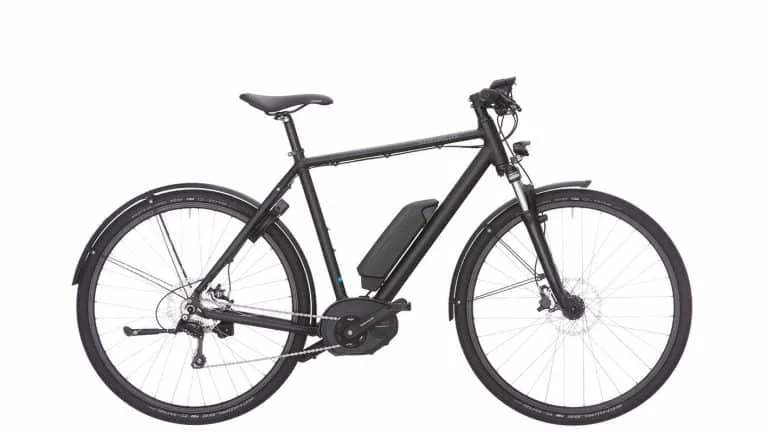 The Roadster is Riese &Müller's take on the concept behind the Kalkhoff Endeavour BS10, but with an upgraded motor, battery and safety equipment. Being a later model it came with a larger battery pack, more refined motor and improved safety features.
Piercing front and rear lights, which are vital on something that moves this fast. You need to see a good distance ahead and you need to be seen by other cyclists, pedestrians and drivers.
Riese & Müller are rightly famous for producing bikes to a very high quality and they made some good choices on this bike, right down to the tyres which are the relatively rare but highly-desirable Schwalbe G-Ones. Check them out on Amazon
The Roadster also has the distinction of being one of R&M's less expensive models. With some of their e-bikes touching the $10,000 mark, that makes this great value because you're still getting a machine that lives up to its badge.
Riding a fast pedelec is the closest thing to teleportation – you get on, you ride, the scenery flies by pleasantly, you arrive, feeling energized!
No-name Transverse Flux Drive Bike
This was a bike the never went into production but gave one of the best ride experiences I've had. Swedish firm Hoganas dipped a toe into the electric bike motor market in the early 2010s and offered something technically different to everything else on offer.
TFD motors are 20% more efficient and 50% more powerful than regular ebike hub motors, with abundant torque. It's a shame they're not more widely used.
If you hear of a production bike with a Transverse Flux motor, let me know in the comments and add it to your shortlist. Ohm Cycles did offer bikes with this technology around 2013, but have since switched to mid-motors like most other manufacturers.
Cube Kathmandu 2016 onwards and upwards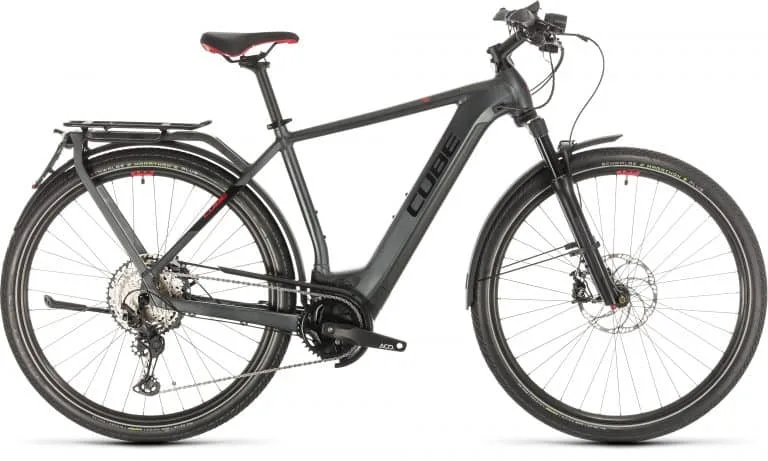 One of the best and most complete all-round electric bikes to hit the market in recent years. Cube is best known as a cycle sport brand – whether its road bikes or all-terrain models, they're popular, good-looking and well-priced. Recent years have seen them take a serious shot at the electric bike market.
It was introduced in 2017 with just a couple of variations but Cube have announced at least 40 versions of the Kathmandu going into 2020! With 625Wh batteries. It's the perfect all-rounder- great for touring, commuting, riding to the shops and wherever you want to go.
It's simply a really good all-round e-bike, versatile enough for Cube to create dozens of variations, all with 500Wh and 625Wh integrated batteries (a big improvement on the frame-mounted pack of the first generation), in a range of frame styles and sizes. I'm really pleased to see they now offer a high-speed version too.
The latest version of the Kathmandu Hybrid Pro 500 is only £2499 or a little over $3000 and there are now Cube dealers in the States.
There are so many Cube Kathmandus for the 2020 season!
Ubco 2×2 Dual Use Electric Motorcycle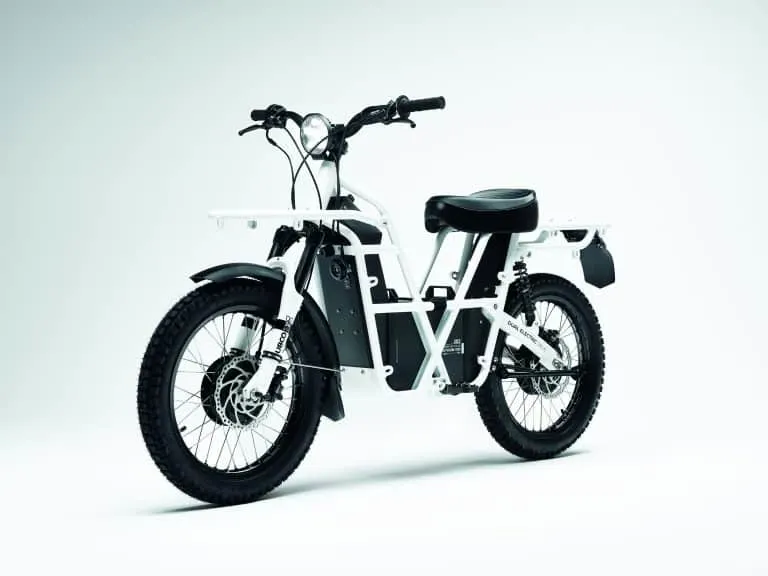 The Ubco 2×2 is not an electric bicycle in the strict sense, but it is a very interesting machine and one of the best rides I've had in recent years. Designed for use in the wilds of New Zealand, it's also found a market in USA and Australia, with availability across Europe likely to follow soon. It's already possible to hire Ubco in the UK.
The Ubco started life as a pure twist-and-go off-roader but the designers have since added equipment that makes if road legal. You could ride around the Ubco around your city all week and then take off into the wilderness at whenever you need to.
The Ubco is happiest when out hunting, on conservation duty, giving tourists unforgettable experiences or even strapped to the back of an RV on the way to the next adventure. The high capacity battery can be used as a standalone power supply for your tools and equipment.
With its highly-functional design, all-wheel drive and the potential to use as a powerplant out in the field, it's a two-wheeled version of the Tesla Cybertruck.
Some of my happiest times on two wheels were spent tearing around the local countryside astride my Ubco. I had to give it up (a customer made us an offer we could not refuse), but I still think about it often.
There's nothing else quite like Ubco's machine on the market and we should be seeing a lot more of them in all sorts of roles and settings throughout the 21st century.
I've written more on the Ubco 2×2 here
What makes a good electric bike?
Reliability, reliability, reliability
You need to be certain that your e-bike will be available to provide great service, day after day. There are plenty of horror stories of new bikes disappearing into a workshop for weeks or months on end.
A good strong motor, battery and gears
A super-reliable bike won't make you happy if, even at its best, it doesn't thrill you. I've tried some e-bikes where the assistance has been so weak it was hard to be sure it was switched on at all. Others give you great acceleration from a standing start but then fail to tackle a modest hill or fade after 15 or 20 miles.
All the bikes chosen here were more than equal to the task they were designed for. The Honda is no long-distance runner, but it was a super e-bike for short journeys and "last mile" travel from train to office. You wouldn't want to tour the Alps on it, but you would never buy it for that purpose. So think about how you will use your electric bike and shop accordingly.
There are some bikes though that are so good they excel at anything and that is what we've tried to choose here.
What do you think is the best electric bike of the 21st century so far?Let us know in the Comments below!
Coming soon… the worst electric bikes of the 21st century