How to use maca powder the right way
Amazon delivered 700g of Raw Maca Powder about two hours ago. I put two teaspoons (that's around 5 grams right? OK, more like 10…), a heaped teaspoon of raw organic cacao powder and a little Truvia sweetener into a mug. I then emptied two capsules of turmeric powder into it, before whisking it up with full-fat milk into a thick paste. More milk loosened it up.
It was good, ice cold, with a subtle butterscotch taste. The maca powder balanced-out the earthy turmeric really well. Within half an hour my energy and concentration increased. This post is powered by maca!
Maca benefits
So, maca. Or, Lepidium meyenii. What gives it energy-boosting powers? Well, there's a whole constellation of plant compounds in every spoonful. The glucosinolates you'll find in all brassica plants.
But there's also something called (1R,3S)-1-methyltetrahydro-β-carboline-3-carboxylic acid, or MTCA for short. Research shows MTCA in Maca improves memory and learning in mice, even having a favorable effect on the experimental mouse model for Alzheimers. Maca contains several more beneficial compounds, some of which have anti-carcinogenic properties.
Then there are the well-known hormonal and libido-boosting effects of maca powder recipes. That may have been what brought you here today!
How to use maca powder
There are plenty of ways to get your dose of Maca: maca smoothies, energy balls, lattes, cookies, muffins, even a maca soup. Or, you could just whisk it up with whatever's to hand, as I did.
Article photograph by Trang Doan from Pexels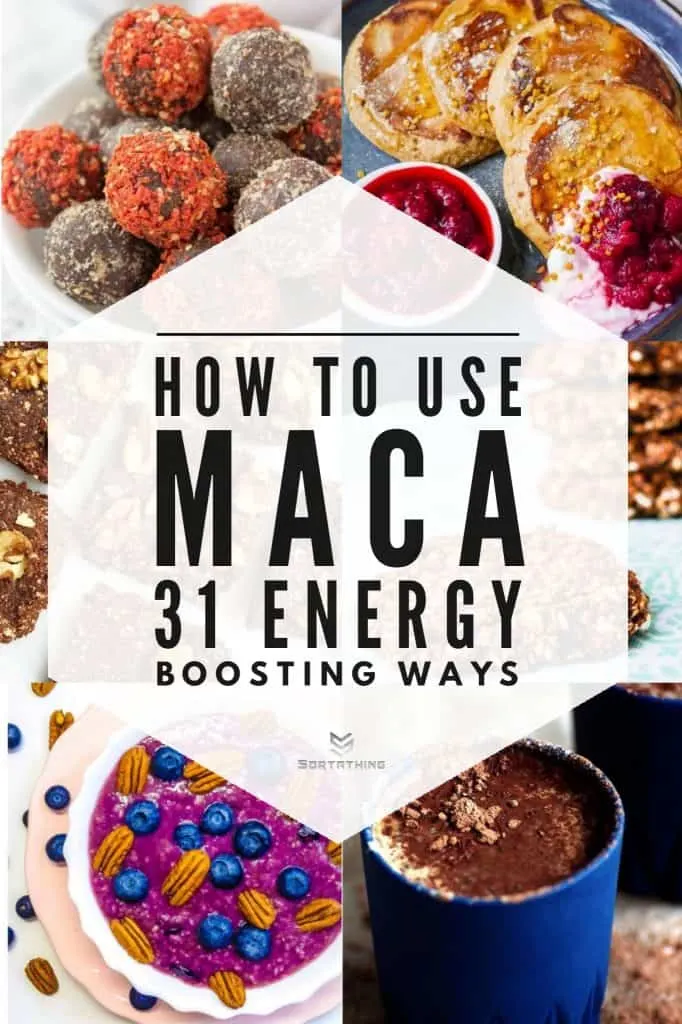 1. Superfood Maca Latte
A sweet and creamy pick me up that gives you energy without the crash that comes with caffeine. Maca has been known to increase energy, regulate hormones, and reduce inflammation. Easy to make with five ingredients and onyl one simple step!
From: Catching Seeds
2. Sex Coffee
Wake up with this surprisingly simple recipe for how to make sex coffee: a cup of java, maca, cacao, and cinnamon. These raw foods have been used since ancient times to support the libido and if you're not mixing these into your daily diet, you're missing out on some seriously sexy benefits.
From: Your Tango
3. Berries & Maca Powder Smoothies
In powder form, this Peruvian 'ginseng' will boost your energy, help to keep hormone balanced (good for fertility too) and keep blood pressure low. With raspberries, strawberries, banana, coconut water and a couple teaspoons of Maca powder, a wholesome Berries and Maca Powder smoothies is born.
From: My Keuken
4. Iced Maca Chai Latte
Chai spices give this latte a little kick, but the cold, sweet creaminess also gives a nice balance. Perfect for hot days. This recipe uses coconut sugar and almond milk, but you can use whatever sweetener and milk you would like. The secret weapon in this recipe is definitely the MACA.
From: Wheatless Kitchen
Udderly Adorable Insulated Mug
5. Vegan Paleo Miracle Maca Latte Recipe
This maca powder recipe is perfect for natural energy, fertility, PCOS, and hormonal balance. It's the perfect caffeine-free pick-me-up or replacement for your morning coffee.
From: 40 Aprons
6. The Ultimate Aphrodisiac Smoothie
The recipe serves two people 😉
From: The Roasted Root
7. Maca Dandelion Tea Latte
Not a fan of coffee? We have just the drink for you .Enter the Maca Dandelion Latte. It's a combination of maca, macadamia nut milk and dandelion tea, but you could easily sub in any nut milk you prefer. So, whether you add frothy macadamia milk, hemp milk or almond milk, drink this delightful pick-me-up and enjoy the beautiful day.
From: Vitacost
8. Espresso Maca & Banana Smoothie
Energise with this Espresso and Maca Banana Smoothie. It's Gluten free, dairy free and vegan-friendly. A great healthy snack or breakfast.
From: Nourish Everyday
9. Blueberry Maca Smoothie
Everyone knows that blueberries are full of antioxidants. Not as well-known (but just as much of a nutritional powerhouse), maca root is full of vitamins, minerals, antioxidants, and phytonutrients that can assist the body in so many different ways.
Its nutrient density has been accredited to its extreme surroundings, the tops of the Peruvian Andes, where few other plants can survive.
From: Down to Earth
10. Sweet Potato & Maca Soup with Harissa
This Sweet Potato & Maca Soup is warm and comforting, with a superfood bonus: antioxidant-rich spices, healthy fats from coconut oil and almond butter, garlic and sweet potatoes, fiber-packed chia seeds and maca, which is an adaptogen.
From: Hello Veggie
11. Vanilla Maca Bliss Balls
Easy to make, but they also give a great energy boost between meals, before or after the gym, or when the late night munchies hit.
From: A Sunshine Mission
12. Coconut Cashew Maca Granola
A satisfying granola sweetened with maple syrup and tasting like a mix between caramel and butterscotch from the infusion of maca powder.
From: Edible Perspectives
13. Mocha Maca Matcha
Triple M! Mocha maca matcha it the perfect healthy pick me up drink to start your morning. Full of healthy, energizing ingredients and you can make it in minutes.
From: My Life Cookbook
14. Raw Prune & Maca Truffles Recipe
Naturally sweetened with prunes and maple syrup, these truffles are packed with nutritious ingredients, vitamins and fiber.
From: Cooking LSL
15. Cacao Maca Superfood Bites
These cacao maca energy bites are for anyone who wants a nutrient-packed snack that's sure to satisfy your sweet tooth and power you through your day.
From: Veggies by Candlelight
16. Happy Hormones Hot Chocolate
This simple recipe is an easy way to get more maca into your diet, the Peruvian superfood that is great for equalising your hormones.
From: Home-Spun Capers
17. Vegan Keto Magic Mushroom Maca Fat Bombs
Packed with ingredients to really wake you up and fuel your day with fat and adaptogens. The adaptogens come in the form of cordyceps (a medicinal mushroom known to help improve athletic performance), and maca (a tuber known for balancing out sex hormones).
From: Meat-Free Keto
18. Raw Chocolate Chip Maca Blondies
If you are looking to up your superfoods game, then these Raw Chocolate Chip Maca Blondies are for you. Maca works great with chocolate, especially raw cacao.
From: The Organic Dietitian
19. Maca & Coconut Flour Pancakes
Maca and coconut flour pancakes for one are super easy and quick to make. Gluten-free, dairy-free and paleo-friendly. A delicious healthy breakfast.
From: Nourish Everyday
20. Chocolate Peanut Butter Maca Truffles
These chocolate peanut butter maca truffles are the perfect treat to grab when you're craving something a little sweet. Dates, cacao poweder and of course maca powder make this a wholesome recipe.
From: Fit Living Eats
21. Maca Power Bars
As well as maca, these power bars are loaded with other superfoods like almonds, chia seeds, and hemp hearts to keep your energy levels soaring!
From: Choosing Chia
22. Ginger Mocha Maca Latte
A super-easy morning drink to make. You don't need any fancy equipment. Just combine your maca powder, cocoa powder, and ground ginger in the blender with a cup of regular vegan milk.
Personally, I used an aerolatte, so no need to pour it out of a blender, which wastes some of the goodness anyway. Keep it one-cup!
From: Glue & Glitter


23. Vegan Maca & Hemp Chocolate
A deliciously malty maca and hemp seed chocolate recipe. Vegan and made using coconut sugar. The recipe page is PACKED with useful information on maca, cacao and the other ingredients.
From: Trinity's Kitchen
24. Maca Choco Chip Pumpkin Muffins
Got to have a muffin recipe and this is a good one.
From: Choc & Juice
25. Maca Mocha Chia Pudding
Grind up the chia with lots of goodness like Maca powder, cacao powder and espresso powder for a maca mocha chia pudding that will, if you wear socks, knock them right off!
From: Little Bits Of
26. Banana Nut Maca Energy Bites
An excellent no-bake snack, these Banana Nut Maca Energy Bites will give you an extra boost to power through your day. Paleo, gluten-free, filled with fruit, nuts and sweetened with dates and honey/
From: My Healthyish Life
27. Raw Five-Ingredient Maca Brownies
Raw Maca Brownies made with 5 easy ingredients and ready in less than 30 minutes. Simply throw all the ingredients into your food processor, pop them into the fridge and they're done.
From: Rachl Mansfield
28. Turmeric Maca Cacao Energy Balls
Packed with powerful superfoods, these Energy Balls are simple yet delicious snack that is both satisfying and good for your health. Nutty and sweet, these little power balls are the perfect energizing, good mood snack.
From: Natalie's Health
29. Cacao & Maca Oat Cookies
No eggs or dairy. No sugar or chocolate either. These superpowered cacao & maca oat cookies are charged with natural goodness only.
From: Made by Luci
30. 10-Minute Vegan Blueberry Oatmeal with Maca & Pecans
Replete with healthy fats, minerals, vitamins and fiber, this10-minutee vegan blueberry oatmeal with maca powder and pecans tastes just like blueberry pie. A nutritional powerhouse of a meal that still tastes like dessert!
From: The Loopy Whisk
31. Energizing Maca & Cacao Overnight Oats
Creamy overnight oats get an energizing, mood-balancing boost thanks to cacao and maca. This is the ideal grab-and-go breakfast when you need something as rich and satisfying as it is nourishing.
From: Blissful Basil
If you liked this article on how to use maca powder, we also cover three other superfood powders
References
The Methyltetrahydro-β-Carbolines in Maca (Lepidium meyenii)
Preservation of Cognitive Function by Lepidium meyenii (Maca) Is Associated with Improvement of Mitochondrial Activity and Upregulation of Autophagy-Related Proteins in Middle-Aged Mouse Cortex