We've noticed an explosion of interest in mushroom recipes. They're finding their way into coffee, supplements and low-carb meals. Mushrooms are literally flavor of the month.
Even magic mushroom compounds (like psilocybin, baeocystin and a really fascinating one called aeruginascin) are moving out of the shadows, into the laboratory and the therapy room. The role of fungus in disease is being studied too – could fungal infection be a cause of dementia?
Being almost fat-free, mushroom recipes are not the obvious choice for a ketogenic diet. But they do make high-fat food more palatable by soaking up grease and adding great texture. They're rich in protein and offer a full deck of vitamins and minerals, plus potent antioxidants like ergothioneine.
Best of all, mushrooms are very, very tasty when matched with the right ingredients and seasoning. Here are 22 keto-friendly ways to enjoy them.

1. Giant Puffball Mushroom Parmesan
The giant puffball is a whitish, Styrofoam-like globe as small as a softball or as large as a beach ball, with short, root-like mycelial (fungal) fibers connecting it to the ground. It's a little-known fact that puffballs are edible mushrooms – as long as they are completely white the whole way though. And with no poisonous look-alikes, they are ideal for beginner mushroom hunters!
From: Health Starts in the Kitchen
2. Spicy Thai Puffball Mushroom with Pork
Thai puffball mushroom is an exotic food I recommend you to experience. Spicy, crunchy and easy to make you will only find these mushrooms in northern Thailand – unless someone has worked out how to grow them in captivity elsewhere?
From: Healthy Thai Recipes
3. Philly Cheese Steak Stuffed Mushrooms
Mushrooms not only taste great with steak, cheese, and caramelized onions – they also make the perfect vehicle with which to deliver it into your face. I'm pretty sure that qualifies as a win/win right there.
From: I Breathe I'm Hungry
4. Keto Crab-Stuffed Mushrooms with Bacon
You wouldn't think crab and mushrooms would go together, but there's something about the contrasting textures and flavors that works well. These little guys are very moreish, deeply nutritious and easy to make. Get cracking!
From: Peace, Love and Low Carb
5. Bacon Blue Cheese and Caramelized Onion Stuffed Mushrooms
A mouth full of goodness. These keto stuffed mushrooms are the perfect appetizer to take to your next get together. They are always a crowd pleaser. Every time I have taken these stuffed mushrooms to a party, they are always the first appetizer gone.
From: Peace, Love and Low Carb
6. Keto Diet Spinach and Mushroom Quiche
Here's another savory keto recipe that is guaranteed to make your tastebuds go wild. Add a nice green salad to the side and you'll have the ultimate low-carb keto lunch. This keto recipe contains no meat so it's perfect for vegetarians as well.
From: Budget Bytes
7. Vegan Keto Magic Mushroom Maca Fat Bombs
*** The first thing to know about these fat bombs is that they do not contain psilocybin-laced magic mushrooms.***
The second thing to know is they do contain ingredients with their own interesting properties that will wake you up, fuelling your day with fat and adaptogens. These are cordyceps (a medicinal mushroom known to help improve athletic performance) and maca (a tuber known for balancing out sex hormones).
So, you know, make enough for two and plan your day accordingly…


From: Meat Free Keto
8. Keto Mushroom Wild Rice Pilaf
By rice, we mean shelled hemp heart seeds to mimic this taste and texture of definitely non-keto rice, I highly recommend grabbing a pack to try out. This recipe uses regular button mushrooms but shitake or oysters would be a good level up.


From: Ruled Me
9. Keto Jalapeño Mushroom Bites
These are so easy to make. Simply grab some baby bella (crimini) mushrooms, or white, some bacon (what keto recipe would be complete without bacon, am I right?!), butter, cream cheese, jalapenos, shredded cheese (I chose the fiesta blend aka Mexican blend), and some paprika, salt and pepper. From: The Essential Baker
10. Rich, Creamy and Cheesy Keto Mushroom Bake
Mushrooms are so good at guzzling fat. You can bathe them in butter or oil during cooking. They will happily absorb it all and carry on as if nothing happened. Mushrooms, therefore, are perfect for a fat-bomb-type meal. They are low in carbs, with only 2g net carbs per 100g (3.5oz). We will infuse them with huge amounts of fat for a fantastic Keto meal. This Keto mushroom bake has a supremely rich and creamy taste, with a layer of golden baked cheese on top. From: Carbophobic
11. Roasted Mushrooms with Garlic and Thyme
I think mushrooms are good no matter how you cook them, they are an excellent source selenium as well as many other nutrients, but roasting concentrates the mushroom flavor in a way that makes these mushrooms especially good. From: Cakes Cottage
12. Keto Mushroom Mini Pizzas
There are plenty of keto recipes out there to recreate the pizza dough base and get as close to the real thing as possible. But for me it's the flavors and that convenience that I crave most. These portobello mushroom mini keto pizzas are great to get that fix, with minimal effort on my part. From: I Eat Keto
13. Keto Prosciutto-Stuffed Chicken and Mushroom Sauce
Mix up the fillings by substituting your favorite cheeses, thinly sliced meats, and herbs From: One Off Food
14. Garlic and Parmesan Mushroom Recipes
These mushrooms are so tasty and flavorful. And so simple to make – 10 minutes is all you need. This is more of a side dish and the perfect complement to some nice grilled chicken. From: Jo Cooks
15. Keto Bacon-Wrapped Mushrooms
Two of my favorite keto foods are mushrooms and bacon, so combing the two was a no brainer to make these bacon wrapped stuffed mushrooms. Not only wrapped in bacon but also stuffed with a cream cheese and chive filling that is so rich and creamy, you'll forget that you're even on a diet. From: Savvy Honey
16. Delicious and Easy Keto Mushroom and Tomato Omelette
This interpretation of the classic keto mushroom and tomato omelette recipe is on the lighter side of breakfast snacks so you won't feel weighed down all later on in the morning. From: Keto First
17. Low Carb Mushroom Crescents
Here we have another clever recipe that uses low carb Fathead Dough instead of flour pastry. They make the perfect savory appetiser. From: Resolution Eats
18. Keto Ground Beef and Mushroom Endive Boats
This dish really is the perfect keto snack or meal for that matter. Also, it would be great as an appetizer when you have guests over because it plates well and looks impressive. The shiitake mushrooms really add to the flavor of the ground beef creating a savory umami taste while the endives add a slight bitter refreshing crunch as you eat it. From: Low Carbing Asian
19. Low Carb/Keto Buffalo Chicken Stuffed Mushrooms
These buffalo chicken low carb stuffed mushrooms make for a delicious keto appetizer for your next holiday or football party. You can even eat these as a low carb snack or meal! Five stuffed mushrooms only have 2g net carbs! From: My Life Cookbook
20. Keto Low-Carb Spicy Cream of Mushroom Soup
It's not a hot and spicy cream of mushroom soup; rather it's flavorful. You taste a hint of jalapeño just as you swallow, in the back of the soup. Trust me, it's perfection. From: Two Sleevers
21. Reishi Mushroom Coffee
I've been drinking Reishi mushroom cacao every night this week and I'm sleeping better and much more productive during the day. Combining Reishi or another medicinal mushroom coffee will be my next experiment. What seems to be the coffee world's new trend isn't new at all. Mushroom coffee has been used for thousands of years in traditional Chinese medicine for its potential anti-aging, stress-reducing and memory- and energy-boosting. From: Livestrong
22. Handy Guide to the Healing Power of Medicinal Mushrooms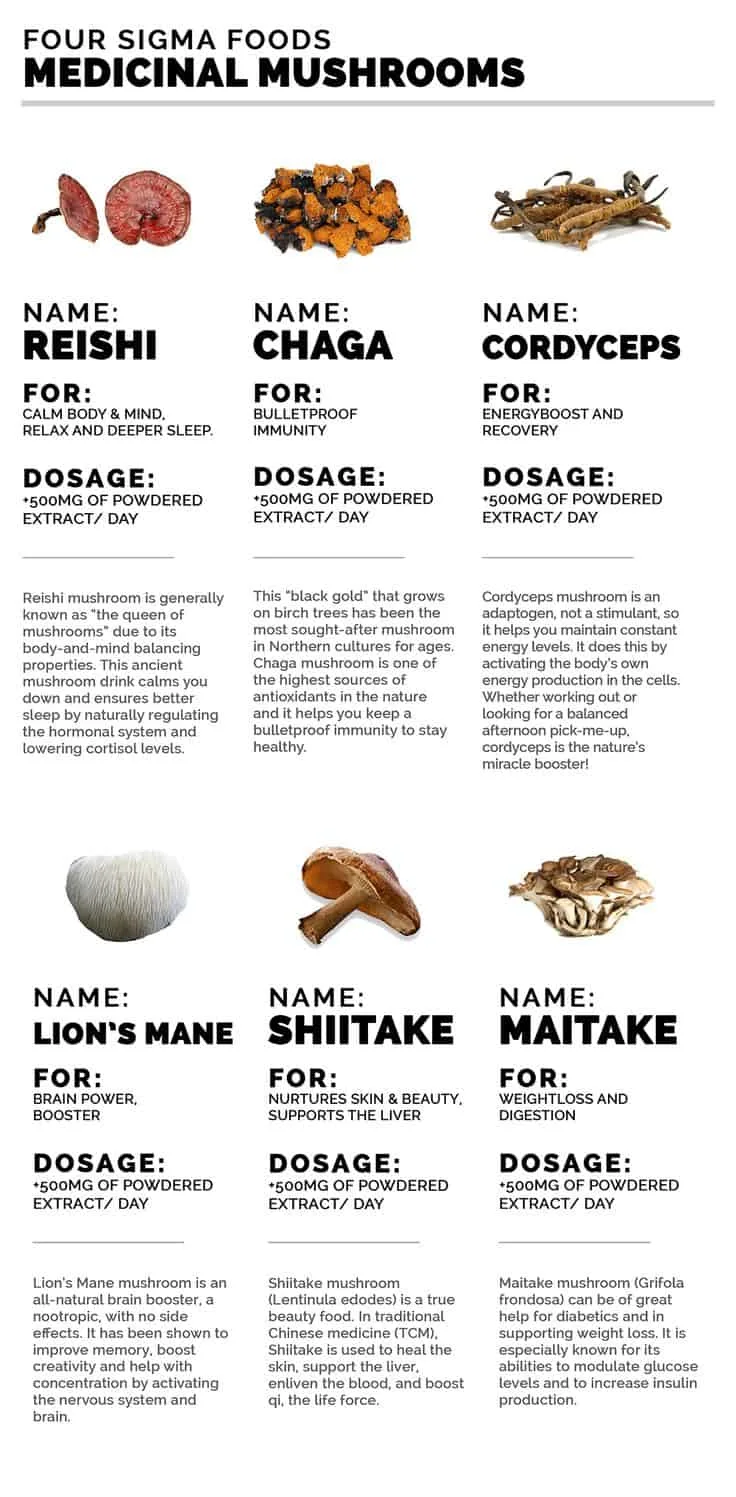 My Cacao Reishi mixture came from these guys. I like it a lot. It's by no means cheap but I like the results so far – better sleep, greater productivity – a lot. I mix a couple of capsules of turmeric powder and a twist of black better with mine. And a shot of heavy cream too, come to think of it.
From: Four Sigmatic
For more superfood recipes you have to see our Turmeric recipes and Cacao Recipes