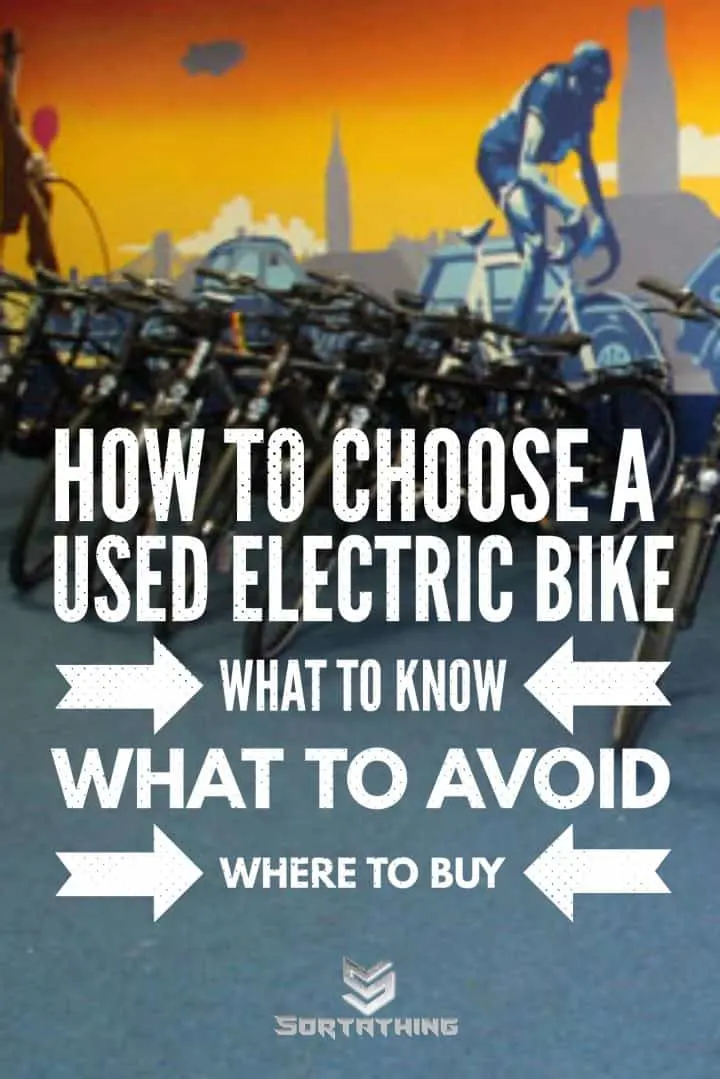 Used electric bikes are easy to find these days. E-bikes have been on sale for years and some owners are on the second or third upgrade, which means thousands of e-bikes make it onto the secondhand market.
Many of them will be in perfect working order, clean, well maintained and with years of useful life ahead of them. But some of them really won't be. The owner wants to dispose of it and recoup some of the cost on a bike that has failed to deliver or has something wrong with it.
So how can you avoid buying a bad used electric bike or wasting your time on a bike that you won't like? We've also prepared a list of the 10 Essential Questions to Ask when Buying a Used Electric Bike
Where to find used electric bikes
The obvious places
Online auction and classified sites – eBay, Craiglist, etc – are good place to check if there are any good deals in your area. E-bike dealers often list their stock on eBay, new bikes as well as pre-owned and refurbished and there are bargains to be had.
However… stolen e-bikes do make their way to market this way, so if you do find a too-good-to-be-true offer on the bike of your dreams here, be sure to ask for proof of purchase from the seller.
Same goes for bikes purchased through irregular channels – bars, yard sales, car parks… handling a stolen bike is not a good look.
E-bike dealers
There's a lot of competition in the e-bike market these days – dozens of shops specialising in electric bicycles in a single city in some cases. And with new models appearing every season these same dealers need to clear old (but perfectly good) stock quickly.
For example, check out Electric Spokes' Used, Clearance and Demo E-Bike Sale
So don't be afraid to ask for a discount on display bikes, in-store demonstrators, returned bikes, refurbished bikes and so on. These bikes may not have made it onto their website or even shopfloor but it's very likely that any given e-bike dealer has stock that they'll be willing to sell at knockdown prices.
You could save hundreds, even thousands of dollars (especially in the Winter months when every bicycle business struggles to attract customers).
Read our article on buying Ex Demo Used Electric Bikes
Winter is a great time to start your electric bike research for a couple of other reasons: showrooms are quiet (so you'll have their undivided attention for as long as you need it) and delivery times are short because there's less likely to be a backlog of orders to prepare. So wrap up warm for your test ride and reap the benefits!
Facebook groups
I'm a member of several electric bike owner groups on Facebook. Mostly it's people sharing photographs and ride reports, cycling memes, complaints, jokes. You know, the usual.
But because these people are so committed to electric cycling they're likely to upgrade their machine every year or so. I've seen a lot of bikes offered for sale to other group members that will never appear anywhere else because they're snapped up so quickly.
The advantage here is that because it's a group and members are accountable to everyone else and do not want to get a bad reputation they're usually very honest about why they're selling, the condition of the bike and the price they're looking for.
Getting involved in Facebook's electric bike groups can be fun – they're a great place to pick up advice, recommendations and tips about which bikes to go for – it could also save you a lot of money on a great bike too.
Next post:
What to ask about a used electric bike
Warranties
Battery health
Damage
What to avoid in a used electric bike
Lead acid or nickel metal hydride batteries
Motors and batteries with known issues
Dongles and chips
What to check once you have the bike
Tires
Brakes
Battery condition
Serial numbers
Does it come with keys and a working charger?