[mv_video aspectRatio="true" doNotAutoplayNorOptimizePlacement="false" doNotOptimizePlacement="false" key="oi4kihfcsejqh9q5ptzd" thumbnail="https://mediavine-res.cloudinary.com/video/upload/oi4kihfcsejqh9q5ptzd.jpg" title="30 Fathead Dough Recipes" volume="70″]Keto is a restrictive diet, but we all have cravings from time to time. These recipes mean you can literally have your cake (or bun, pizza… even lasagna) and eat it.
Fathead dough is a great keto and low carb alternative that uses almond flour and mozzarella to replace the missing gluten. It's worth learning how to make fathead dough, as it happily goes wherever dough goes!
Fathead dough can also be used to make pasta – check out our low-carb pasta recipes to see what's possible. You can also make a version of fathead dough for zero carb pizza without using any nut flour.
And don't miss our new 21 Tasty Fathead Dough Dessert Recipes and even newer 30 best sweet and savory chaffle (keto waffle) recipes.

Article image from How to This and That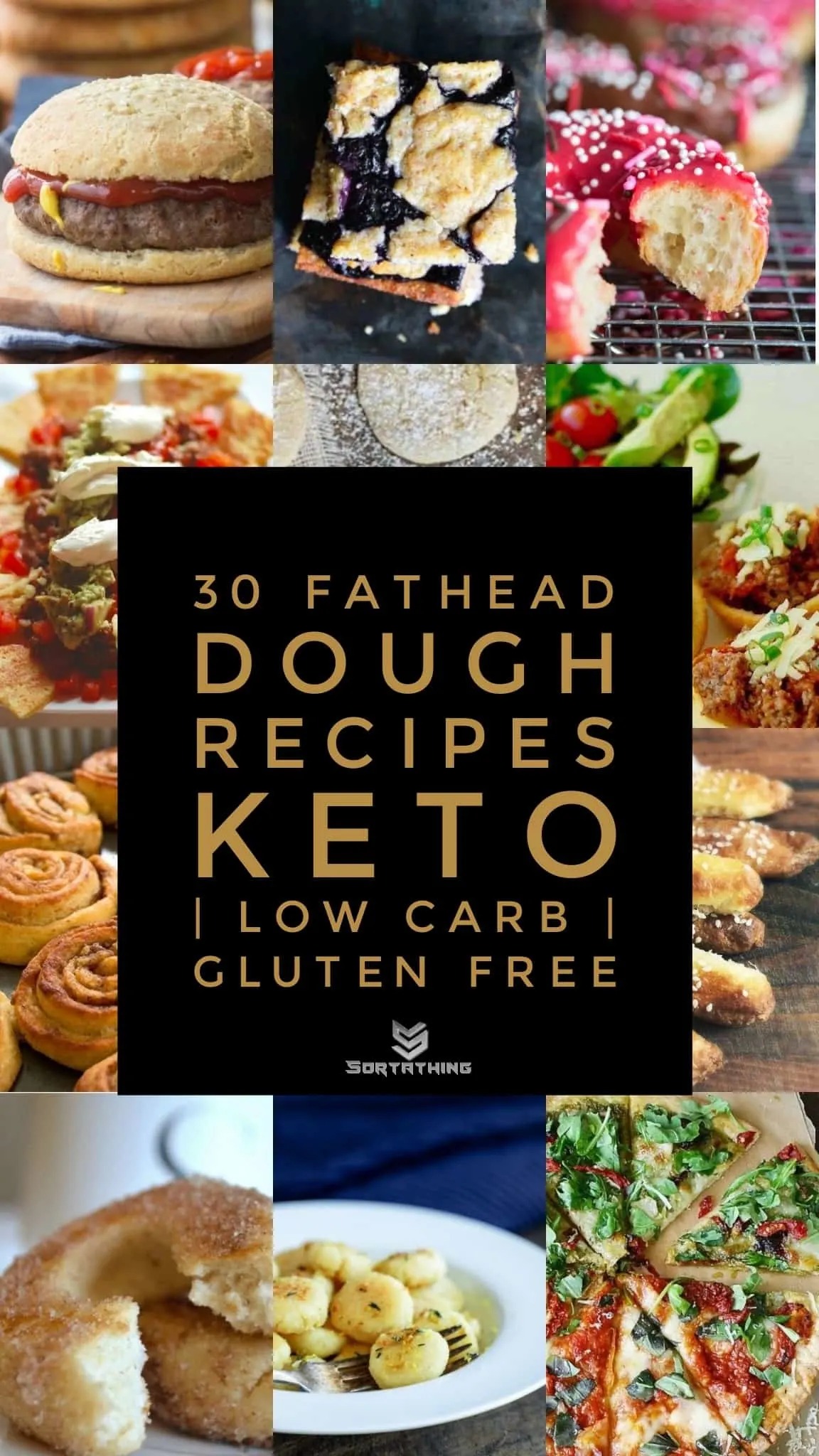 1. Fathead Dough Hamburger Buns
Low carb hamburger buns are fast and easy to make with fathead dough. So bread-like in texture, they make the perfect hamburger bun or sandwich roll for low carb and keto diets.
From: Low Carb Maven
2. The Best Keto Dinner Rolls
These are the best keto dinner rolls to help replace bread in your low carb lifestyle. This recipe is easy, filling, and delicious! These Keto dinner rolls can be eaten by themselves, or used as anything from hamburger buns to mini pizza crusts.
From: Hey Keto Mama
[elementor-template id="6082″]
3. Keto Low Carb Simple and Fast Croissants
Why aren't these available everywhere? In cafés, supermarkets, patisseries. This recipe uses coconut flour, melted butter, mozzarella and sparkling water. You get the hang of the rolling technique really quickly too.
From: Ketogenic
4. Keto Chocolate Croissant
What could be better on a Sunday morning on the porch than a chocolate croissant and a hot cup of coffee? How about a grain-free, sugar-free, keto version.
From: The Keto My Success
5. Low-Carb Fathead Blueberry Cobbler Bars
With ever-versatile fat head dough and a sweet blueberry filling, Low-Carb Fathead Blueberry Cobbler Bars taste similar to a blueberry cheese pastry. They're so good you'll even find non-keto-eaters grabbing seconds!
From: The Keto Queens
6. Keto Breadsticks with Sesame Seeds
Fat head dough is one of my favourite recipes. It so versatile and you can make so many delicious things with this dough. This keto breadsticks recipe turned out really good. They were soft and buttery. I slightly modified recipe by omitting the egg and dough was less sticky and much easier to work with.
From: low carb babe
7. Low Carb Chocolate Babka
So, babka? It's an Eastern European Jewish dessert made from a doubled and twisted length of yeast dough that is baked in a loaf pan. It usually contains a cinnamon or chocolate filling, but here it's sugar-free and low-carb all the way.
From: Resolution Eats
8. Glazed Grain-Free Choux Pastry Donuts
The choux dough used here is a little different to the fathead version in the other recipes. No mozzarella in these babies but the result is so close to the real thing that we just had to include it.
From: The Urban Poser
9. Fat Head Dough Calzones
If you miss Italian pastries, then using Fat Head dough is the perfect solution. These calzone are Italian folded pizzas with all kinds of savoury fillings. To save time you can invest in a calzone press to help with folding. Or just use your fingers like they did in the days before calzone presses!
From: Ditch the Carbs
10. Fat Head Cinnamon Babka
Once you've tried one babka, you'll want to try them all. This cinnamon version is studded with walnuts and is topped off with a glaze. Tastes amazin' too.
From: Keto Diet Channel
11. Fat Head Chocolate Cream Horns
Can you believe these fancy-looking, delicious chocolate cannoli are actually low carb? Only 3 g net carbs per serving thanks to endlessly versatile fathead dough.
From: Keto Diet Channel
12. Keto Taco Cups with Fathead Pastry
When I started investigating the fathead phenomenon I was surprised by how many recipes work. This one is really out there and a stroke of genius, ditching both the carbs and unhealthy oils tacos are usually fried in. This recipe uses a spicy beef filling but being tacos, no need to stop there.
From: Ditch the Carbs
13. The Amazing 10-Minute Keto Cinnamon Donuts
I am honestly so impressed with how simple these are to make yet how perfect they turn out every time! Not only tasty but they are very filling and full of protein and fibre to keep you full for hours! Got to be honest, like the other donuts featured here they do not use fathead dough, but they are low-carb, all the same.
From: Mouthwatering Motivation
14. Easy Raised Fathead Rolls
While a burger can be great wrapped in lettuce or simply by itself, some people just don't feel complete without the bread. This can make or break their low carb or keto success. The cravings just don't seem to go away unless there is a delicious alternative. This is a bread/roll that can be used for burgers, sandwiches and more, but still falls within the guidelines of low carb and keto approved.
From: How To This and That
15. Keto Garlic Bread
This recipe is the Holy Grail for keto bread. Mozzarella dough garlic bread is the best keto garlic bread recipe I have ever seen, and only 1.5g net carbs per slice (this recipe makes 10 delicious slices).
From: Ditch the Carbs
16. Fathead Foccacia
A moment's silence please… this is something special. There are a lot of different low carb bread options out there, most of which are not worth mentioning. Rosemary, garlic and olive oil make this a bread with abundant flavour that you'll want to finish in one sitting.
From: By Amber's Hands
17. Cheesy Keto Biscuits
Now, these are not low-fat or low calorie biscuits. They are LOADED with TONS of cheese. Cream cheese and mozzarella cheese. The only special ingredient in these Cheesy Keto Biscuits is Almond Flour. Almond flour is pretty common these days, you'll even find it in Walmart.
From: Plain Chicken
18. Keto-Approved BBQ Pulled Pork Pizza
This keto fathead pizza recipe satisfy cure both your pizza and BBQ cravings! What this photograph doesn't get across is the wonderful aroma that fills your kitchen when baking this.
From: Recipes 4 Good Health
19. Ground Beef Empanadas
These Ground Beef Empanadas remain one of my favorite keto recipes. It's really easy to make and so delicious plus super versatile because you can make all different kinds of flavor combinations. I like mine really spicy with a little chopped chorizo in the mix.
From: Mince Republic
20. Keto Cinnamon Rolls
Soft, chewy, fluffy Keto Cinnamon Rolls! A delicious tea-time treat, these rolls are made with the famous fat head dough. They are sugar free, grain free, gluten free and only 1.3 net carbs per roll.
From: Sugar Free London
21. Cinnamon Cream Cheese Roll-Ups
This Baked Cinnamon Cream Cheese Roll-Ups recipe is a simple process that yields an amazing churro-like breakfast treat. 20 minutes in the oven (if you can wait that long) to dig in to these!
From: Kylee Cooks
22. Low Carb Fathead Keto Lasagna
Love lasagna but not all the carbs? What if I told you there IS a way to make a delicious Keto friendly version that actually tastes like REAL lasagna!?
From: Hip2Save
23. Super Soft Keto-Approved Sugar Cookies
This keto fathead "sugar" cookie recipe worked out beautifully. It has the soft, buttery texture of regular sugar cookie dough and could even be rolled out and used with cookie cutters.
From: How To This and That
24. Keto Bagels Recipe with Fathead Dough
If you are new to Keto, you might be missing those high carb breads and bagels. These are a great replacement that are easy to make and will satisfy your cravings! I like to eat these with pastrami, mustard, sauerkraut – lots of each. The only keto bagels recipe you'll ever need.
From: Keto Cooking Christian
25. Keto Sausage Biscuits
As breakfast lovers, these Keto Sausage Balls hit the spot! We used a simple fathead dough and pre-seasoned sausage to create our new favorite breakfast recipe. They are quick to whip up for a big Sunday brunch and can be tailored to everyone's craving
From: Keto Connect
26. Fathead Nachos
First tacos, now nachos! If you have been missing nachos because you want to avoid the high carbs, corn and unhealthy oils that are in regular nachos, then these will be an absolute treat for you. I like to dust mine with mesquite seasoning, it really sets them off!
From: Ditch the Carbs
27. Fathead Pizza Dough
If you follow the keto way of eating or just eat low carb, this is a MUST to have in your recipe arsenal. This recipe makes 2 servings and is super quick and easy.
We've also list the Top 10 zero carb pizza crust recipes – some use a variation of fathead dough without any nut flour. Others are made entirely of meat. Meatzza!
From: How to This and That
28. Fathead Crackers
FatHead crackers are great for a snack, serve at parties or keep in a ziplock bag when travelling. Top them off with pate, use in dips, add smoked salmon and cream cheese, or just sprinkled with salt for a simple option.
From: Ditch the Carbs
29. Fathead Keto Gnocchi
This Fathead Keto Gnocchi gives you the pillowy yet chewy texture you've been missing from pasta on a low carb diet! This keto gnocchi is the perfect low carb vehicle for all of your favorite pasta sauces and flavors! Can you really eat gnocchi on a low carb or keto diet? You better believe it!!!
From: I Breathe I'm Hungry
30. Fathead Sausage Rolls
You don't want to undo the fathead goodness by using the wrong sausage meat. Read the label carefully to ensure it has at least 80% meat. A quick and easy guide to what has gone into a sausage (as some labels don't state clearly what is inside), is to look at the carbohydrate value.
From: Ditch the Carbs