No need to miss out this holiday season with these low-carb, keto pecan pie dessert recipes. Pecans are a really smart keto ingredient. They have one of the highest fat contents (around 87%!) of any nut. Only pili nuts beat them, with up to 93% fat.
Squeeze a pecan kernel between your finger and thumb and you'll see! Even better, it's mostly monounsaturated fats, including oleic acid, which is well-known for its anti-inflammatory properties.
Putting all that aside, pecans are just delicious: sweeter than walnuts, toothsome and filling. These recipes combine pecans with pumpkin, cinnamon, chocolate and maple syrup for the most delicious results.
Article image from These Wild Acres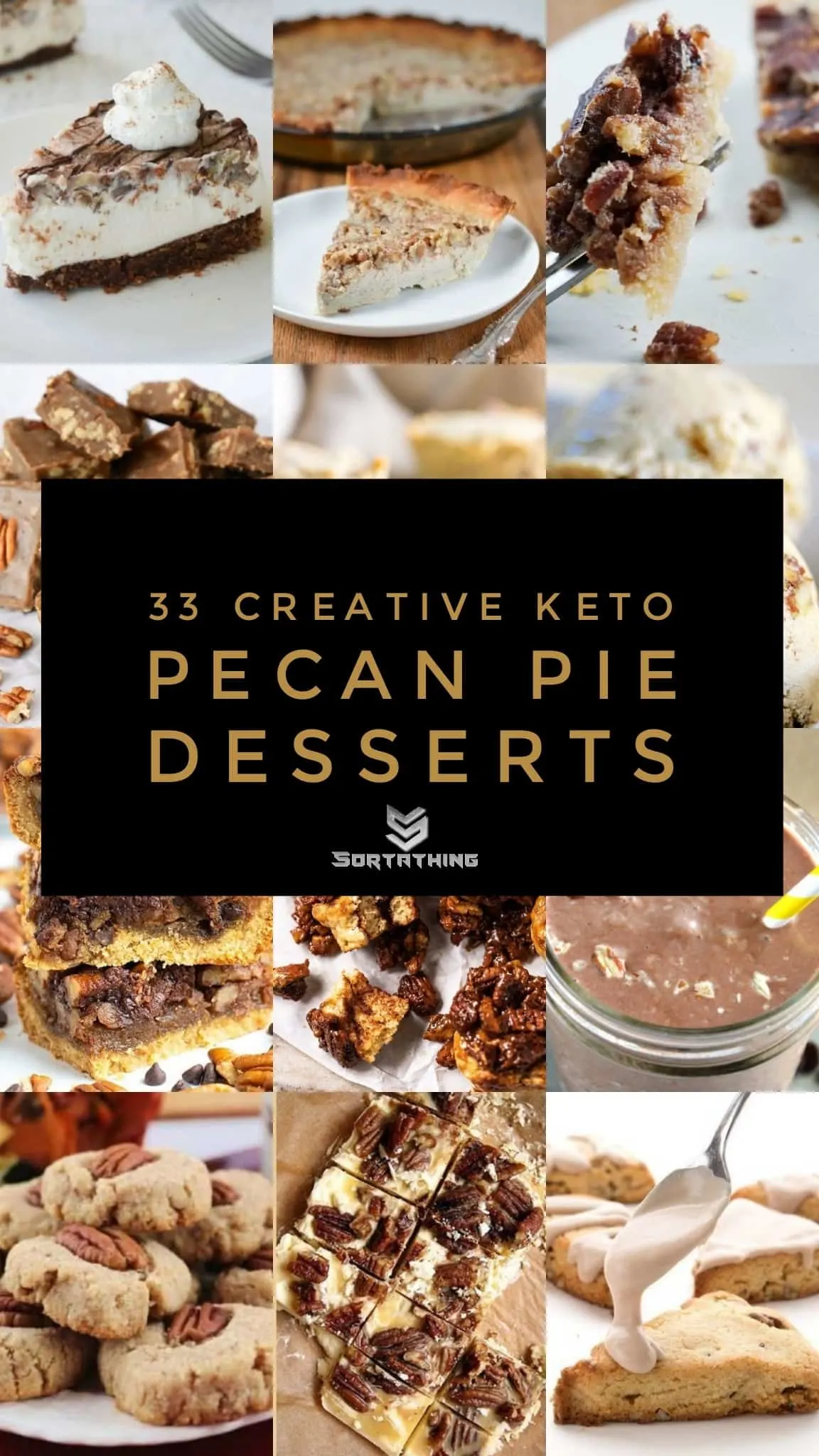 1. Keto Pecan Glazed Pumpkin Pie
This keto pecan glazed pumpkin pie can grace any holiday table and offer a delicious and healthy treat for all your guests. It's a sneaky way of introducing family and friends to the keto lifestyle. And it's just the start…
From: Fit to Serve Group
2. Classic Low Carb/Keto Pecan Sandies
These cookies also don't spread in the oven, so you slice the dough, place on a baking sheet and bake. They are fool proof and turn out perfect every time! The shortbread dough is also a great base for your preferred add-ins if you aren't a fan of pecans. Nuts, spices, seeds and even berries would work great.
From: Keto Connect
3. Keto Butter Pecan Ice Cream
Homemade butter pecan ice cream, made with a custard base, browned butter, and toasted pecans. Butter pecan is one of my all time favorite flavors. In this recipe the butter flavor comes in the custard base, achieved by browning the butter first before adding the other ingredients.
From: Simply Recipes
4. Low Carb Cinnamon Pecan Cookies
These low carb cinnamon pecan cookies are deeply comforting. The cinnamon nuttiness, the crunch of the nut in the soft cookie, is the perfect fall snack to pair alongside your coffee or tea.
From: Explorer Momma
5. Keto Low-Carb Maple Pecan Scones
The original low carb Maple Pecan Scones. Accept no substitutes! These delicious tender keto scones have a brand new update and are even better than ever. Easy to make and a perfect healthy breakfast treat.
From: All Day I Dream About Food
6. Chocolate Pecan Keto Shake
This rich and delicious Chocolate Pecan Keto Shake is my new late-night obsession! Creamy, decadent and incredibly chocolaty, this is my go to keto chocolate shake when nothing else but extreme chocolate will do! Great for an afternoon snack, breakfast or dessert…this is hands down the best keto chocolate shake I've ever had!
From: Texas Granola Girl
7. Keto Butter Tarts
Butter tarts are definitely a Canadian thing but there is no reason you can't make these at home, no matter where you live in the world these keto butter tarts are a must have. Butter tarts have a delicious mix of flavours and textures with a flaky pastry and a sweet filling. Think of a pecan pie but with a gooey butter filling that's semi solid. Some butter tarts are made with raisins but for a low carb version these keto butter tarts are made with a maple ghee and pecans.
From: I Hacked Diabetes
8. Keto Pumpkin Spice Muffins
These Keto Pumpkin Spice Pecan Muffins are wonderful with either cream cheese or butter and a Pumpkin Spice Latte. Full of flavor and moist it's hard to believe these muffins have less than 2 net carbs a serving!
From: A Keto Kitchen
9. Butter Pecan Cookies
These Butter Pecan Cookies live up to their name. They are buttery and chock full of pecans. They are crisp, sweet, and are the perfect sweet bite after supper. Whether you need eggless cookies or not these are divine.
From: Joy-Filled Eats
10. Carbless Chocolate Pecan Bark
A carb-free chocolate treat! Made with healthy ingredients & perfect for a late-night sweet tooth! This recipe is gluten free, dairy free, and can easily be made without the nuts.
From: Simply Taralynn
11. Upside Down Maple Pecan Cake
This Upside Down Maple Pecan Cake is delicious served at breakfast, dessert or any time in between! It's low carb, plus sugar and gluten free for a delicious treat that everyone will love!
From: This Mom's Menu
12. Maple Pecan Keto Mug Cake
You can't really go wrong with a maple pecan mug cake…I mean a delicious, moist, and easy to make cake ready in under 1 minute!
From: Recommended Tips
13. Keto Low-Carb Grain-free Pecan Pie Muffins
These keto pecan pie muffins are perfect for your fall keto recipes. They're sugar free, grain free and are incredibly easy to make!
From: Sugarless Crystals
14. Instant Pot Pecan Pie Cheesecake
The creamiest low carb pecan pie cheesecake EVER! This divide keto dessert cooks up in an Instant Pot and takes a fraction of the time of conventional cheesecake.
From: All Day I Dream About Food
15. Gluten Free & Keto Pecan Sticky Buns
Fluffy, sticky, and ultra gooey! These gluten free and keto pecan sticky buns (with yeast!) are nothing short of dreamy!
From: Gnom-Gnom
16. Keto Pecan Fudge
This chocolate pecan fudge is perfect for fixing a sweet tooth. It's is also a great source of healthy fats as it is made of grass-fed butter, coconut oi pecans, cream cheese.
From: Low Carb Spark
17. Keto Pecan Pie Cheesecake
This Keto Pecan Pie Cheesecake is PERFECT for the Holiday Season. It's so delectable your non-low carb loved ones will never know the keto difference!
From: Hey Keto Mama
18. The Best Keto Pecan Pie
Classic pecan pie gets a sugar free grain-free makeover! I just updated my pecan pie recipe to be better than ever. It's easier to make and has fewer carbs, so it fits perfectly into your keto diet.
From: All Day I Dream About Food
19. Coconut Flour Cinnamon Pecan Pancakes
These keto cinnamon pecan coconut flour pancakes drenched in sugar free maple syrup create the ultimate low carb breakfast item. A combination that puts you in the essence of a keto pecan pie. Moist buttery pancake with a pecan crunch sure to fool the early morning taste testers of the household. Coconut flour pancakes are not only low carb and keto friendly but gluten free too.
From: Sugarless Crystals
20. Keto Pecan Cheesecake Muffins
Pecan is one of our favourite nuts to use as we just love their flavour. These are a great option to give to your non keto family members as they are delicious. These are our favourite sweet treat and we love to have some stored in the freezer when we are craving something sweet.
From: Have Butter Will Travel
21. Sugar-Free Keto Pecan Pie
Some competition here for the other BEST KETO PECAN PIE in this post! You'll have to make them both and decide for yourself. Still, this keto pecan pie recipe claims to be the only one you'll ever need for the best sugar-free pecan pie ever! Easy to make and just like the real thing.
From: Wholesome Yum
22. Keto Pecan Snowball Cookies
These Keto Pecan Snowball Cookies are the perfect treat for the holidays! These classic favorites are melt in your mouth delicious.
From: Butter Together in the Kitchen
23. Butter Pecan Fat Bombs
Butter pecan is my favorite flavor, and these fat bombs are my favorite fat bombs. Enjoy!
From: Zen Berry Keto
24. Keto Pecan Pie Tarts
I love pecan pie. It is so rich and indulgent I used to only make it once a year for Thanksgiving. But now that I have a sugar free, low carb, keto recipe I plan on making keto pecan pie tarts much much more often.
From: Joy Filled Eats
25. No Bake Keto + Vegan Pecan Pie Bars
These no bake paleo vegan pecan pie bars are your healthy and guilt-free way to enjoy dessert! Loaded with pecans, spices, and smooth almond butter, these pecan pie bars are completely keto, low carb and sugar free!
From: The Big Man's World
26. Keto Pecan Pie Clusters
These Keto Pecan Pie Clusters are a great, easy to make treat for satisfying any low carb sweet tooth!
From: Hey Keto Mama
27. Keto Pecan Pie Fudge
Between the 2 pound bag of pecans I scooped up on my last trip to Costco and the quickly approaching holidays, a craving for pecan pie hit me, and thus a recipe for keto friendly pecan pie fudge was necessary!
From: These Wild Acres
28. Maple & Pecan Fudge Fat Bombs
It's impossible to stop at one piece of these nutrition-packed fat bombs. Everything works, your taste buds will be singing. Perfect holiday gifts if you can prepare a batch that makes it out of the kitchen.
From: Keto Diet
29. Keto Pecan Pie
The pie crust is perfectly moist and flaky you'll find it hard to believe it's keto, but the star of the show is the gooey, chocolate-y, pecan-y center with a splash of bourbon thrown in if that's your thing.
From: Cast Iron Keto
30. Gluten-Free Pecan Cinnamon Pie Crust
Crunchy, sweet and versatile, this keto-friendly crust is the perfect base for whatever you can think of – fruit, chocolate, custard or go the whole hog and load it up with more pecans.
From: Back to our Roots
31. Pecan Custard Pie
Now here's a great alternative to regular pecan pie. It's not as "syrupy" as the original, and it has a custardy layer, but it has all the flavor and it's really good. The texture is luscious, in fact. I'll be making more of these this Christmas.
From: Briana Thomas
32. Pumpkin Pecan Scones with Cinnamon Glaze
All Day's popular low carb pumpkin spices scones get a brand new update. An easier recipe, studded with pecans. These delicious keto scones are a wonderful fall or winter breakfast treat.
From: All Day I Dream About Food
33. Butter Pecan Ice Cream Pie
One for next Summer perhaps? This low carb Butter Pecan Ice Cream Pie is going to be the hit when the sun comes out! With a salty sweet grain-free pecan crust, it's the keto dessert your guests will rave about.
From: All Day I Dream About Food
Next: Check out these low carb air fryer dessert recipes and these fathead dough desserts (some with pecans!)