Brose Drive S Mag runs away with Best in Test Electric Bike Motor Title
and also wins a prestigious Design & Innovation award
At the heart of every e-bike is its motor. There are now dozens to choose from but a small number of brands dominate.
Bosch has long provided motors for most reputable brands – Cube, Scott, Kalkhoff, Riese & Müller, Moustache, the list goes on.
Their top-of-the-range Performance Line CX motor is fitted to several hundred thousand commuting, touring and mountain bikes. So they've enjoyed market domination for quite some time.
Shimano arrived late at the e-bike motor party but has claimed some of the market for itself. It helps that their motors work well with Shimano gears that are found on 9 out of 10 bicycles.
There are dozens of also-ran motor systems these days. Some have won a reputation for reliability, others for sheer power. A sorry few for giving their owners and suppliers a lot of problems.
The best electric bike motors in 2019
But now it's 2019 and a new cast of really, really good e-bike motors is here. Bosch is still in the running, as is Shimano, Panasonic and Yamaha. A relative newcomer out of Berlin, Brose, is now making a lot of noise (although their motors happen to be the quietest of all).
The Best Electric Bikes of the 21st Century So Far (and the Worst!)
So what is the best of the bunch? Many have challenged for the title. For a while, it looked like Kalkhoff's Impulse motor was set to push Bosch to the sidelines.
The system, and Kalkhoff bikes, enjoyed massive sales for a time, driven by unmatched power and enormous battery capacity options.
But Impulse had its problems with reliability. You'd be lucky to find any e-bike sporting that badge in 2019.
And the winner is…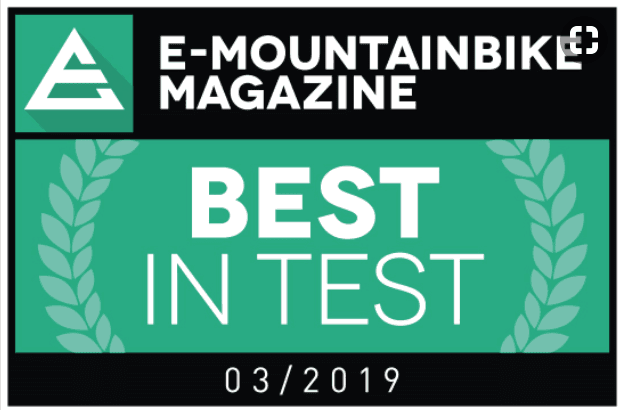 But now it looks like a worthy winner has emerged. One that offers something different and distinctly natural ride quality. Loads of power and enormous battery capacities are also a hallmark of this system.
But before we consider the new Brose Drive S Mag e-bike motor in more detail, let's look at what else was in the running and their strengths and weaknesses.
Helpfully, E-Mountainbike magazine ran a test with 9 motor systems, and announced the result this month.
The Nine Contenders
Bosch Performance Line CX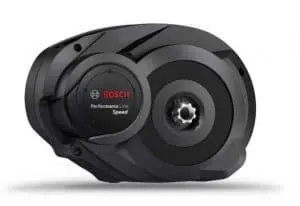 Bosch's flagship motor is the one you're most likely to find, even now. It is showing its age though with a lack of customizability (unlike some of the open motor systems included here), a relative lack of power, obvious pedal resistance, noise under load and sheer bulk.
It is tried and tested and offers great value on well-specified bikes like those from Cube, Riese & Muller and Moustache.
We sold thousands of bikes with this motor over the years with few complaints or problems. Basically, it does the job for most people and does it reliably well.
Panasonic GX 0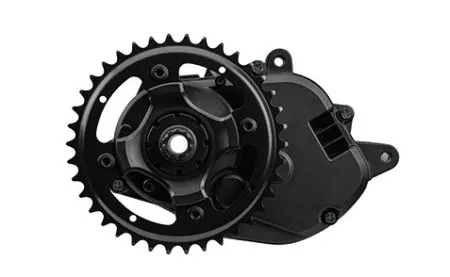 Panasonic are one of the e-bike motor originators. Earlier versions of their centre motors powered Giant's influential Lafree (the first electric bike I ever saw out in the wild) and the first generation of Kalkhoff e-bikes.
Panasonic's latest motor is nearly (but not quite) the lightest motor in the test, at 2.95kg and offers a headline torque of 90Nm, which is up there with the best.
E-Mountainbike's reviewers found that the Panasonic was powerful at a high cadence, but tailed off with slower pedalling, which is really when you need it as your speed decreases on the steepest climbs. It felt weaker as a result and its stated 300% assistance compared less well with other motors in this test.
But… what they can't test is long-term reliability and, in our experience, Panasonic motors just go on and on… and on. Most of the original cohort of Kalkhoff Agattu, Pro Connect and Tasman e-bikes we sold in 2008 still work well over a decade and millions of riding miles later.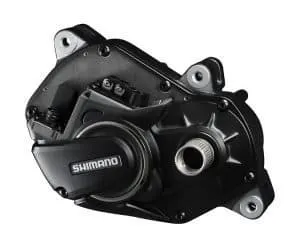 Shimano STEPS E8000
I recall the excitement when Shimano announced their high-end ebike motor for electric mountain bikes. The E8000 promised more power, performance and fun than the E6000, which I found felt crude compared with Bosch and Impulse at the time.
The E-Mountainbike pass over the E8000 in the test pretty quickly
7k more fun, e8000 good for brute force, 70Nm, not always easy to control, jerky, some pedalling resistance, lower assistance at low cadence (i.e. when you need it)
Shimano STEPS E7000
Shimano unveiled its more affordable E7000 motor system in time for the test. It is, of course, similar to the E8000, but with a monochrome display and a comparatively modest 60Nm of torque.
But the reviewers still preferred this version of Shimano STEPS to the more expensive flagship E8000, because of its more forgiving and natural ride feel. Counts for a lot, out there on the trail. You want to feel in control of your bike, not at its mercy.
Check out BH's 2020 Rebel Yamaha range at 50cycles
Yamaha PW-X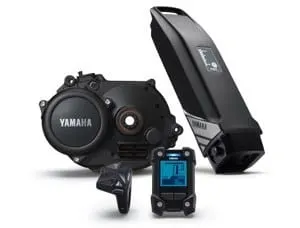 This has been a personal favourite since 2017. It's very good at low cadences (think slow, steep climbs) and offers strong assistance where other motors do not.
It is limited by a relatively small battery size – 500Wh being the maximum and a less than natural feel as it does its stuff. There is also some pedalling resistance above the assisted speed, but not as much as with the Bosch.
It is showing its age a little bit though – there's more power, bigger batteries and better displays with other motors. Yamaha PW-X will always have my respect because it offered something different to Bosch and could stomp even the steepest climbs into submission.
Check out BH's 2020 Rebel Yamaha range at 50cycles
Fazua Evation
This one is very different to the others in the test. Its main strength is its size and shape that make it suitable for tucking away inside an electric bike's seat tube, with a small battery hidden in the downtube.
This means manufacturers can produce models that do not give their electric assistance away until you sit on it and ride it.
However, the reviewers found it a definite lack of power. It is super light and probably best thought of as a way of getting supplementary assistance when you feel your legs need a rest.
This is quite a niche motor and hasn't been used much out in the wild yet. Focus use this in their SAM and JAM mountain bikes, as do Cube in their Agree road bikes.
TQ HPR 120S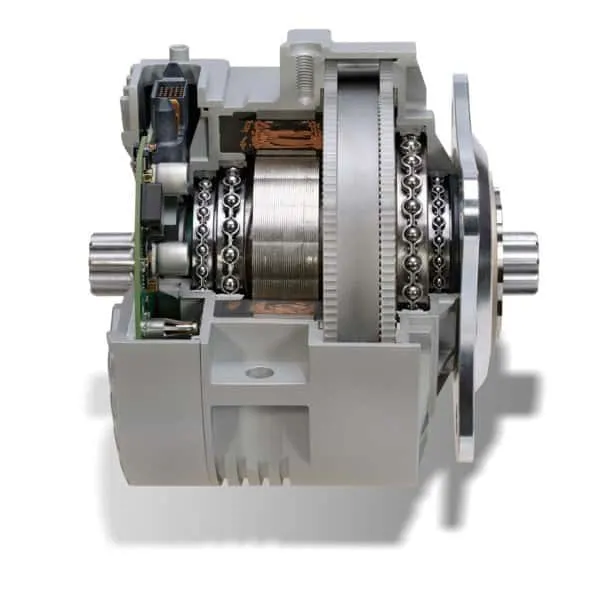 The reviewers were impressed by this new motor, which makes its debut appearance in a number of 2019 Haibike models.
Technically, it's very interesting, a novel piece of engineering with its pin gear system. You can make the pins out in the photo.
And it is very powerful, developing 120Nm torque, by far the highest on the test.
But all that power is delivered at the expense of the natural feeling riders enjoy. Plus, it chews into the range offered by the battery pack. It is the most powerful but can lack control with a less experienced rider.
They also noted that it gets louder as you pedal faster. On the upside though, very little to no pedalling resistance. For brute force and being the latest thing with an impressive look, the TQ is a great choice.
But not the best choice, as we shall see.
2020 Update: real life owners have found that the battery life and range achieved per charge on Haibike Flyon e-bikes is very disappointing. Approach with caution…
Brose Drive S Alu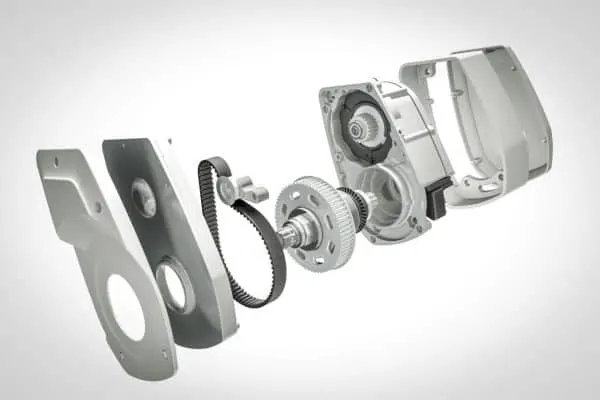 We first encountered Brose motors on Fantic e-bikes at the beginning of 2016. That was the T Drive system which was exceedingly quiet but didn't quite have the oomph of some other motors.
The Drive S followed (as well as an entry level Drive C) and even after 2 years it is still very good. Our BESV TRB series use the Drive S to great effect. They combine enormous hill-flattening power with complete silence and very rewarding ride experience.
Unlike any of the other motors here Brose uses a belt drive inside to transmit power, which is both highly efficient and very quiet with no tangible pedal resistance.
But Brose didn't stop there…
Brose Drive S Mag – Best in Test 2019
Brose has taken the S Drive and improved it for 2019. Using Magnesium rather than Aluminium has saved nearly half a kilogram in weight and it takes up 15% less space while offering more assistance, up from 380% to 410%.
This motor was the second most powerful in the test after the TQ. But power isn't everything, it's what you do with it and how you do it.
This is where the Brose Drive S Mag takes the lead, by offering the most natural riding experience of all the motors tested. Part of this is the minimal pedal resistance the rider feels outside of the power envelope.
Brose has managed to all of this and reduce the motor's weight by 400 grammes and size by 15%, compared to the Brose Drive S Alu (which also performed very well in the test).
That envelope is sizeable though, giving 410% assistance in FlexPower mode and scampering up hills like no other motor, apart from the workmanlike TQ of course.
But it's also the most flexible system. Rather than being closed like the Bosch, Yamaha and Panasonic motors, Brose's open system gives manufacturers plenty of room to develop their own riding firmware, displays, motor positioning, while also saving a significant amount of space and weight.
The reviewers note:
The Brose Drive S Mag is a real cherry picker. It combines many great features of other motors in one package, without succumbing to any weaknesses. Strong as an ox yet integrates seamlessly with your riding experience.
And conclude:
The new Brose Drive S Mag is a true godsend for the electric mountain bike world. It's compact, light and very powerful — this should allow manufacturers to create even better eMTBs in the future.
On the trail, it managed to convince us with great amounts of power and a very natural ride-feeling. Whether you're riding relaxed or pushing full steam ahead, the Brose Drive S Mag is impressive both on forest paths and demanding technical terrain.
No surprise, then, that a variant of the Brose Drive S Mag powers E-Mountainbike's choice for Best eMTB in 2019: the Specialized S-Works Turbo Levo FSR. Huge range, power and superior ride feel gave this bike its second consecutive win. But at around £10,000 it doesn't come cheap.
So will 50cycles be offering any bikes with this awesome new motor technology? Of course!
Even a great motor is only as good as the overall bicycle package it sits in. We have found an excellent one (and it costs a third less than the Specialized, even with its larger battery capacity and an extra gear to play with).
Introducing the BH Atom-X CARBON Lynx 6 Plus Pro-Eagle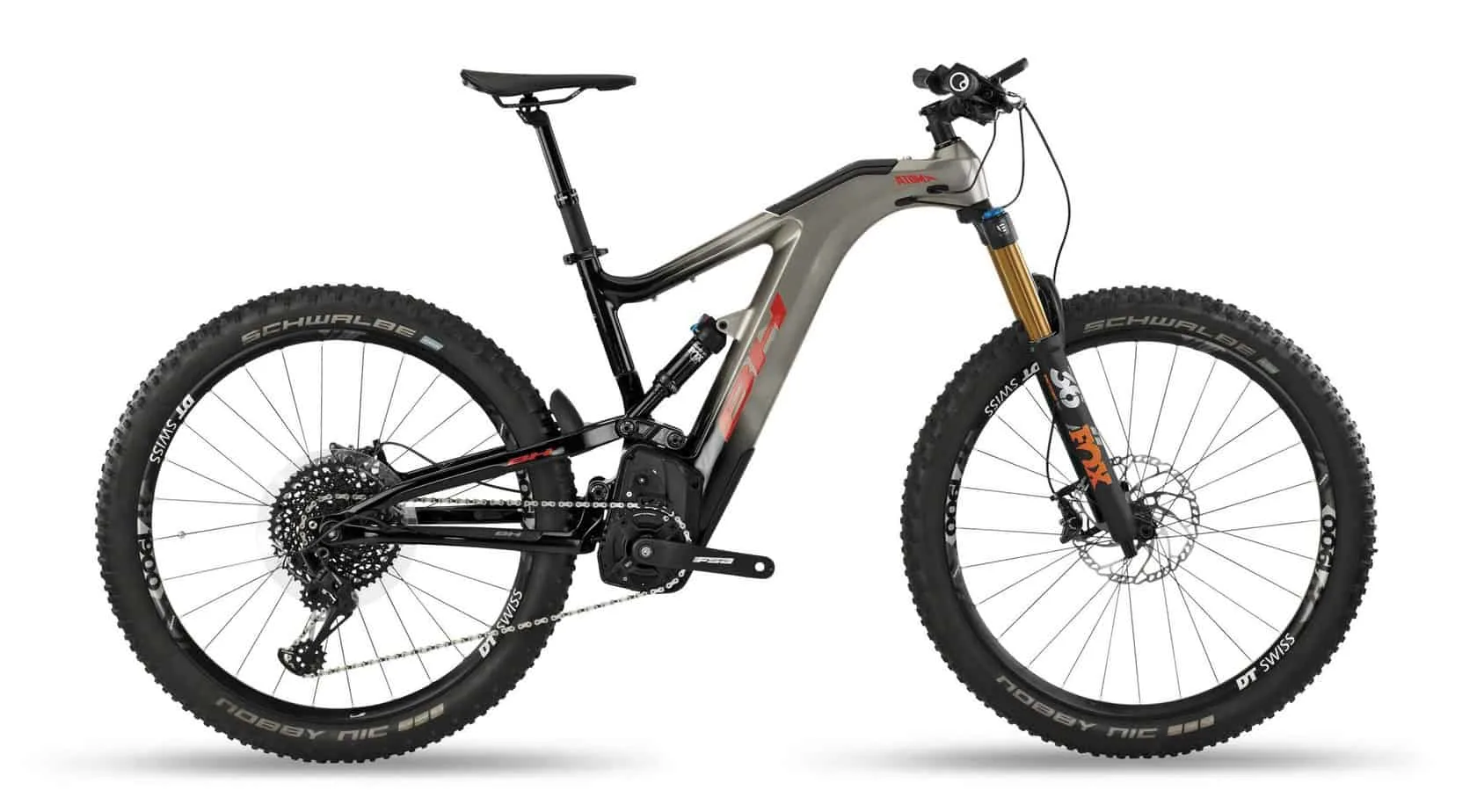 This is the 2020 BH Atomx Carbon Lynx6 27Plus Pro Nx11.
More BH Brose Drive S Mag models for 2020
BH has been in the electric bike business for years, under the EasyMotion brand for a time, but have now relaunched with an impressive range of models, many of them powered by Brose.
We're pretty astonished to be able to offer a bike of this class at this time. We didn't expect to stock and Brose Drive S Mag e-bikes at all until towards the end of this year, let alone one with a Carbon frame, 720Wh battery capacity and the new SRAM GX Eagle 12-speed cassette.
With a motor this efficient and a battery capacity of this size, you can expect to achieve 50-60 miles per charge even in challenging terrain.
Other features include
100% high-modulus Carbon frame
The very latest Best-in-Test-Winning Brose Drive S Mag (Magnesium) system.
A whopping great 720 Wh high capacity Lithium-ion battery
Fox 36 Factory 160mm front forks with Fox 150mm Shock
SRAM's GX Eagle 12sp gears
Dropper Seatpost
Crystal clear, easy-to-read colour Head-Up Display
Added security Smart key bracelet
Things have moved to a new level with this bike. It puts offerings from Scott, Cube, etc somewhat in the shade. Only a bike like Specialized's S-Works Turbo Levo FSR are its equal (but you'll need to hand over several thousand pounds more for one of those).
EMTB-News magazine in Germany reviewed this bike and concluded
The stiff carbon frame of the BH Atom-X Carbon provides a solid ride and great handling. Paired with the powerful Brose Drive S Mag motor, you've got an incredibly dynamic E-Trailbike. The fully integrated 720 Wh battery makes long rides possible and, in our view, that increased capacity is a step in the right direction…
If you're looking for a quality carbon frame, unique design, comfortable geometry and a dynamic ride, then we can absolutely recommend the BH Bikes Atom-X Carbon to you.
More on the Bosch Performance CX 2020 Electric Bike Motor
https://sortathing.com/electric-bikes/who-rides-electric-bikes-in-2019/