Vegan air fryer recipes combine two of today's strongest eating trends – the most popular new kitchen gadget and a cultural shift towards veganism.
Air fryers produce tempting, crunchy meals with minimal preparation and cooking time. An air fryer is ready to use almost instantly (no need to wait for your oven or deep fryer to warm up). You need to use less fat and they're usually easy to clean.
But you don't have to trade-off taste for efficiency – air-fried food is just as crispy and delicious as deep-fried treats, but with fewer calories, less grease and less exposure to harmful acrylamides.
Here are 30 of the very best vegan air fryer recipes to share and enjoy in 2019. We've also published a roundup of the 30 best low-carb air fryer recipes and keto air fryer desserts
Article image from The Capsule Kitchen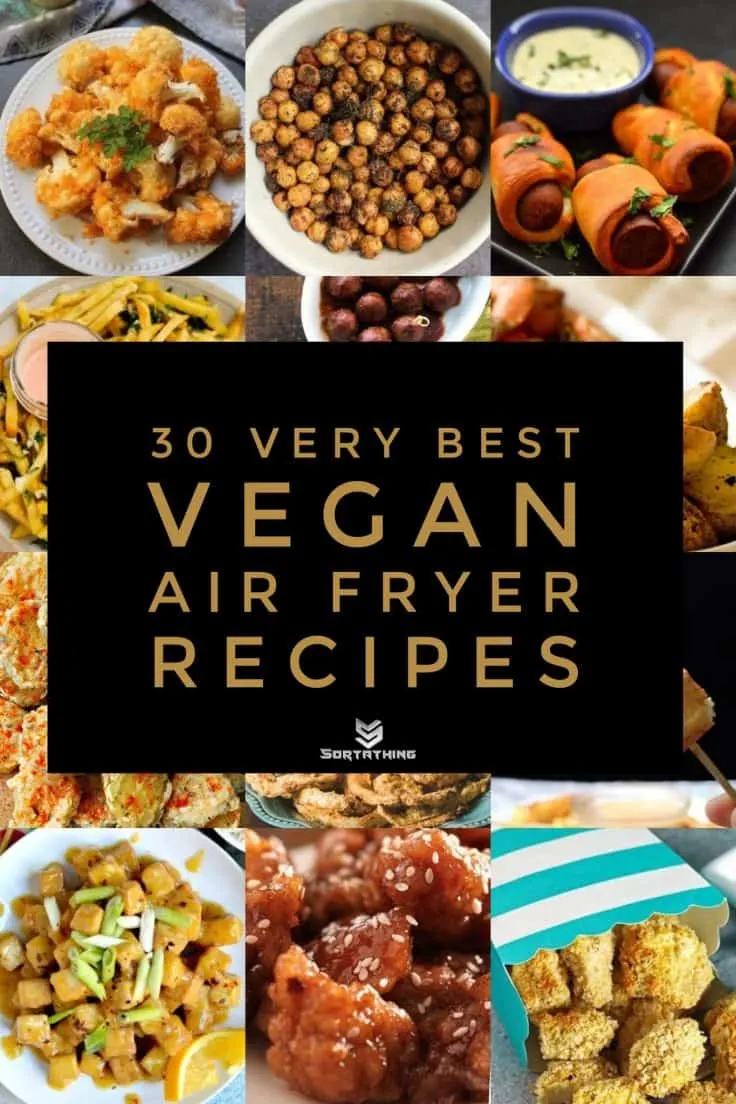 1. Vegan Air Fryer Falafel Balls
First up (because they are a personal favorite here at Sortathing), Vegan Air Fryer Falafels. They are pleasingly crunchy but soft inside. I like to fill a pitta bread with them along with a crunchy salad and maybe a squeeze of lemon AND chilli sauce. Much better than shop-bought too because you know exactly what is in them.
From: Glue & Glitter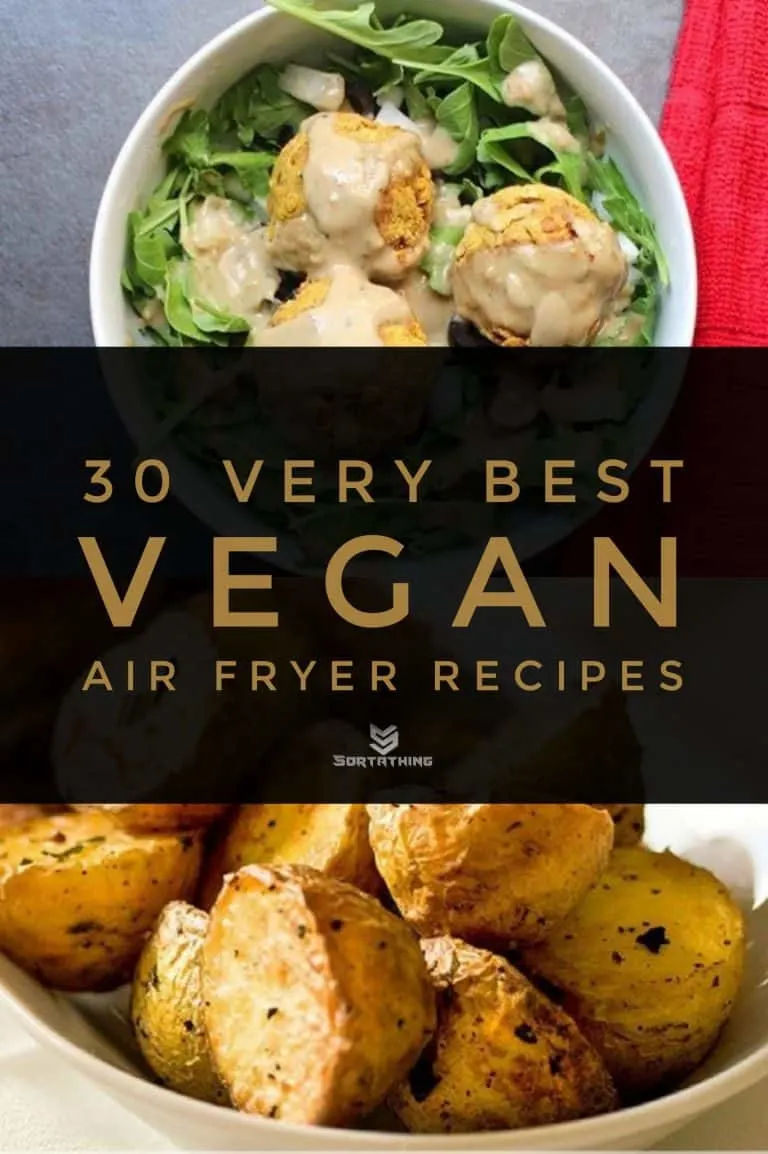 2. Vegan Rosemary Roast Potatoes
You don't need goose fat to make the perfect roast potato, you don't even need an over these days. This air fryer recipe produces crispy, aromatic roasties that make the perfect side dish. Roast potatoes usually take the best part of an hour to be ready. With an air fryer you could be tucking into them in less than 20 minutes! Potatoes and air fryers are a match made in culinary heaven.
From: Two Sleevers
3. Air Fryer Sweet Potato Hash Browns
It isn't only potatoes that work so well, sweet potato is another air fryer staple. Sweet potatoes are higher in antioxidants and are less starchy than regular spuds. Cinnamon, paprika and garlic bring this dish to life. On your plate, ready to go, in under 20 minutes.
From: Stay Snatched
4. Vegan Air Fried Pickles with Horseradish Sauce
I can eat dill pickles straight from the jar, but my patience was rewarded when I used them in this recipe. Not much patience is needed though, they're ready in no time. The horseradish sauce alone makes this recipe worth checking out today.
From: Brand New Vegan
5. Air Fryer Jicama Fries
Low in calories but very high in fiber, Jicama is originally from Mexico. It's finding its way into more recipes lately. These fries are moderately spicy (you could easily make them immoderately spicy) and go well with a salsa.
From: The Awe-Filled Home Baker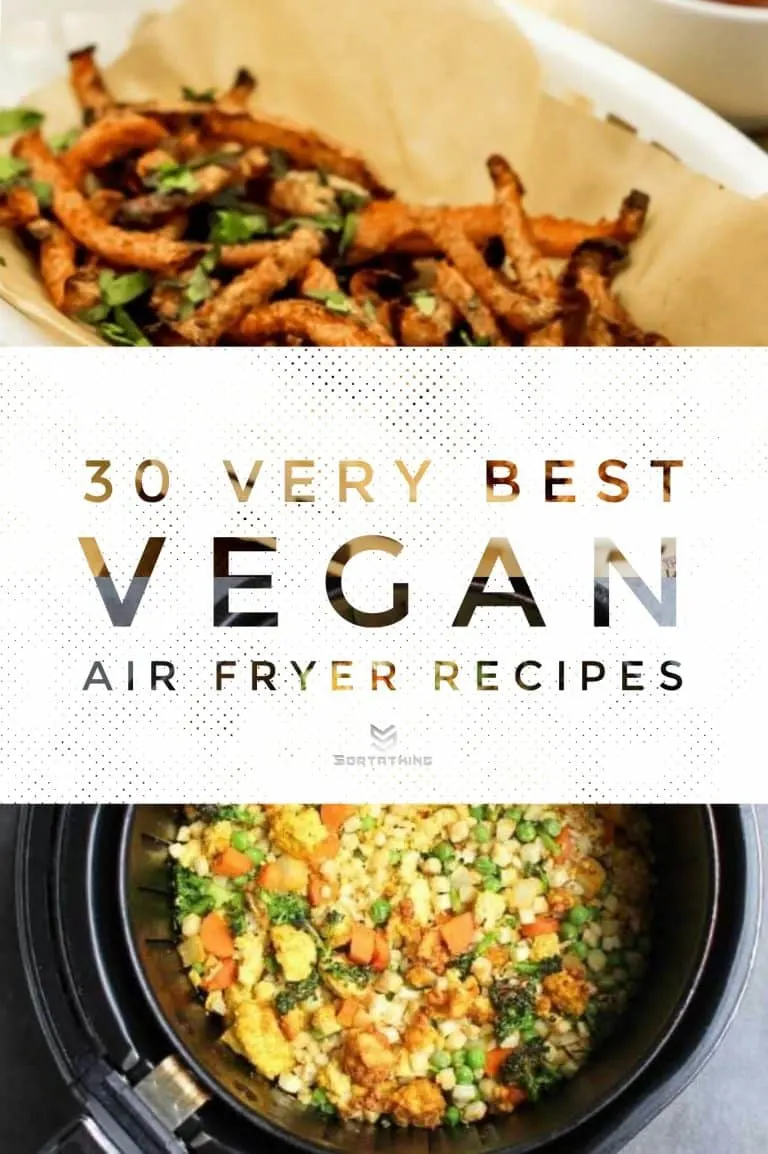 6. Vegan Air Fryer Cauliflower Fried Rice
Like fried rice but want to stay both vegan and low-carb? Cauliflower fried rice is the answer and making it in your air fryer is the best way to keep it low-fat too. This recipe livens it up with broccoli, minced ginger and peas but you could add all sorts of your favorite tasty morsels to it.
From: Glue & Glitter
7. Crispy Fat-Free Air Fryer Spanish Potatoes
Patatas bravas is one tasty Spanish dish and this fat-free recipe shows you how to make them in an air fryer. Personally, I don't mind a little fat, but this recipe shows it isn't always necessary.
From: Fat Free Vegan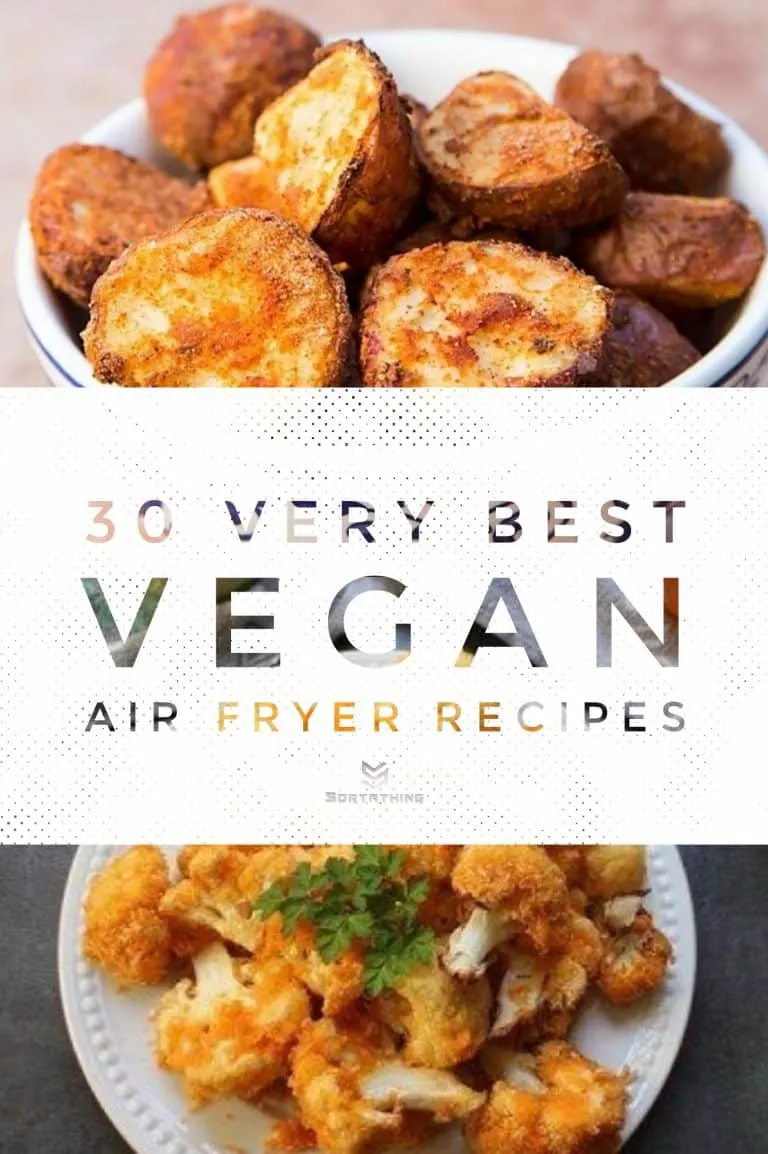 8. Vegan Air Fryer Buffalo Cauliflower
This version of crunchy Air Fryer Buffalo Cauliflower goes easy on the batter and is quick and simple to make. Dip it in vegan ranch or your favorite creamy vegan dressing.
From: Glue & Glitter
9. Cheesy Vegan Potato Wedges
This could be the perfect snack when you're craving something cheesy and comforting. The cheese sauce is a clever combination of cashew, nutritional yeast and lemon juice with some spices.
From: V Nutrition & Wellness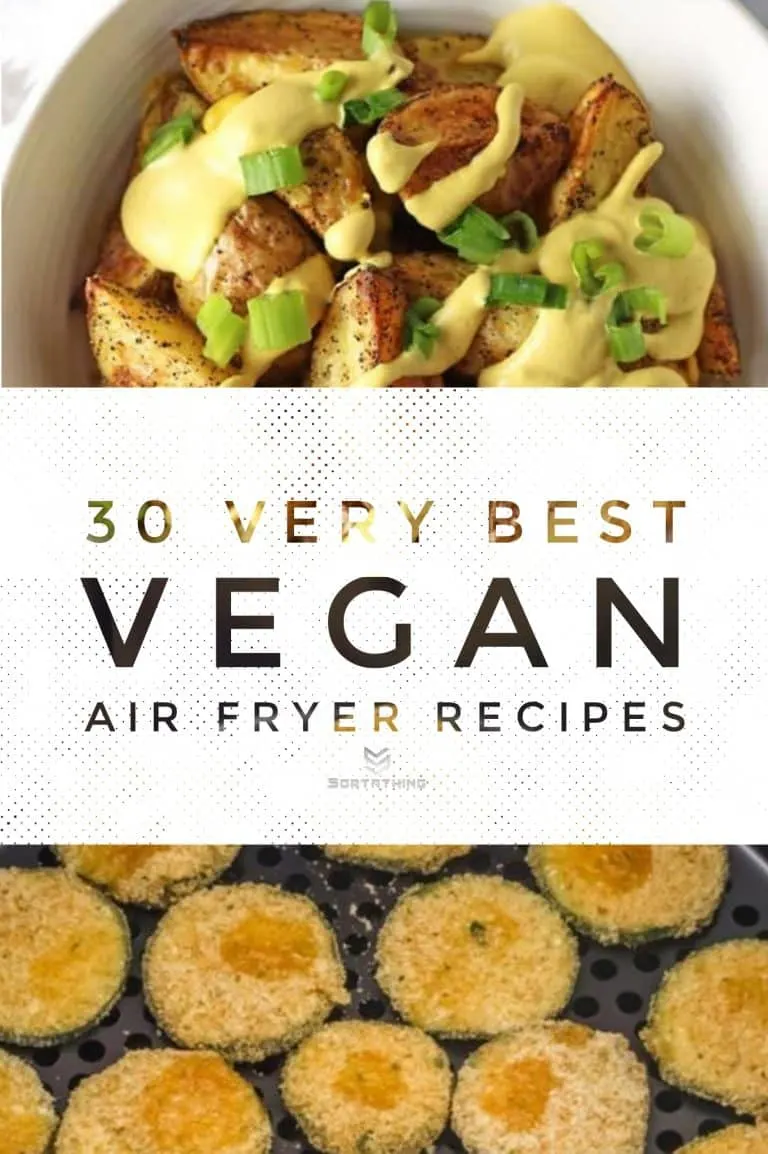 10. Air Fryer Zucchini Parmesan Chips
Zucchini (aka courgettes) are one of those ingredients that really shine in an air fryer. This recipes uses egg, but I've made it without and it doesn't suffer at all, so you can enjoy these and keep it vegan.
From: Awe Filled Home Baker
11. Vegan Churro Air Fryer Doughnut Holes
There's a lot going on with the Chonut Holes – cinnamon, doughnut batter, outer crunch and inner softness. All totally vegan and happy in your air fryer.
From: Glue & Glitter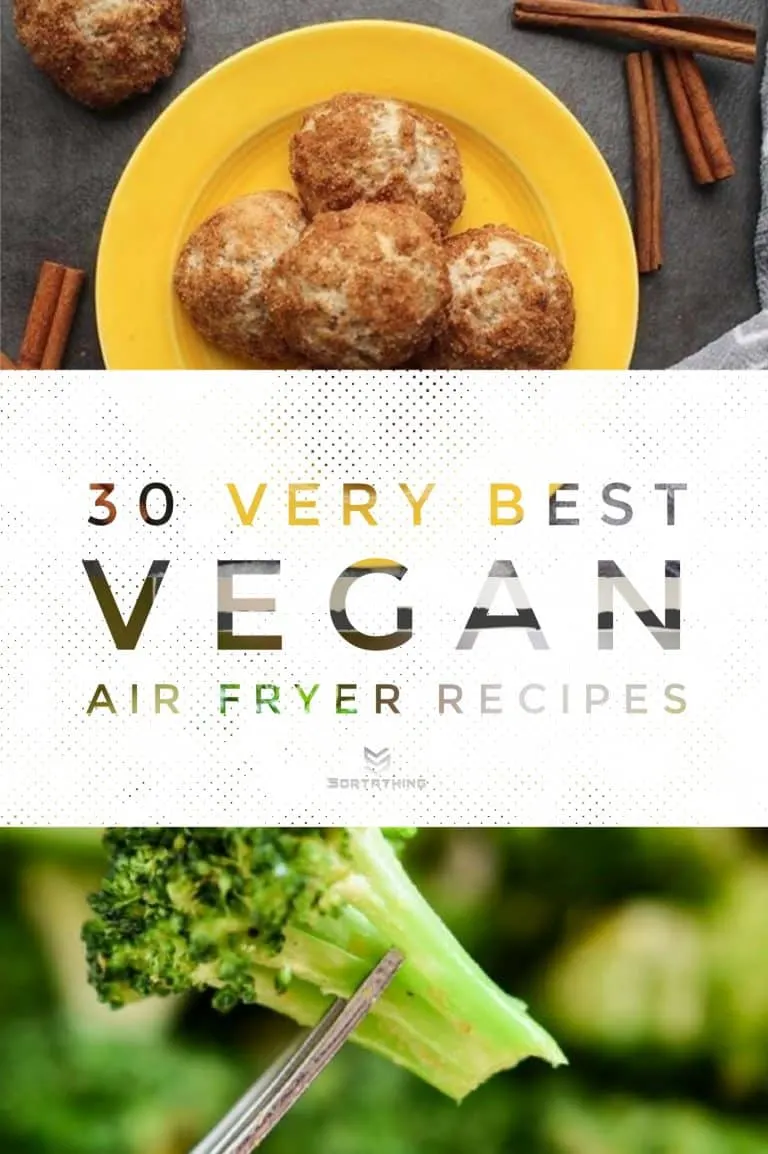 12. Highly Addictive Vegan Air Fryer Broccoli
With a 2-minute prep time and only 5 minutes in the air fryer, this is one quickfire, super-healthy snack or side. I would use purple sprouting broccoli rather than the standard stuff as I'm convinced
From: Meal Plan Addict
13. Air-Fried Vegan Pizza Cheese Sticks
It's amazing how cheesy vegan cheese can be, but the vegan mozzarella in these little beauties works so well.
From: Rich Bitch Cooking
14. Crispy Southern Fried Tofu
This is one of the best ways we've found to enjoy tofu. The contrast of outer air-fried crispiness with inner pillowy softness is deeply satisfying.
From: Spa Bettie
15. Vegan Air Fryer Bagel Pizzas
A useful tip for this one: give the bagels a couple of minutes in your air fryer before adding the vegan pizza toppings of your choice.
From: Cadry's Kitchen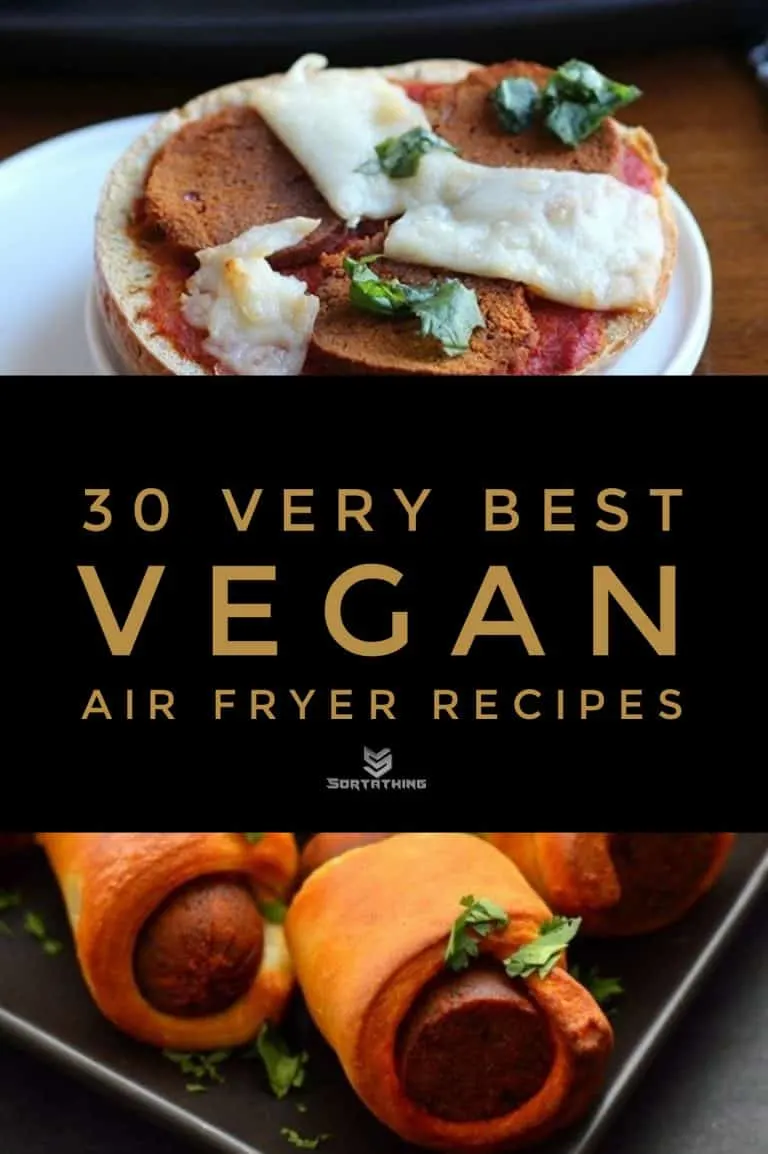 16. Vegan Air-Fried Sausage Rolls
Seitan vegan sausages work well in these pigs-in-blankets. Air fry for a total of about 7 minutes and they're all done.
From: Rich Bitch Cooking
17. Crunchy Air-Fried Panko Tofu
Panko makes a nice crunchy coating and there's no need to use egg as a binder – vegan mayo works well and adds extra flavor. These are made for dipping and something like ponzu or sweet chill, maybe both, work a treat.
From: Glue & Glitter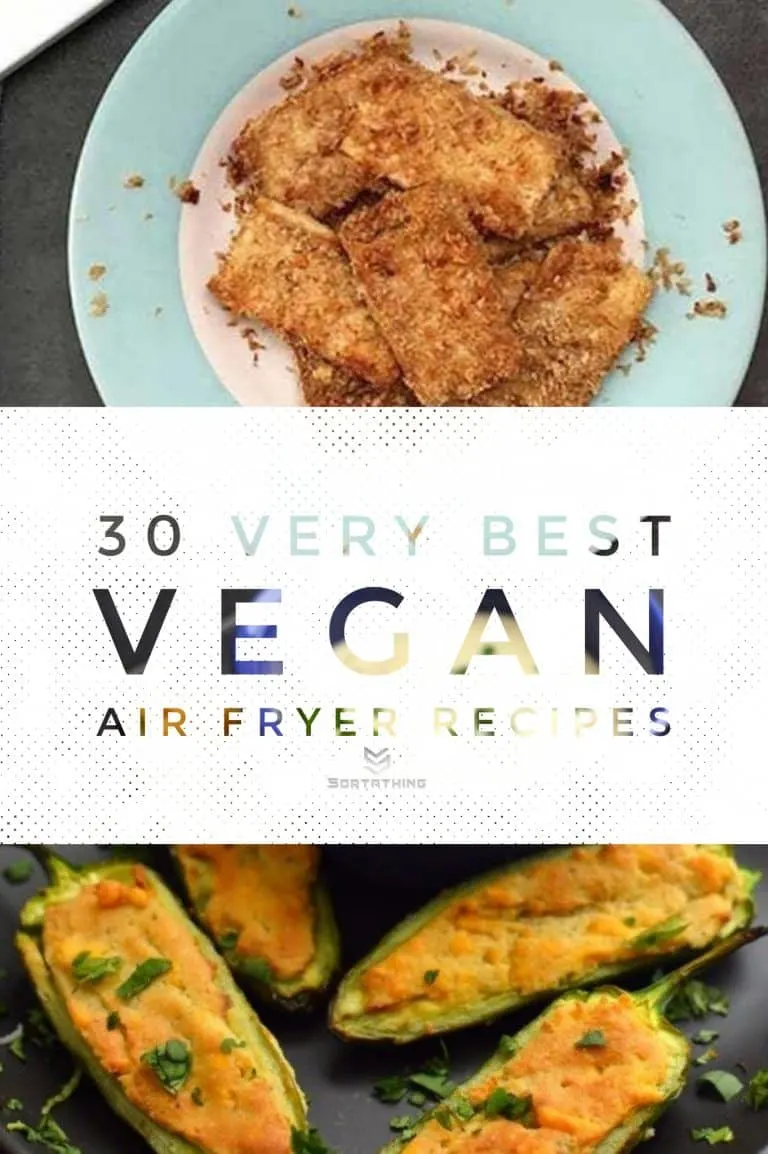 18. Vegan Jalapeno Poppers
Another vegan cheese filled delight from RBC. The creaminess of the cheese balances Jalapeno heat magnificently.
From: Rich Bitch Cooking
19. Vegan Air-Fried Blooming Onion
Nothing makes an onion bloom like an air fryer. The secret here is to season the flour coating properly and to take care to make sure the onion gets a thorough covering.
From: Rich Bitch Cooking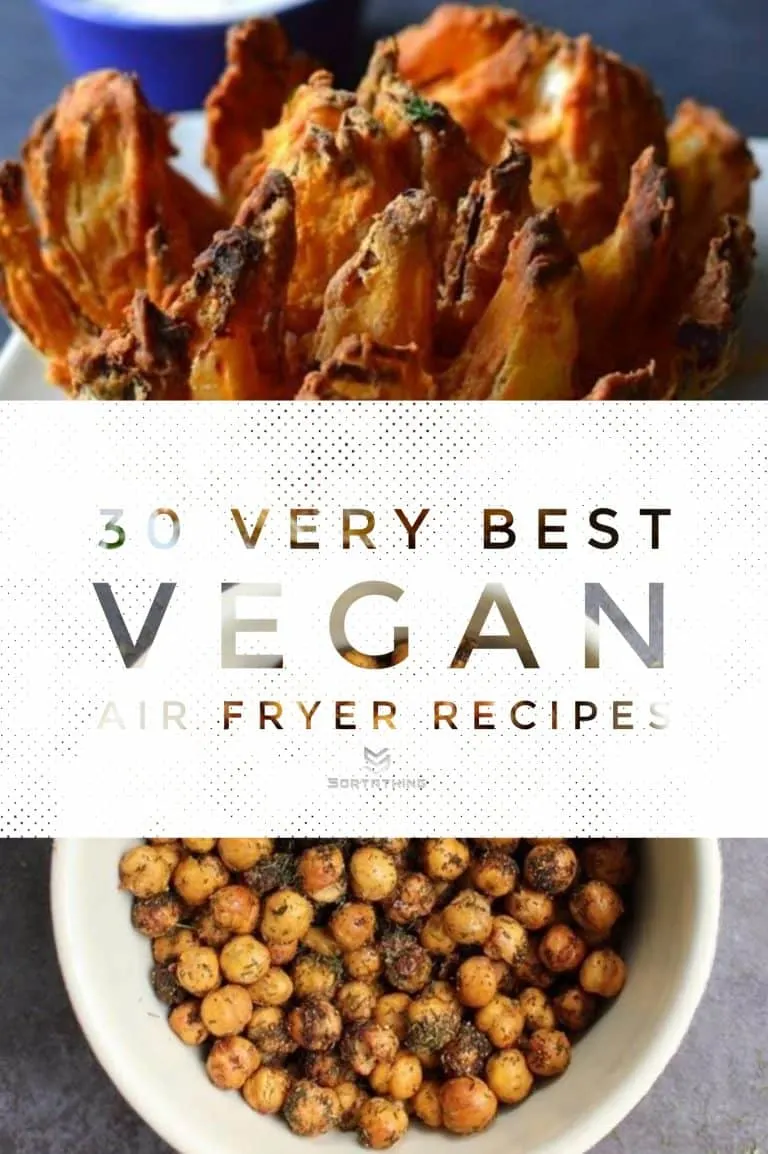 20. Ranch-Roasted Air Fryer Chick Peas
Twice-fried chickpeas – once to cook the chickpeas almost to perfection and a second time with the ranch coating, so that the herbs survive and thrive on your tongue.
From: Glue & Glitter
21. Air Fryer BBQ Lentil Vegan Meatballs
This is a tasty way to use up surplus lentils. They're nice and chewy with a crispy outer if you let them air fry for long enough. A vegan barbecue sauce completes the picture.
From: Vegan Yack Attack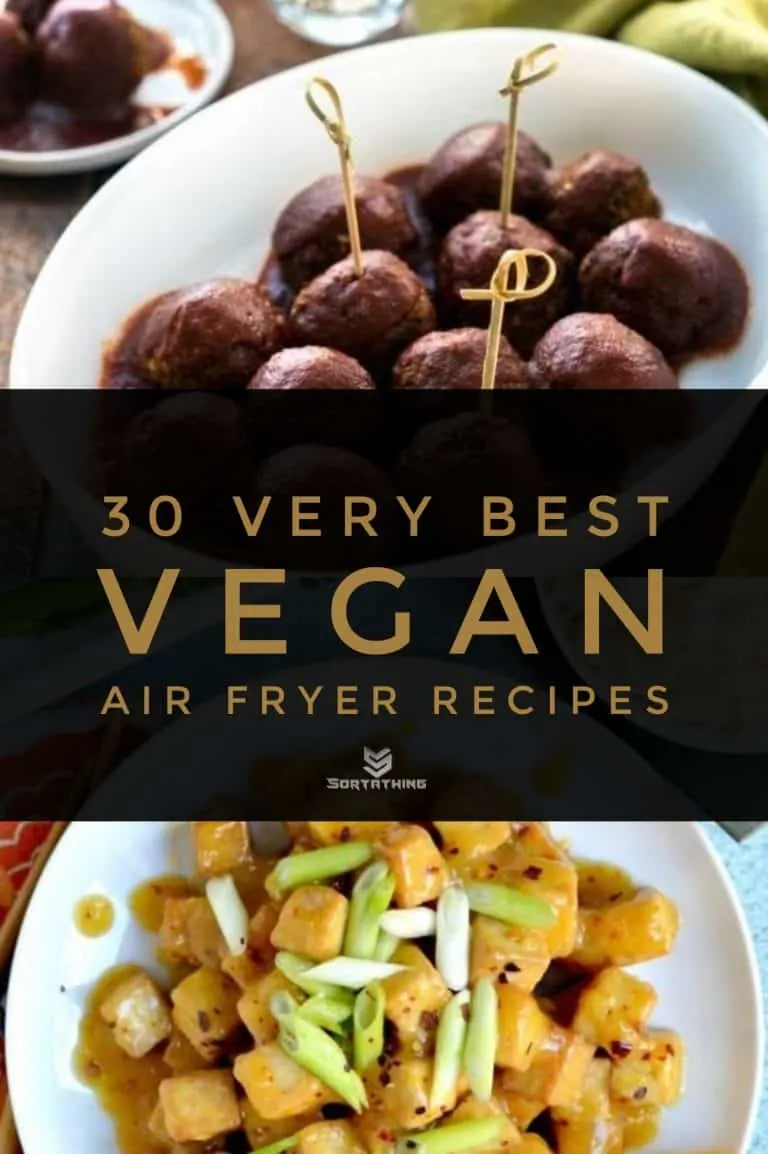 22. Vegan Air Fryer Orange Tofu
Forget orange chicken, air-fried orange tofu hits the spot. Eat with boiled or fried rice or subsitute like cauliflower to mop up all those delicious juices.
From: Veggies Save the Day
23. Vegan Sticky Sesame Cauliflower Wings
Vegan wings with a sweet and sour sauce coating! You do not want to miss out on how finger-lickingly amazing these are.
From: Nu Go Nutrition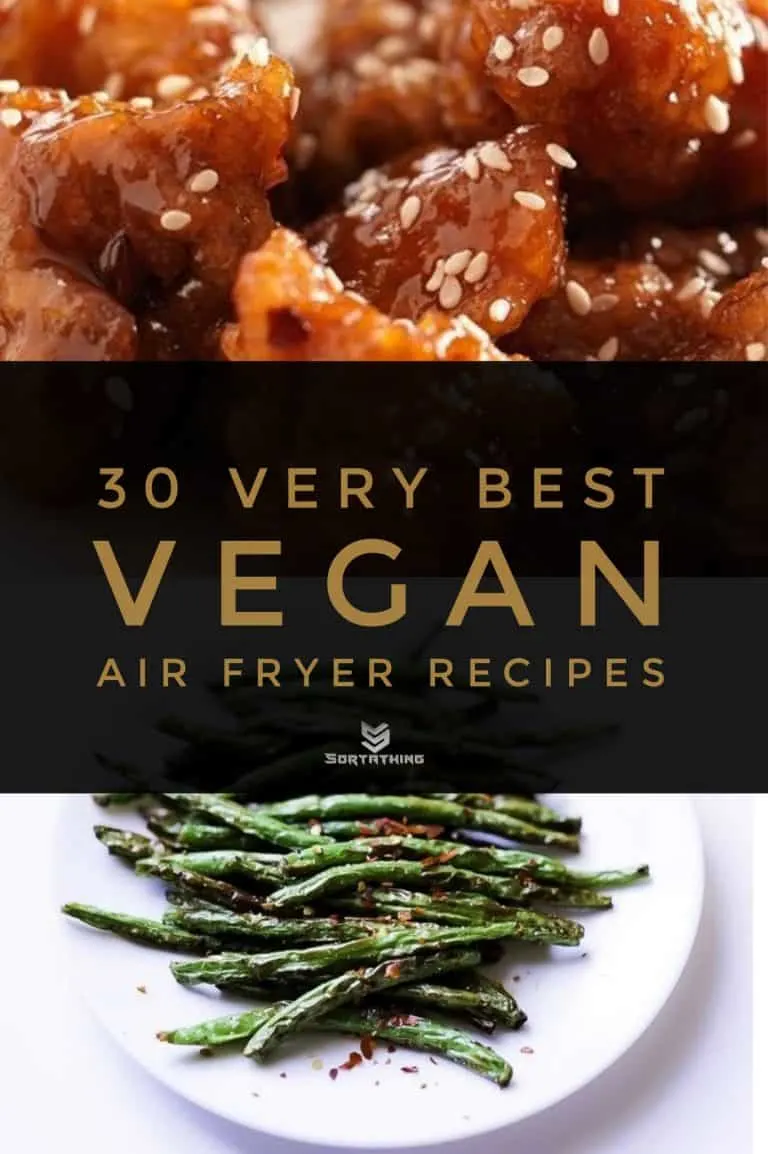 24. Air Fryer Green Beans
How to turn something very simple into something strangely enticing, through the magic of an air fryer! Make sure to cook a single layer at a time otherwise they'll become crowded and annoy each other.
From: My Vegetarian Family
25. Air Fryer Vegan Tofu Satay
There are a lot of tempting flavors in here – maple syrup, ginger, lime, soy sauce and sriracha. Tofu can be bland, but not in this guise. You'll be proud to serve them up and they'll soon disappear in a cloud of all-round satisfaction.
From: Glue & Glitter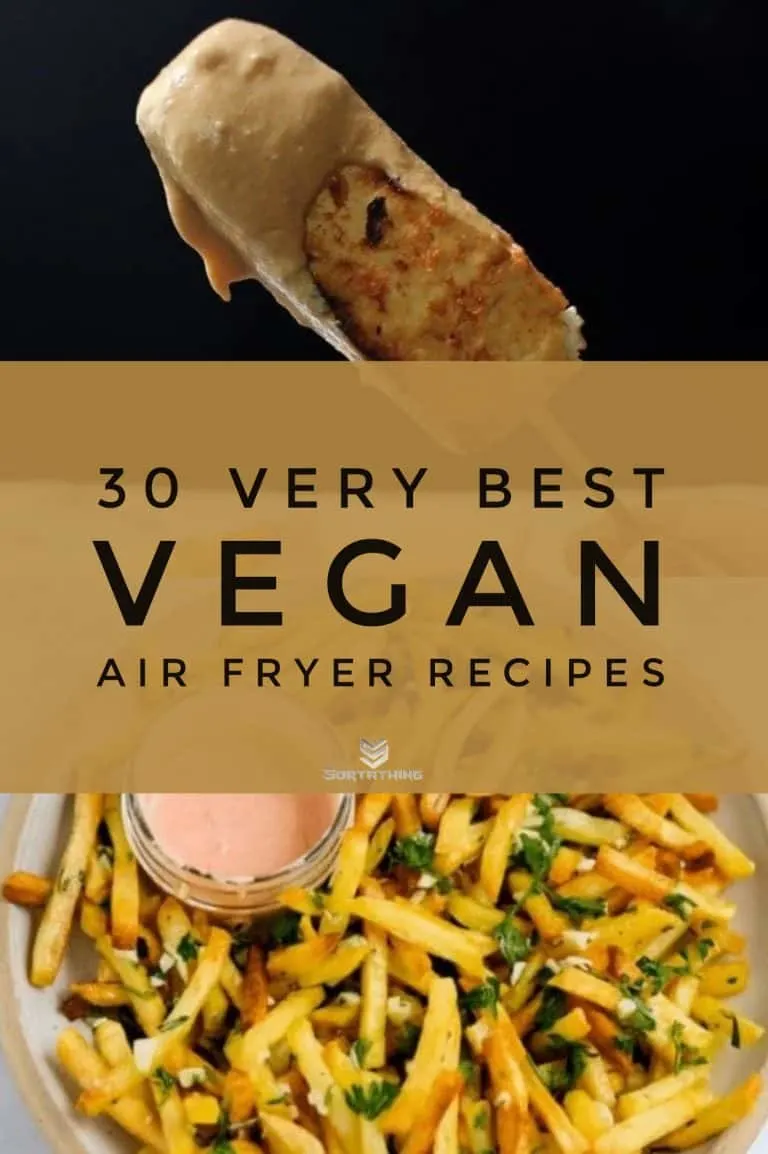 26. Vegan Paleo Air Fryer Garlic Fries
French fries are an air fryer essential and delicious in their natural state. Adding garlic to the equation makes them utterly delicious, especially mingled with parsley and rosemary here.
From: The Capsule Kitchen
27. Crispy Brussel Sprouts in the Air Fryer
In my house I end up with all the sprouts, nobody else likes them. Fools! Maybe if I cook them in the air fryer I'll convert at least one other person. Balsamic vinegar is the secret ingredient here and I think that might just do it…
From: Glue & Glitter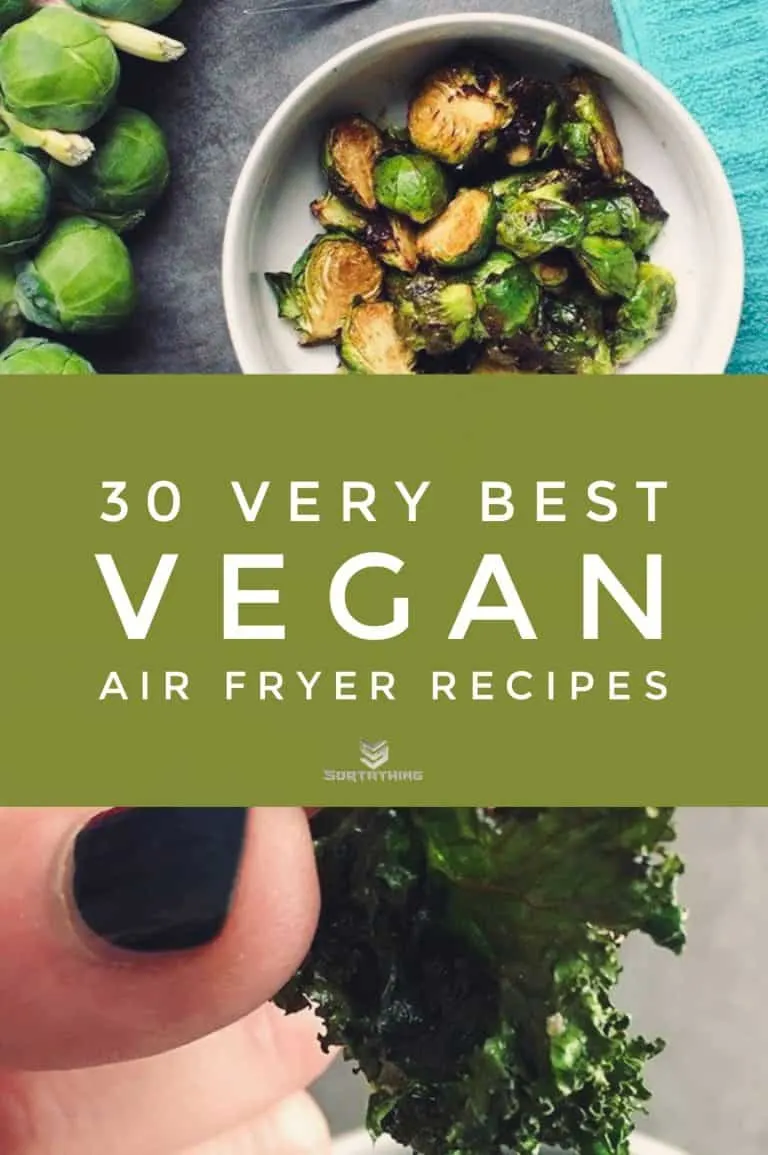 28. 8-Minute Kale Chips in the Air Fryer
This recipe is a good start for lots of variations – you could add garlic powder, cayenne pepper, curry powder or just simple salt and black pepper. Do so knowing whatever you choose there's green, crispy goodness to be savored. Five minutes is all it takes.
From: Care2
29. Air Fryer Popcorn Tofu
Roll up! Roll up! Guilt-free snacking option for everyone to enjoy. Tasty on their own but a mayo dip will serve you well.
From: V Nutrition & Wellness
30. Air Fryer Healthy Vegetable Kebabs
So what should you pop on the skewer and how long in the ol' air fryer? Well, bell peppers, onion chunks (my favorite), eggplant, zucchini and mushroom all get along well. Ten minutes and they're good to go.
From: Berry Maple
So there's our take on the best vegan air fryer recipes
If we've missed any classics or personal favorites, please let us know and we'll update with your findings!