Keto brownies can be a life-saver. In the same way that sizzling bacon is Kryptonite for many vegetarians, full-carb brownies see many of us falling off the sugar-free wagon.
I've been a victim of this. My local café sells honeycomb crunch brownies that I often hear myself ordering and then find myself eating. Cannot resist…
On the upside, they are made with raw cacao but they are also absolutely loaded with sugar. Five minutes of rich, dense, crunchy, chocolatey pleasure is followed by the less welcome buzz of guilt and then a sugar crash.
Luckily, their new avocado keto brownies have made it easier to stay on the right track, so I'm usually able to resist the honeycomb brownie temptation. Usually.
Which got me thinking about keto brownies. There must be some great brownie recipes out with all the rich indulgence of the perfect brownie, but without any sugar? There are! So here are some of the finest keto brownie and blondie recipes known to humanity in 2022.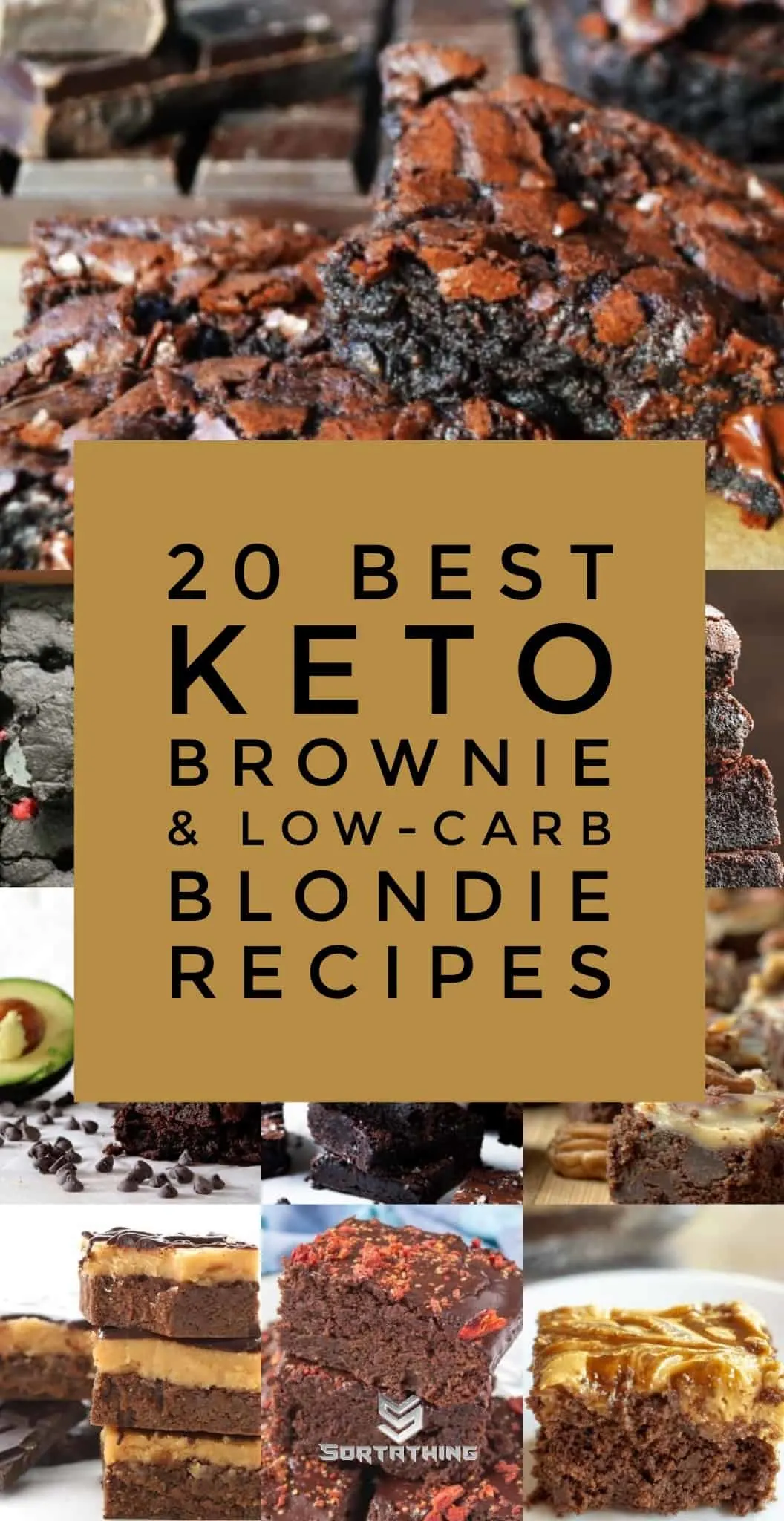 1. World's Best Keto Brownie Recipe
A brownie needs three things to qualify as the world's best. It should be moist on the inside, with a crispy, flaky layer on top and a rich depth of taste. Not too sweet, not too dry, not too soft. Follow this recipe carefully and you will indeed be the proud creator of some incredibly delicious brownies. If there's a secret ingredient, it's the coffee.
From: Gimme Delicious
2. Keto, Low-Carb, Sugar-Free Peanut Butter Brownies
These keto brownies would be great on their own. They're taken to the next level by topping off with a rich sugar-free peanut butter fudge and then a sweet chocolate glaze for added decoration. Too good to keep to yourself, these keto brownies want to be seen as well eaten.
From: All Day I Dream About Food
3. Peanut Butter Brownie Cookies
This recipe makes six large brownie cookies with a delicious peanut butter filling. I like that this recipe uses cacao powder and the surprise filling is genius level. You could use another seed or nut butter instead of peanut – these would work magnificently with pecan butter.
From: The Castaway Kitchen
4. Keto, Paleo & Gluten-Free 5-Ingredient Super Fudgy Brownies
This recipe comes with very useful, all-purpose brownie cooking tricks. Don't overcook if you like them fudgy. Bring the eggs up to room temperature before making the batter and then refrigerate overnight. Oh yes, and make sure to whisk the batter no more than forty times!
Be sure to check this one out, Gnom Gnom really know what they're doing here.
From: Gnom Gnom
8. Keto Avocado Brownies
Avocado is one of the ingredients du jour lately. No wonder, they're packed with good fats and work well as a base in raw and vegan paleo recipes.
Did you know that the proportion of good fat increases as an avocado ripens? So use up your ripe avocados in this recipe to get the maximum monounsaturated fat benefits.
From: My PCOS Kitchen
6. Keto Cranberry Brownies
The first good brownie I ever ate was something called a Boston Brownie from Konditor & Cook in London, many years ago.
Brownies hadn't really become a thing in the UK at that time so to find one that combined sweet chocolate gooiness with tart cranberries was a revelation. Making them the keto way makes them truly healthy.
From: Fit to Serve
7. Keto Caramel Macchiato Brownies
Another fully-loaded keto brownie recipe, this time topped with coffee buttercream and caramel sauce. There's room to show off your artistic skills here with how you apply the caramel topping – you could swirl it, make spirals, write greetings. Up to you. This is one richly delicious recipe however you dress it up.
From: Joy-Filled Eats
8. Keto Peanut Butter Cheesecake Brownies
This recipe brings a lot to the table: a delicious combination of peanut butter, cream cheese, and chocolate. Easy to make and so delicious you won't believe they are low carb! They taste just right, with all the ingredients satisfying a different set of taste buds.
From: Keeping it Keto
9. Keto Brownie Brittle
Brownie brittle is much chewier than your regular brownies. They're also really, really easy to make – simply melt some chocolate and mix a handful of other ingredients into it. Best stored in the fridge or freezer between brownie brittle binges.
From: Joy-Filled Eats
10. Keto Super Fudgy Brownies
Almond flour forms the base for this terrific keto brownie recipe with the fudginess coming from plenty of butter. The result is something with epic melt-in-the-mouth qualities.
A good basic recipe that you can send in new directions by adding things like pecans, blueberries or good old cranberries.
From: Eatwell 101
11. Vegan Fudgy Paleo Brownies
A 15-minute recipe for the best, most-fudgiest vegan brownies we've found. You could use cashew butter instead of the almond butter in the base recipe and because this is not a keto recipe, you're favorite low or zero-carb sweetener should be used.
From: Joy Food Sunshine
12. Fudgy Pumpkin Brownies
That's the thing about brownies, they are endlessly versatile. Well, almost. I tried to find a keto brownie recipe with bacon without success and I don't think a fish brownie recipe would win much support. But pumpkin spice – that could work and it does!
From: Sugar-Free Londoner
13. Sugar-Free Pecan Praline Brownies
Something so sweet, crunchy and tasty has no right being sugar-free. This could end up being your brownie di tutti brownies, the boss brownie, the GBOAT (greatest brownie of all time).
I loves me some pecans and you may have picked up that I'm also partial to a brownie, so I urge you, friends, to go all-in on this fantastic recipe.
From: Joy-Filled Eats
14. Energizing No-Bake Maca Brownies
Maca powder is one of those superfood ingredients that's finding its way into everybody's recipes. It has a lot on offer and works well with chocolate. Perfect brownie ingredient then.
This recipe makes good use of the super powder and takes ten minutes to make. What you do with the energy boost is up to you.
From: Paleo Hacks
15. Chocolate Maca Tahini Brownies
Tahini is used as a substitute for the nut butters you'll find in many other recipes. It's basically a butter made from sesame seeds and it"s unusual to find in a sweet recipe. It's packed with nutrients, omega-3 and minerals like Zinc and Selenium.
Possibly the most exotic brownie recipe here with its unusual ingredients, but one to experiment with to make it truly sugar-free.
From: Natalie's Health
Keto Blondie Recipes
Blondies are basically brownies with one important difference. Instead of cocoa they use brown sugar and the taste is more like butterscotch than chocolate, with a much lighter color.
Brown sugar is far from keto-friendly, of course, but the keto boffins have got around that in creative ways, as you'll see in the following five keto blondie recipes.
16. Cacao Butter Keto Blondies with Dark Chocolate Chunks
Blondies with dark chocolate chunks are a wonderful idea. This recipe offers several variations and room for options like chia seeds, walnuts, more or less coconut oil. The videos are useful, this is well thought our recipe worth your attention.
From: My Sweet Keto
17. Maple Pecan Blondies
Believe it or not, there are people out there who do not like chocolate. Some of those people do like brownies. This recipe is a great way to square those two things.
From: Two Sleevers
18. Keto Peanut Butter Blondies
Crumbly, fudgy and dangerously difficult to stop eating. Except that there's little danger really, these babies are keto all the way. You could try these with macadamia butter instead and be sure to use sugar-free chocolate chips
From: My Keto Kitchen
19. Keto Coconut Blondies
This blondie recipe avoids chocolate, cocoa and cacao completely. The fatty, sweet creaminess more than makes up for it though
From: Zenberry Keto
20. Keto Low-Carb Blonde Brownies with Monkfruit
The brown sugar substitute here is Monkfruit golden, which I have not encountered before. Sure looks like the real thing thing. This is a chocolate chip blondie recipe but you could throw in nuts or fruit instead.
From: Kasey Trenum


Looking for more crunch and chewiness? Check our Keto Cookie Recipes article and Keto Dessert Recipes