This week we'll focus on keto dairy free ice cream and low-carb vegan ice cream alternatives. Because some of us love ice cream but just don't get along with dairy products.
Fortunately, there are great alternatives to milk and cream these days. All these recipes are dairy-free, gluten-free and sugar-free but do not compromise on texture or flavor.
Here are 20 guilt-free ice cream treats that won't upset your stomach or move your blood sugar needle. All the greats are here – salted caramel, mint chocolate chip, vanilla of course. We've also included some more unusual ones, like the Mexican avocado ice cream recipe.
Keto Dairy Free Ice Cream Recipes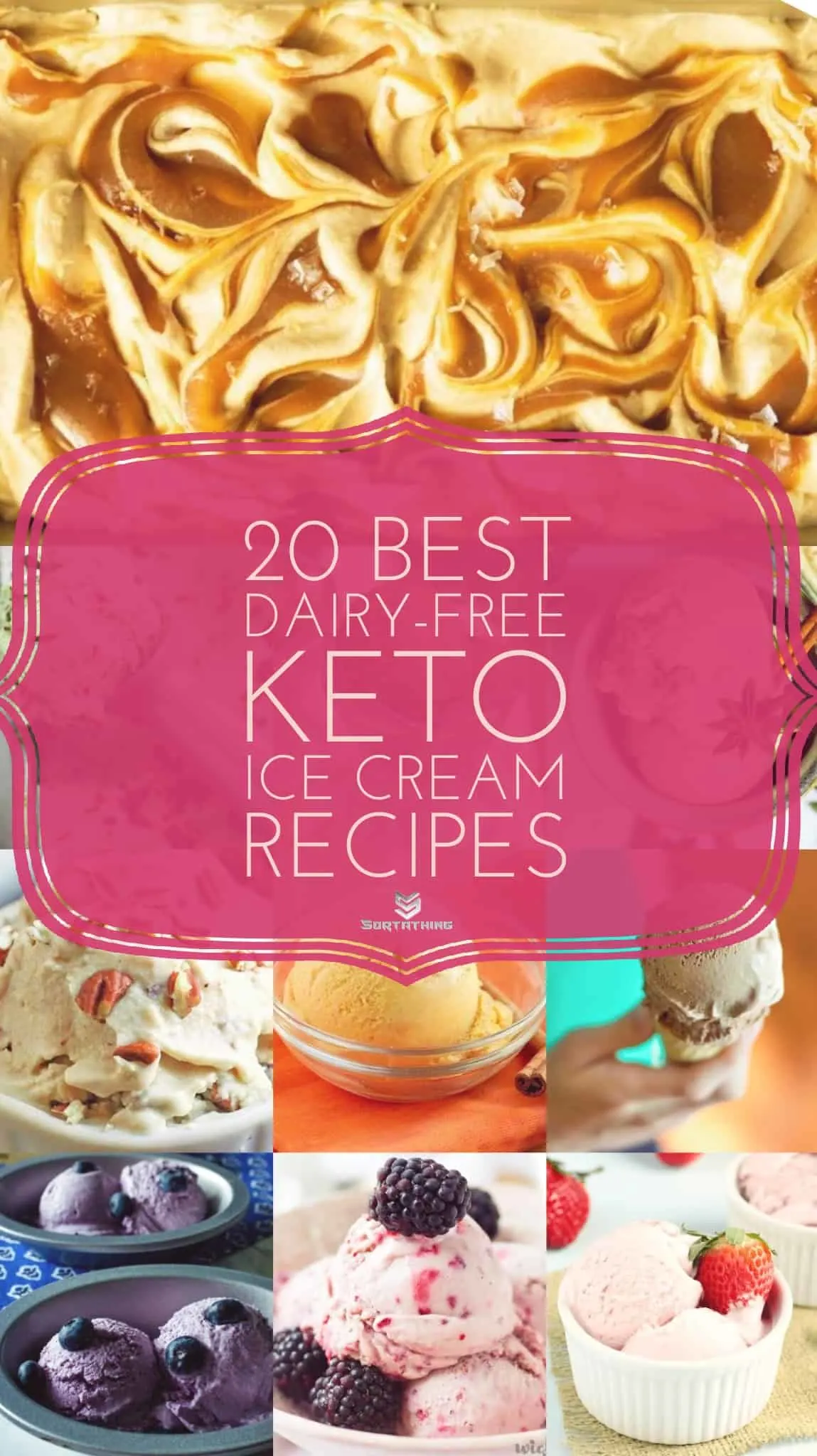 1. Pumpkin Spice Fat Bomb Ice Cream
A great for Fall and Halloween! Sugar-free, dairy-free, creamy keto ice cream without the coconut milk or nuts. This keto frozen festive fat bomb is infused with pumpkin puree and pumpkin spices. This recipe does, however, contain a lot of egg, so not vegan-friendly.
From: Healthful Pursuit
2. Avocado Mint Chip Ice Cream
Avocado is a great ingredient and really works its magic in this recipe. Paleo, dairy-free and vegan-friendly this recipe does contain maple syrup. You could easily replace that with a totally sugar-free sweetener or low-carb alternative with maple-syrup essence.
From: Paleo Gluten Free
3. Dairy-Free Vegan Mocha Ice Cream
Chocolate coffee ice cream is the flavor I often go for so it's great to see a dairy-free and potentially low-carb alternative here. It's a no-churn recipe too, so that helps!
From: Mildly Meandering
4. No-Churn Sunbutter Ice Cream
No ice cream maker is needed for this recipe either. Peanut butter and maple syrup flavors make this ice cream especially rich and tasty.
From: Real Food with Jessica
5. Low-Carb Keto Cookie Dough Ice Cream
This one is a little more complicated as you'll need to make up the cookie dough batter first and you will also need an ice cream maker. The results though are fantastic – rich, creamy with an irresistibly chewy cookie dough texture. One for a special occasion.
From: Pretty Pies
6. Keto Chai Ice Cream
This keto dairy-free ice cream recipe makes good use of essential oils for the distinctive chai flavor. Sorta like pumpkin spice but a little more exotic. Of course, if you're not happy with consuming essential oils, this recipe includes ground spice alternatives too.
From: All the Nourishing Things
7. Healthy Mexican Chocolate Avocado Ice Cream
Slightly spicy, very rich and deeply chocolatey – this ice cream has a lot going on but without any carbs or dairy to worry about. This is one of the most interesting recipes for ice cream we've seen, check it out.
From: All Day I Dream About Food
8. Homemade Blackberry Ice Cream Recipe
It's that time of year when the local woods and hedgerows are weighed down by blackberries, ripe for the picking! You can make the most of nature's bounty with this fantastic recipe.
Wicked Spatula recommends that you roast your blackberries lightly in the oven first – this helps remove some of the juice before combining with your other ingredients. Good idea!
From: Wicked Spatula
9. No-Churn Keto Salted Caramel Ice Cream
Gnom-gnom say this awesomely rich ice cream should only take about 20 minutes to prepare. They also give excellent advice on different sweeteners you'll need to get that authentic caramel flavor.
Salted caramel is one of my son's favorite flavors but the "real thing" is a serious carb hit and insulin-spiker, so this recipe is very welcome. Awesome work.
From: Gnom-Gnom
10. Dairy-Free No Churn Chocolate Ice Cream
"Ice cream doesn't have to be bad". That's the thinking that guides this expertly-composed chocolate ice cream recipe. One ingredient here you probably would not expect in chocolate ice cream, but we'll go with it: banana!
From: My Crazy Good Life
11. Vegan Paleo Vanilla Ice Cream
Sweet potato ice cream with a hint of vanilla. The only other ingredient is coconut cream. Simple but very clever.
From: The Banana Diaries
12. Dairy-Free Mango Cardamom Ice Cream
Something different here with this Indian-accented dairy-free ice cream. Cardamom has a unique aromatic flavor that works wonderfully with mango here. Top marks!
From: Rally Pure
13. Keto Matcha Superfood Ice Cream
Matcha green tea powder is one of nature's genuine superfoods. Its health-promoting powers are incredible and backed by plenty of evidence. Read more about matcha powder health benefits and recipes here.
To keep this recipe totally sugar-free (rather than low-sugar) you might want to swap out the maple syrup for a maple-flavored sweetener.
From: Further Food
14. Dairy-Free Bulletproof Chocolate Peanut Butter Ice Cream
This isn't a recipe for bulletproof coffee ice cream – it's bulletproof chocolate with swirls of peanut butter. This recipe comes from Maria Emmerich who is very well-respected in keto circles, so check out the rest of her site for a wealth of low-carb living information.
From: Maria Mind Body Health
15. Cold Brew Coffee & Coconut Ice Cream
The cold brew technique meets creamy coconut milk to create the most delicious and authentically coffee-flavored ice cream. Dairy free, egg free, vegan and refined sugar free.
From: Feeding Your Beauty
16. Paleo & Vegan Butter Pecan Ice Cream
We love pecans here at Sortathing. In fact we devoted a whole post to pecan pie recipes a while back. So we had to include a pecan ice cream recipe here. Not entirely sugar-free, this one, but you could adapt it to suit your needs.
From: Real Food with Jessica
17. Keto Dairy-Free Cinnamon Ice Cream
Cinnamon ice cream goes very well with Fall desserts like apple pie so it's great to find this keto, dairy-free version that uses cinnamon liquid stevia as the sweetener. Smart!
From: Sugar-Free Mom
18. Peanut Butter Swirl Ice Cream
A recipe which succeeds in hiding the coconut flavor you'll get with most dairy-free ice cream recipes. You're in safe hands with Joy Filled Eats, the recipes are always, always great.
From: Joy Filled Eats
19. Keto Cream Blueberry Ice Cream
Blueberries are one of the go-to fruits for ketonians and this ice cream sure makes the most of them. Both dairy and dairy-free options (using unsweetened coconut cream) are outlined here and you can use fresh or froen blueberries.
From: Holistic Yum
20. Dairy Free Coconut Strawberry Ice Cream
Strawberry ice cream is a lot of peoples' favorite flavor, so here it is, minus the carbs and the cream. No ice cream maker needed for this one and there are only three simple ingredients.
From: Easy Keto Dishes