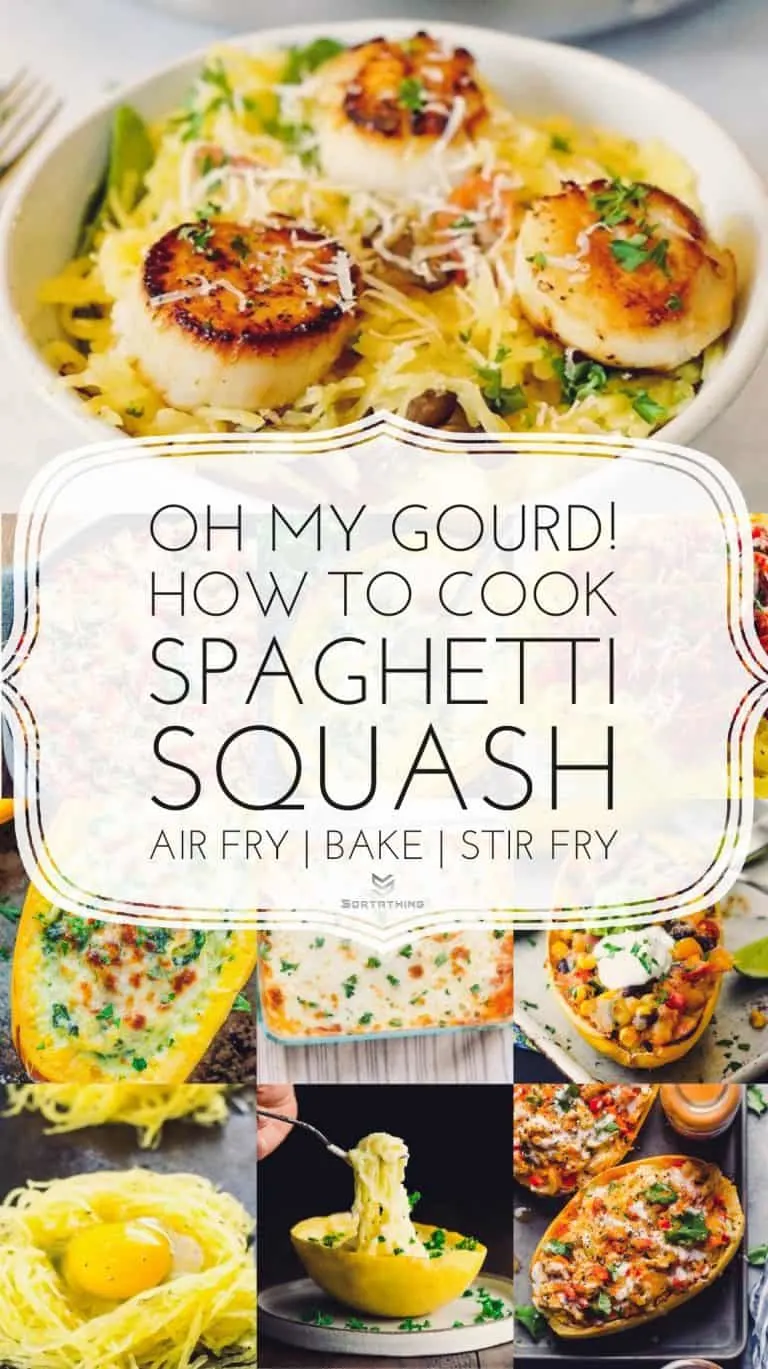 How to cook spaghetti squash and get the best results
I used to eat a lot of pasta, at least once a day for years and years. It was my go-to meal and I always enjoyed it. Covered in sauce, buried under cheese, added to salads. I enjoyed them all.
But all those carbs took their toll and eventually I began to resemble a well-filled cannelloni myself. Those days are gone, but some days I still yearn for pasta and a meaty sauce, especially in Fall & Winter.
There are good options for low-carbers who love pasta. Fathead dough makes a good low-carb pasta substitute. You can even use seaweed to make pasta dishes. But in today's post, we're going to focus on how to cook spaghetti squash.
Spaghetti squash is a member of the cucurbita family, along with cucumbers, pumpkins, zucchini and the other squash varieties. When prepared correctly its flesh separates into noodle-like strands with a texture similar to wheat pasta. Its nutritional profile is very different to pasta though – very low in carbs but a good source of fibre and vitamins.
This vegetable spaghetti is very versatile – it can be seared in a pan, baked in your oven and even cooked in the air fryer.
How to cook spaghetti squash in the air fryer
If you have an air fryer, this is by far the best way to cook your spaghetti squash! It comes out of the air fryer perfectly cooked, clean up is easier, and it takes less than half the time of an oven! An average-sized spaghetti squash cooks in the air fryer in around 25-30 minutes. In the oven, it will likely take at least 45 to cook perfectly.
From Adapted Eats
The Best Spaghetti Squash Recipes
1. How to Cook Spaghetti Squash (The Best Way)
No air fryer? No problem, oven baking is the most popular method for cooking spaghetti squash. Turn the over up to 400 degrees Fahrenheit and follow these instructions to get perfectly cooked spaghetti squash, to do with what you will, every time.
From Cookie and Kate
2. Instant Pot Spaghetti Squash
What takes up to 40 minutes in the oven only takes about 7 minutes in the Instant Pot. This method also includes a low carb holiday side dish option with a sausage sage sauce. Very thorough step-by-step instructions with photographs through the link.
From Whole Lotta Yum
3. Cajun Chicken Spaghetti Squash Bake
This spaghetti squash recipe packs a lot of flavor but barely any carbs. It's amazing what happens when you swap out pasta for spaghetti squash.
From Destination Delish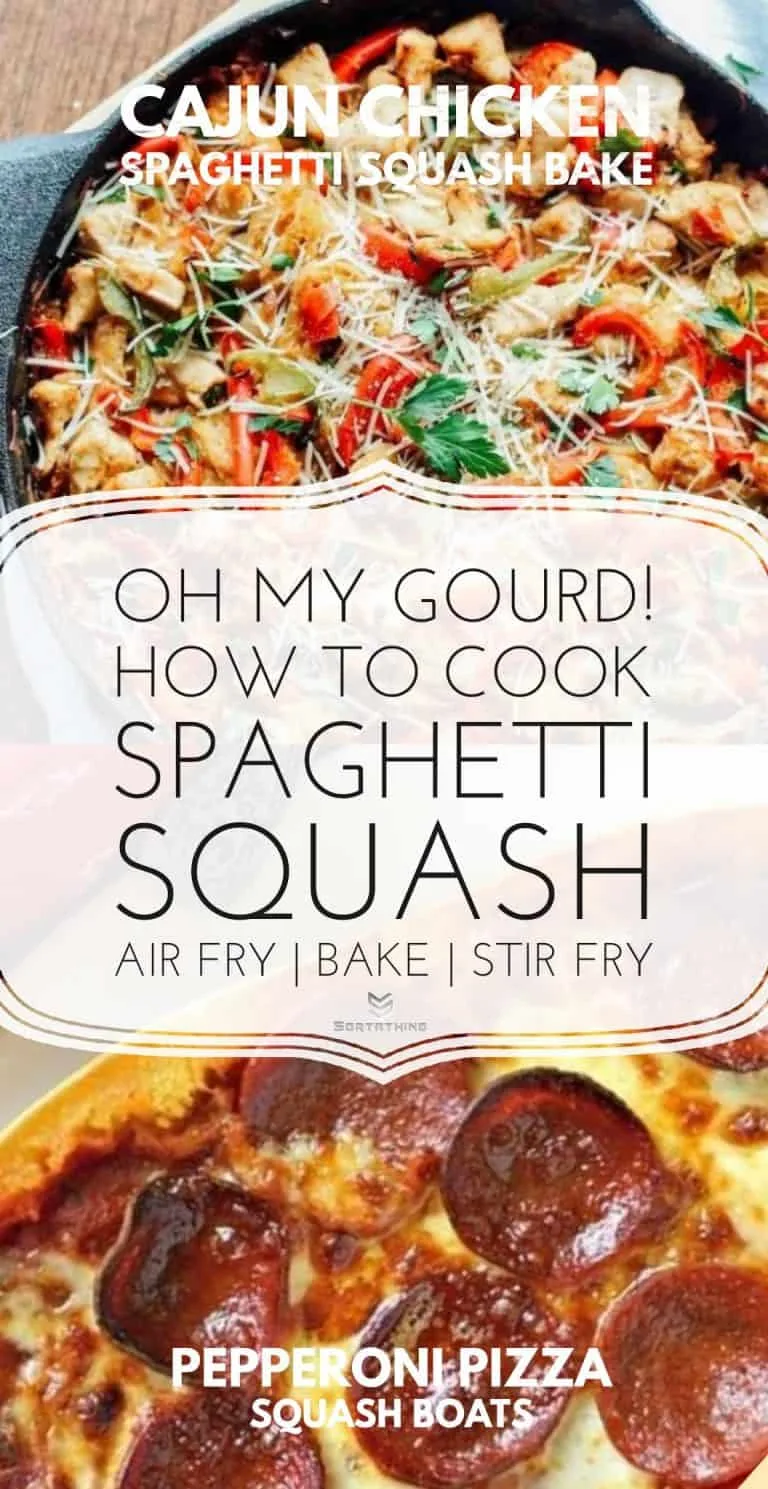 4. Pepperoni Pizza Squash Boats
You don't always to scoop out the veggie pasta goodness from your squash. They make pretty good serving bowls and this recipe makes the most of that. Check out this recipe for a tasty doughless pizza your kids will love.
From Everyday Maven
5. Low Carb Spaghetti Squash Pizza
Continuing the pizza theme, here's a recipe for mini pizza bites, made in a muffin tray and topped as you like.
From Linsey Layne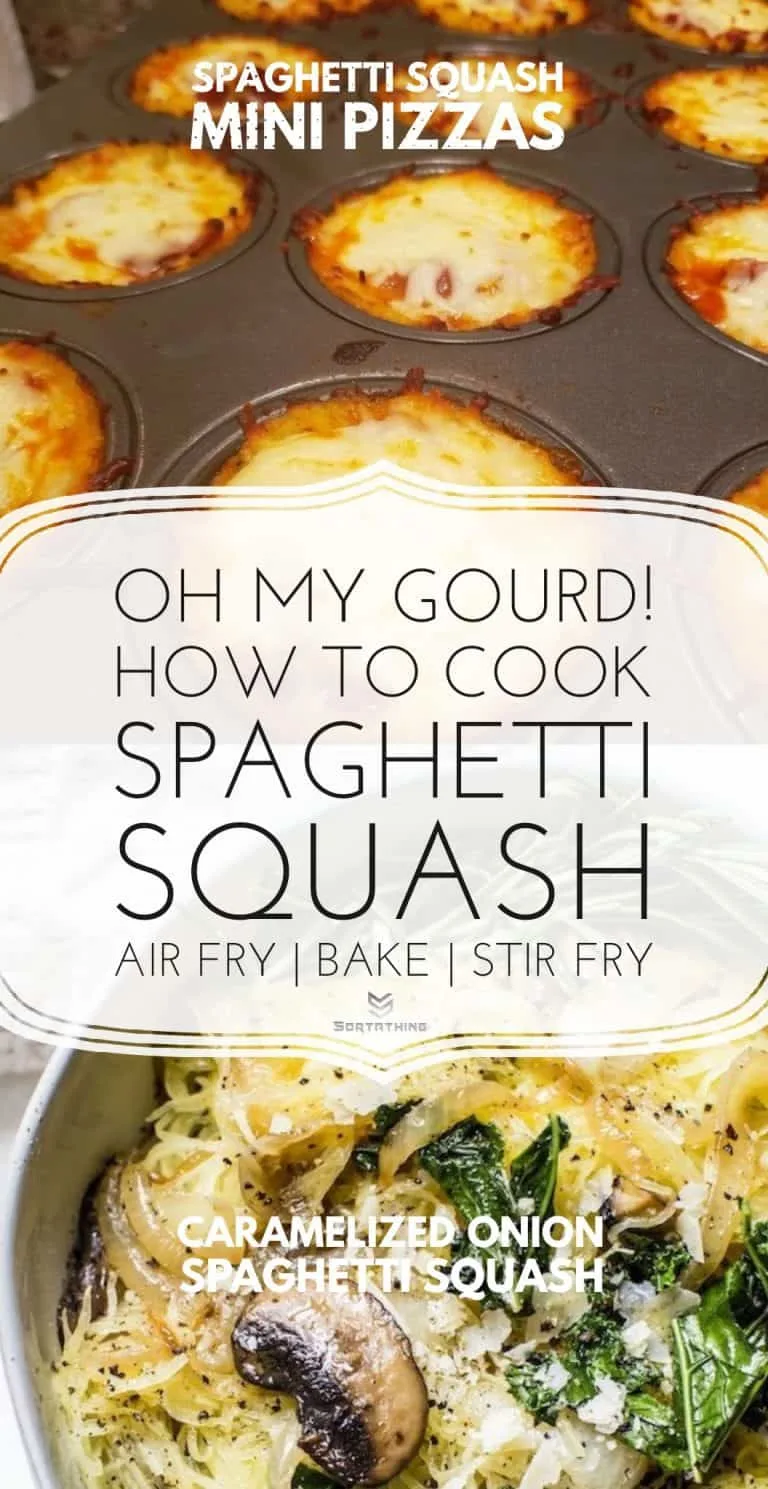 6. Caramelized Onion Spaghetti Squash
A vegetarian option for you: Onions sautéed with butter and olive oil create this scrumptious Caramelized Onion Spaghetti Squash. Combine with kale and your favorite mushrooms for a healthy, colorful meal.
From The Almond Eater
7. Spaghetti Squash Burrito Bowls
A hearty vegetarian dinner for two using just one spaghetti squash. Each half is generously filled with whatever you can find in the fridge, topped off with sour cream and guacamole. Spice it up as much as you like.
From Toaster Oven Love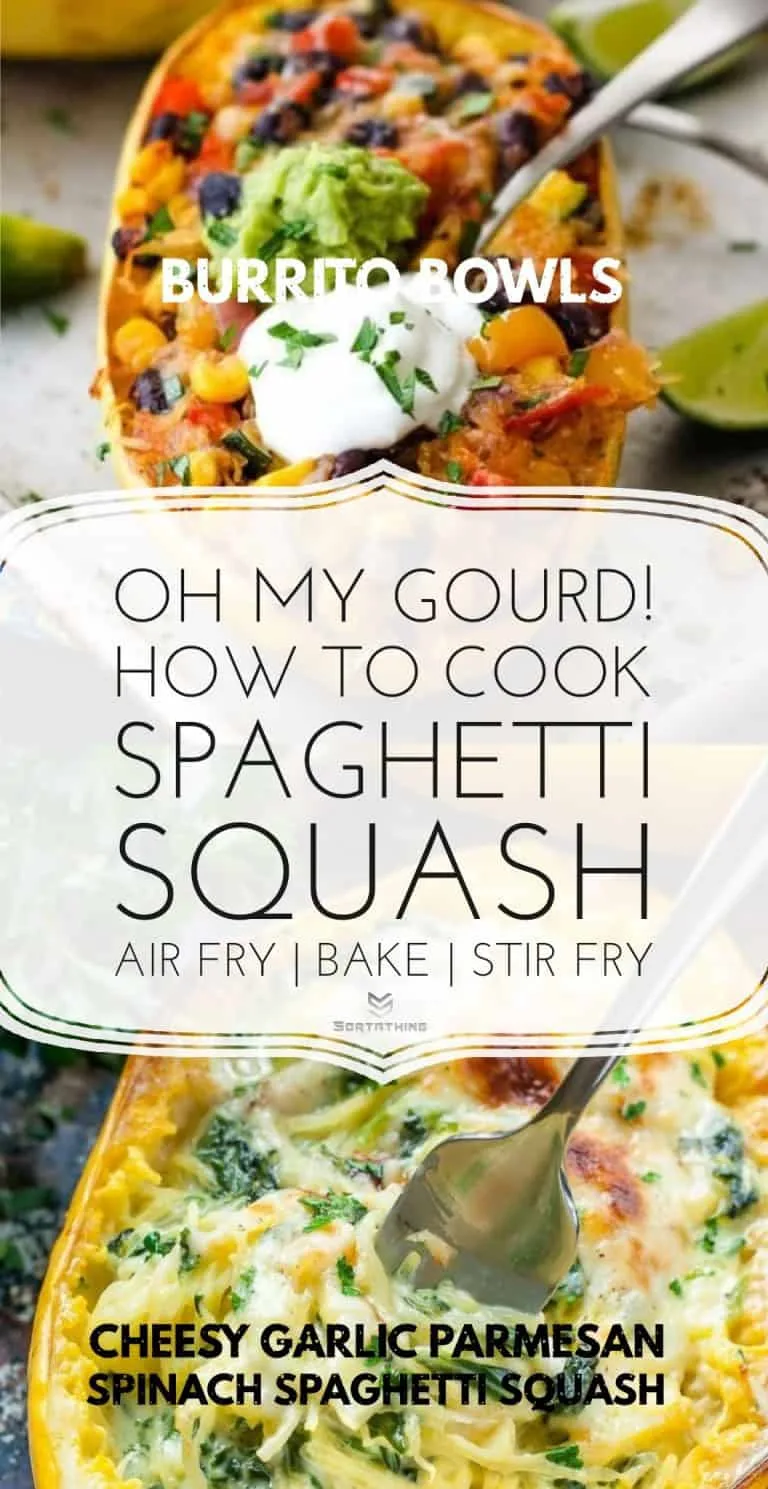 8. Cheesy Garlic Parmesan Spinach Spaghetti Squash
This recipe is one of the most popular here. Richly flavored vegetarian goodness absolutely packed with melted cheese.
From Peas & Crayons
9. Bacon Cheddar Spaghetti Squash Fritters
We promised spaghetti squash can be versatile and this recipe offers something completely different from the bowl and pasta methods. Scoop out the strands and combine with bacon for a mouthwatering snack. This recipe had me at "bacon".
From My Suburban Kitchen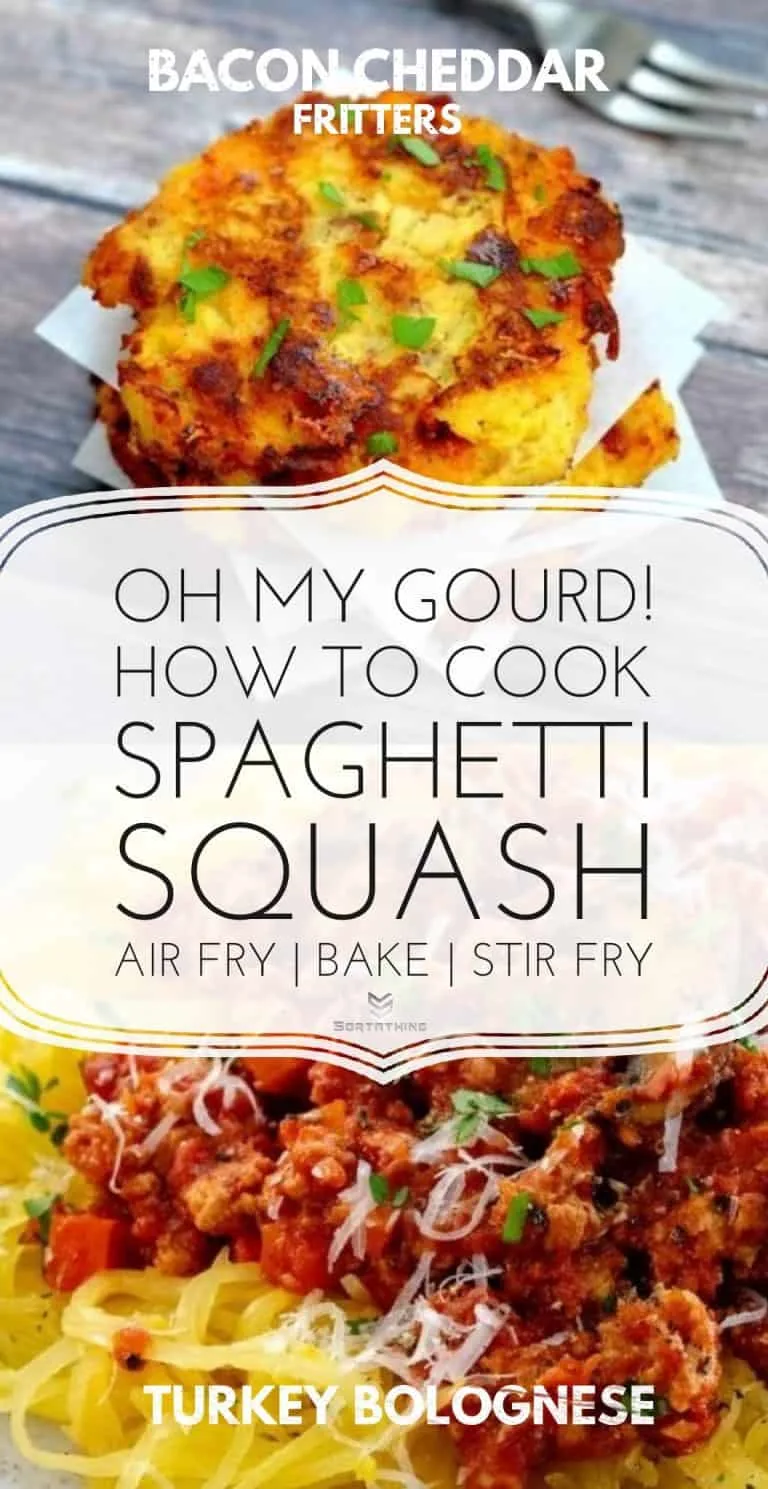 10. Turkey Bolognese with Spaghetti Squash
Simple but satisfying, this recipe for a hearty bolognese should be on standby all Winter. A great way to use up leftover Turkey. Very clear guidance with useful photos take you through this recipe step by step.
From The Recipe Critic
11. Scallops with Spaghetti Squash
A fancy way to make the most of your spaghetti squash, this time with delicious and nutritious scallops. This recipe was inspired by a meal the author had in Florida and Jordan's post shows you exactly how to get perfect results.
From JZ Eats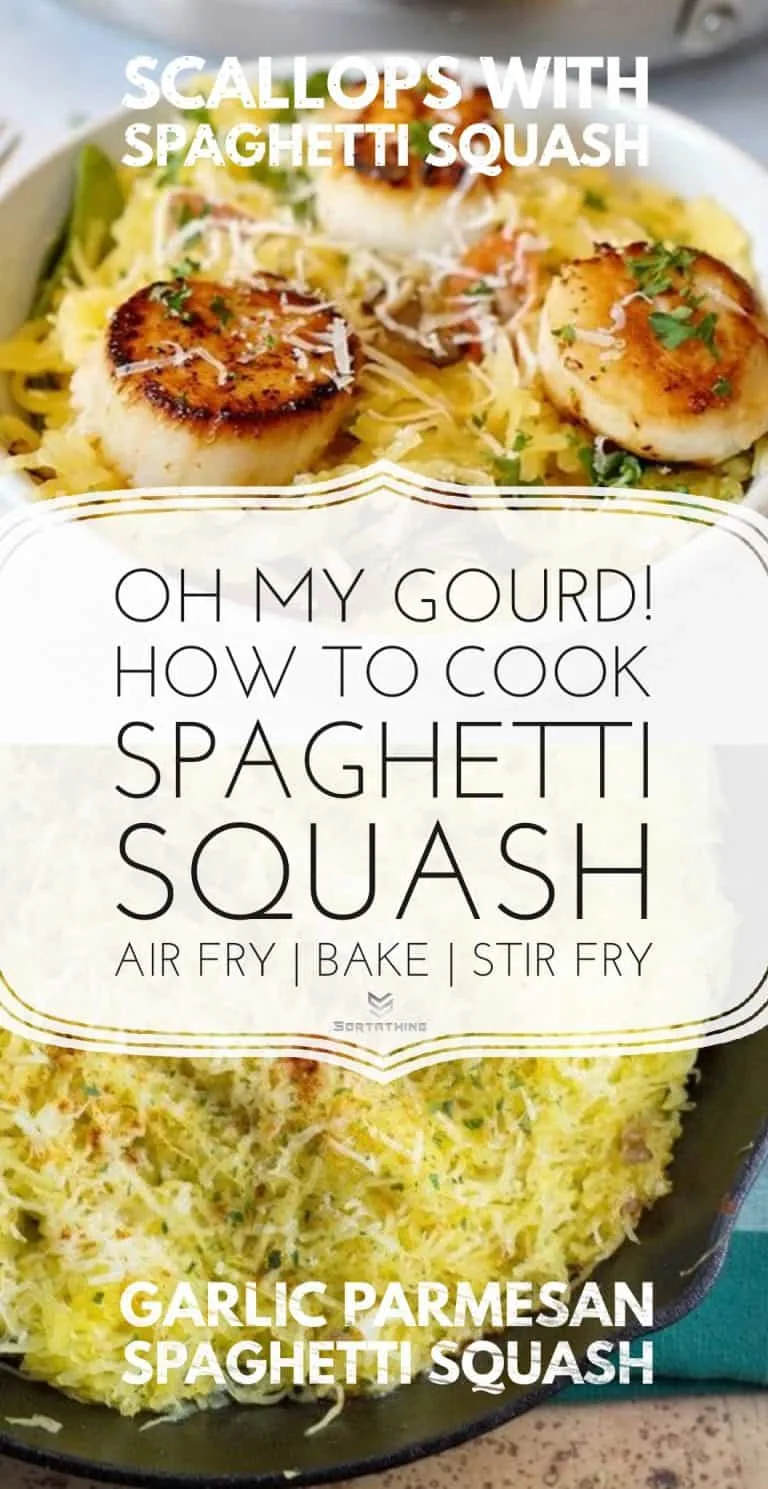 12. Garlic Parmesan Spaghetti Squash
"To say that this dish is garlicky and cheesy is an understatement", Salu Salo warns us! If you're OK with that, this spaghetti squash recipe is one of the classics. Simple, filling, super-tasty and ready to serve up in 45 minutes.
From Salu Salo
13. Spaghetti Squash Egg Nests
A breakfast or brunch spaghetti squash recipe that's easy to slam in the oven and cook while you're having your first coffee. The crispy bits are especially enticing.
From Inquiring Chef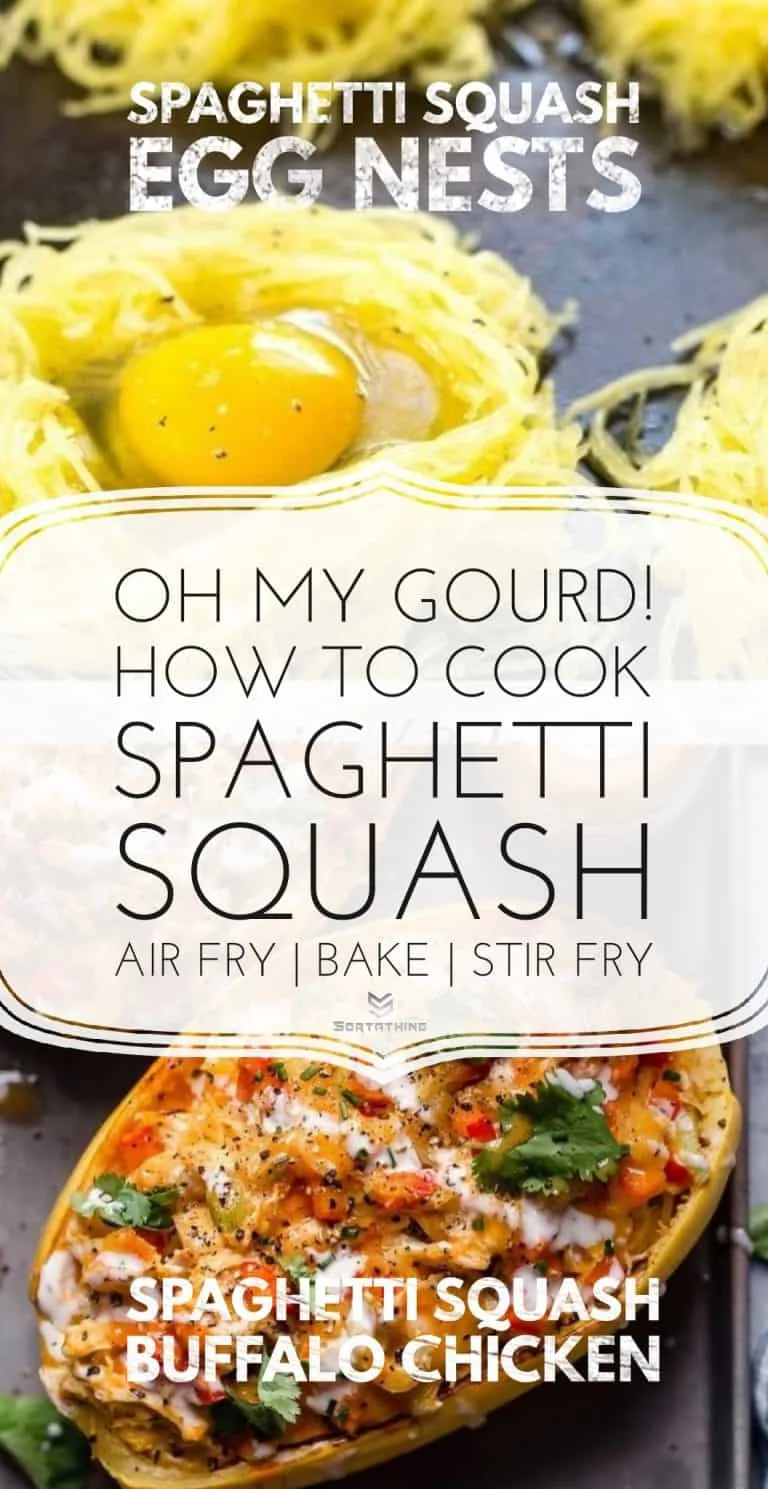 14. Buffalo Chicken Stuffed Spaghetti Squash
Spaghetti squash has the useful property of turning leftovers into something special. In this case, any surplus chicken and vegetables are transformed into a hearty and mildy spicy meal (thought you could turn that mildly into wildly, if you prefer!)
From The Real Food RDS
15. Spaghetti Squash Pad Thai
This noodle squash recipe intrigued me. If you love Thai food but have been looking for low-carb alternatives to wheat or rice noodles, you're going to love this. A very good video shows you exactly how to make your Pad Thai.
From The Soccer Mom Blog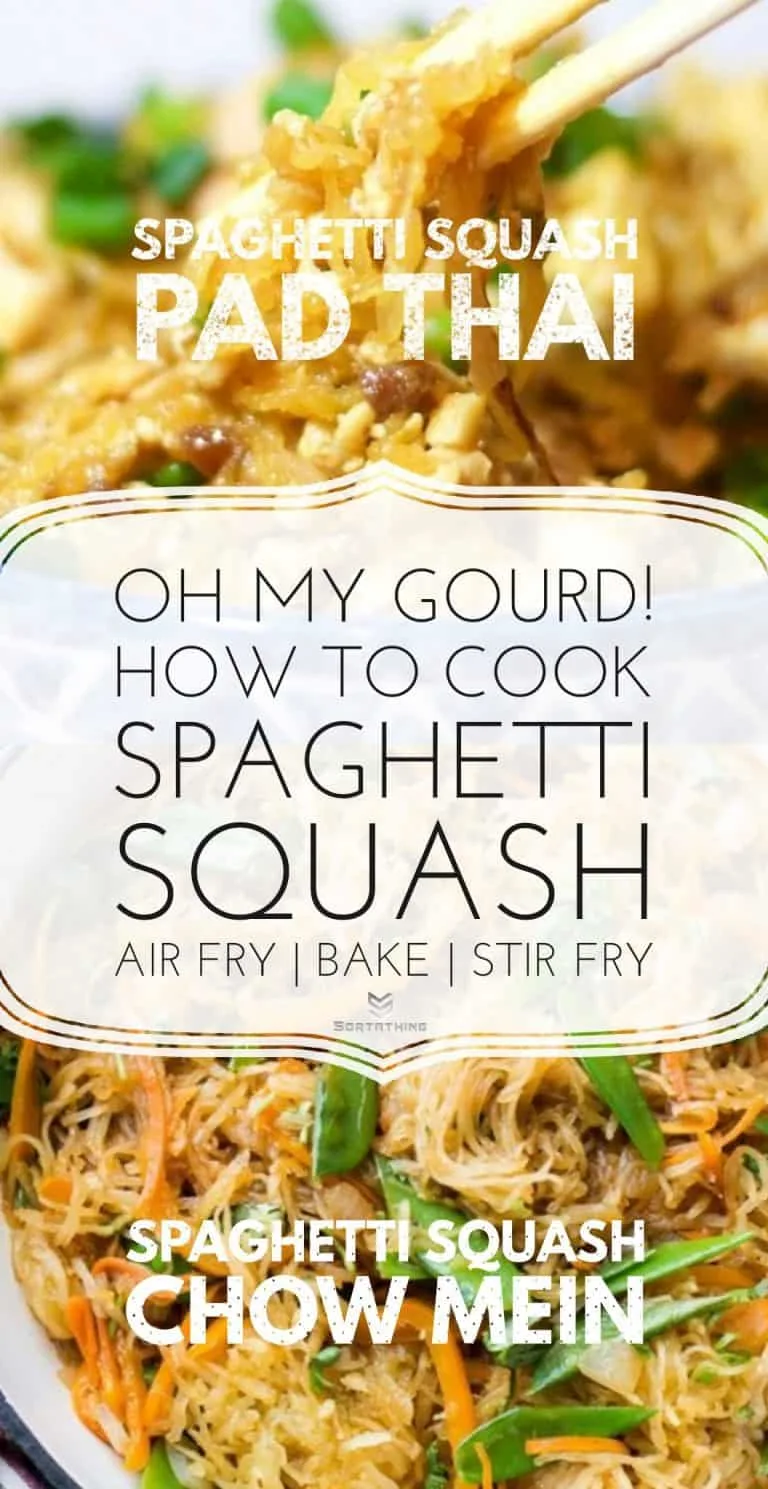 16. Spaghetti Squash Chow Mein
Another noodle squash idea here, their take on the stir-fried takeaway classic. They also have several more spaghetti squash recipes to check out.
From Best Recipe Box
17. Spaghetti Squash Hash Browns
It's possible that some of these recipes will mean you have left over spaghetti squash, but it need not go to waste. Combine with egg and fry it all up to make these tasty, crispy hash browns for your low-carb breakfast.
From Instrupix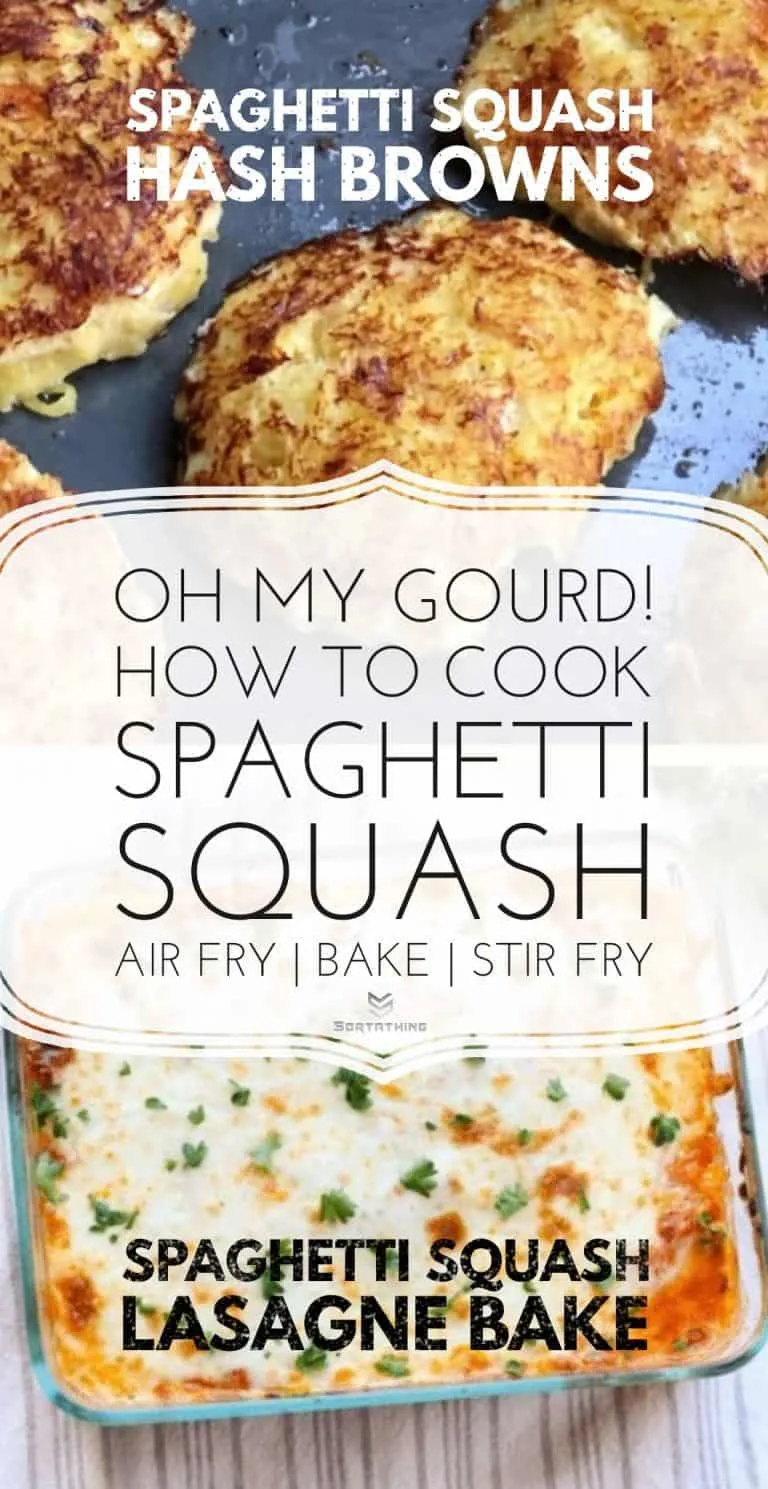 18. Spaghetti Squash Lasagne
We've featured all kinds of low-carb lasagne recipes – zucchini, fathead dough, even seaweed versions – on this blog but we've never seen it done with spaghetti squash. Here's how.
From I Heart Vegetables
19. Spaghetti Squash Mac'n'Cheese
A satisfying but healthier alternative to the classic cheese pasta dish. Low-carb, gluten-free and suitable for meal prep and reheating for lunch later.
From Joy Food Sunshine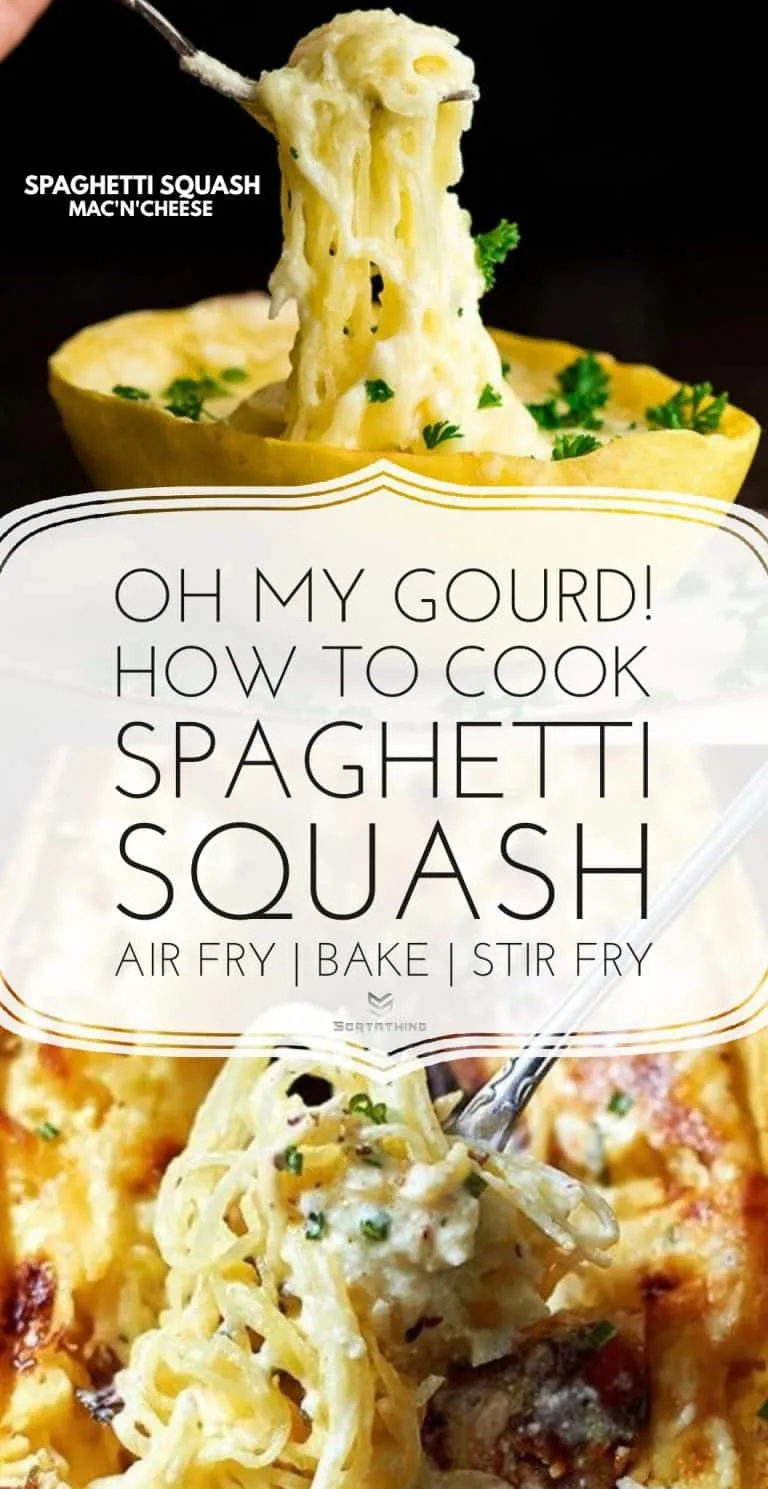 20. Baked Four Cheeses Spaghetti Squash
We'll finish on the cheesy pasta theme with this more sophisticated version of mac'n'cheese. This one is more authentically Italian, and I'll be making a couple of these for dinner!
From Eatwell 101