Keto dessert recipes should be a contradiction in terms. But, with a little ingenuity, you can create totally delicious guilt-free treats (and your guests will probably never know!)
Here are 30 easy keto dessert recipes that are low carb and keto-friendly but do not compromise on taste, looks or satisfaction. We've also compiled a list of classic keto dessert recipes for Fall & Winter as well as these all-time classic keto chocolate recipes.

Article image from Sugar Free Mom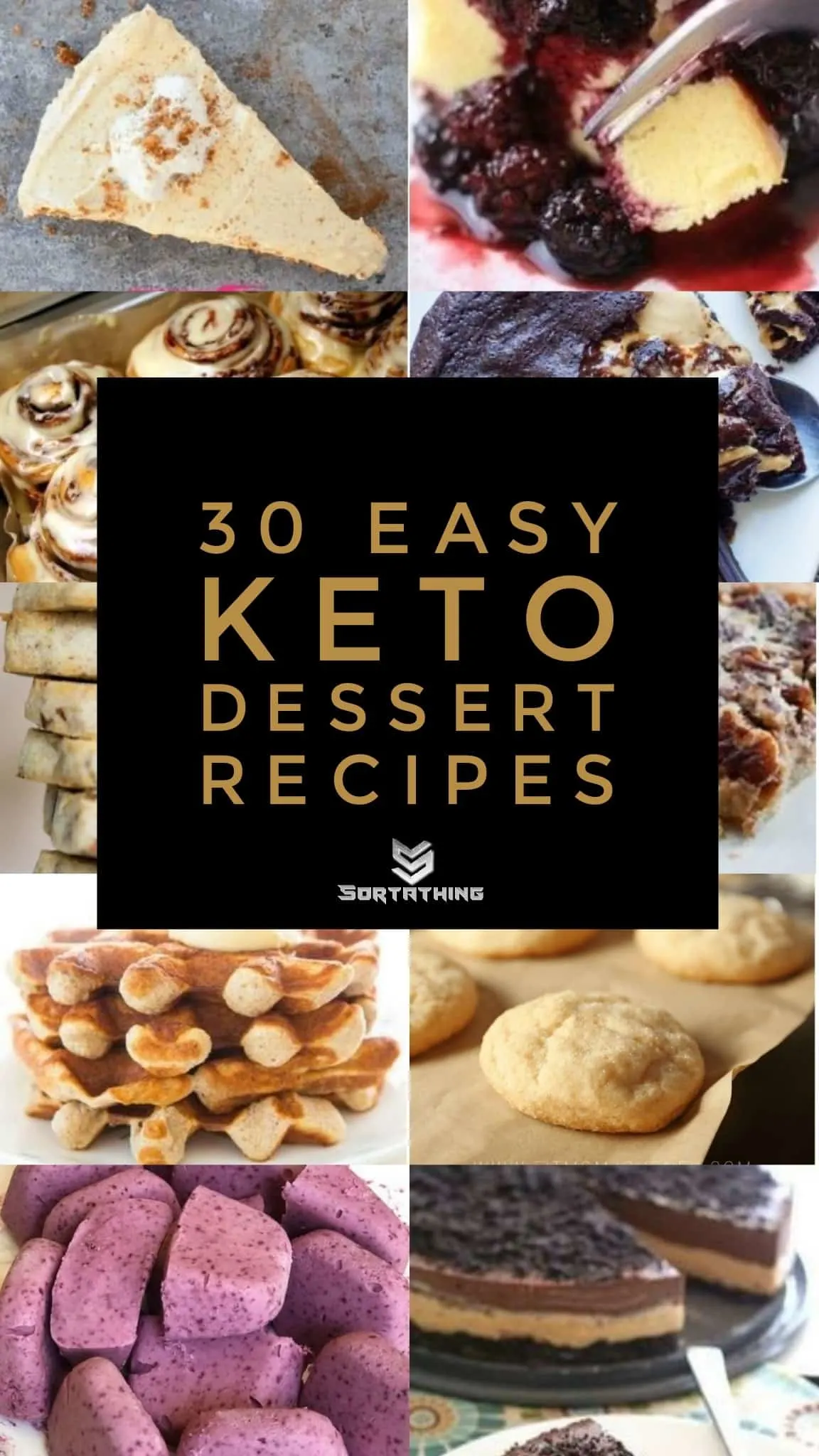 1. Ultimate Keto Chocolate Ice Cream
This chocolate ice-cream is pure indulgence. What makes it so rich and creamy is the use of MCT oil and gelatine which prevent it from freezing too hard. Makes it easier to scoop out!
From KetoDiet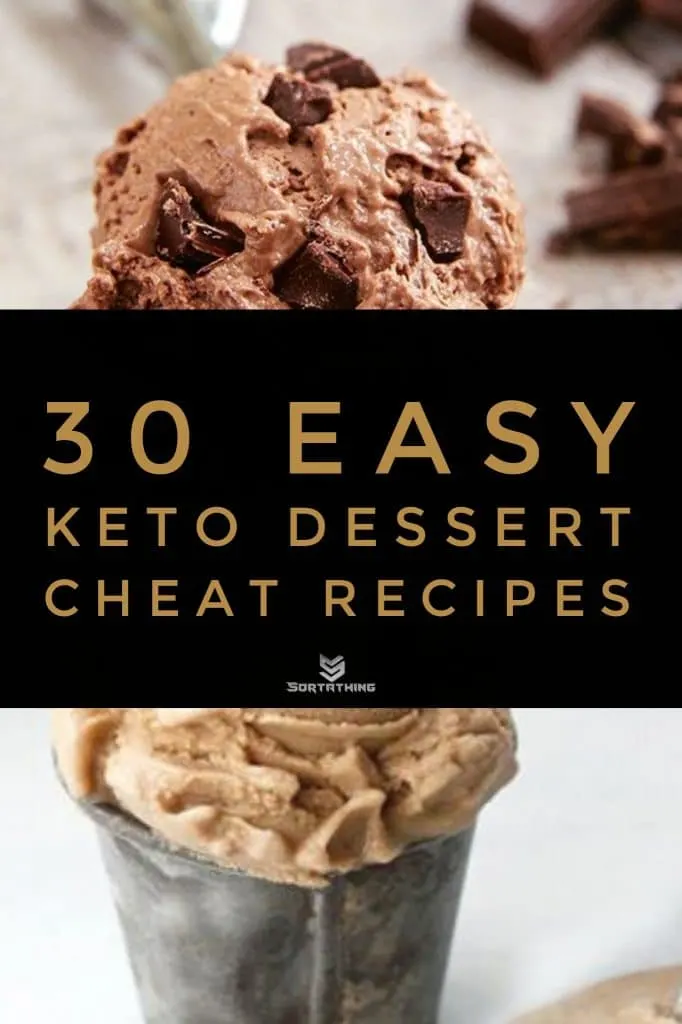 2. Bulletproof Coffee Ice Cream
This fat-burning Bulletproof® Coffee ice cream recipe has almost no carbs (or consequences) and a little caffeine kick to keep you going.
From Low Carbe Diem (PDF)
[elementor-template id="6082″]
3. No-Churn Cookies & Cream Ice Cream
This keto cookies & cream ice cream is smooth, creamy, and airy. You can easily make it at home and get soft ice cream with tons of air incorporated even without churning – no ice cream maker required!
From Sugar-Free Mom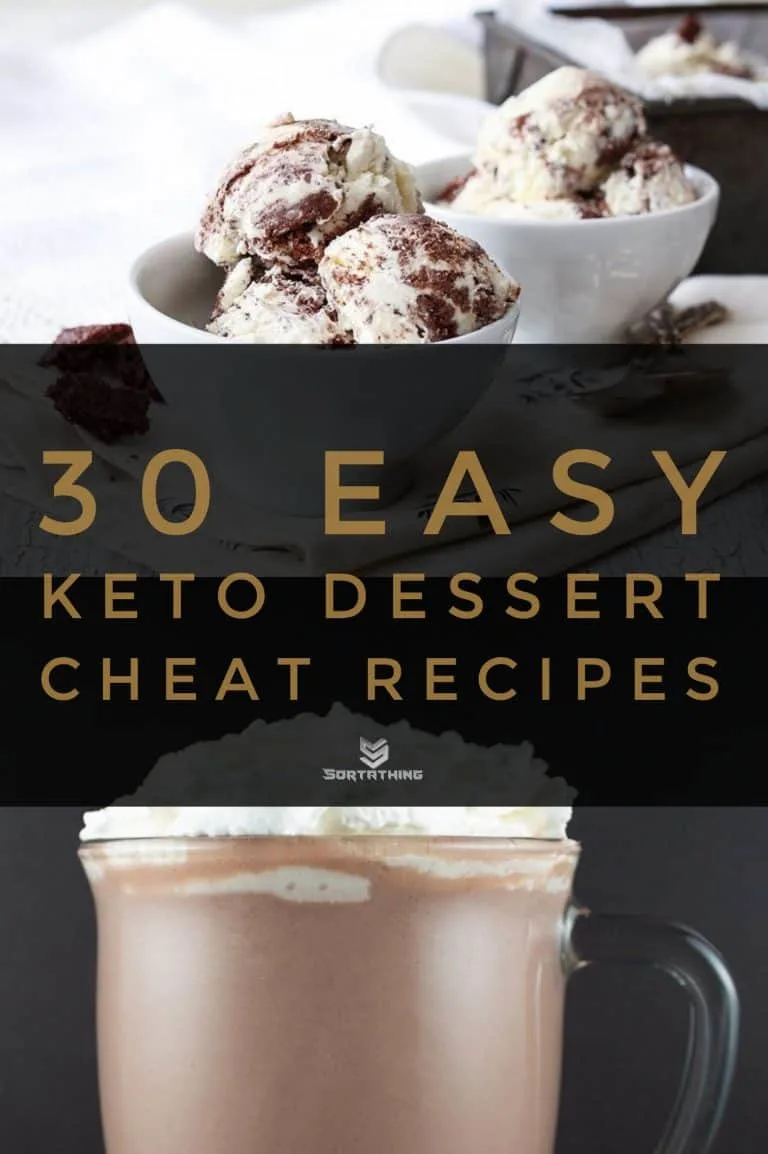 4. 1-Minute Keto Cinnamon Roll Mug Cake
When you are keeping a Keto diet, restrictions are tight but sometimes you really need an emergency Keto cake in a mug that is very low in carbs. You don't want to kick your body out of the state of Ketosis.
From Anastasia Blogger
5. Buttery Keto Hot Chocolate
Believe it or not, a single cup of this Buttery Keto Hot Chocolate packs in 290mg of potassium, 330mg of sodium, and ~80mg magnesium — all valuable electrolytes that you need if you're on the keto diet.
From Forget Sugar Friday
6. Chocolate Chip Keto Dessert Dough
Keto fat bombs are small treats that are high in fat and low in carbs (so, literally a fat bomb). These little bombs are awesome when you need something sweet, but also work as a quick breakfast, as a yummy snack, a pre or postworkout snack, or really whenever you need something quick & keto throughout the day.
From Lauren Rabadi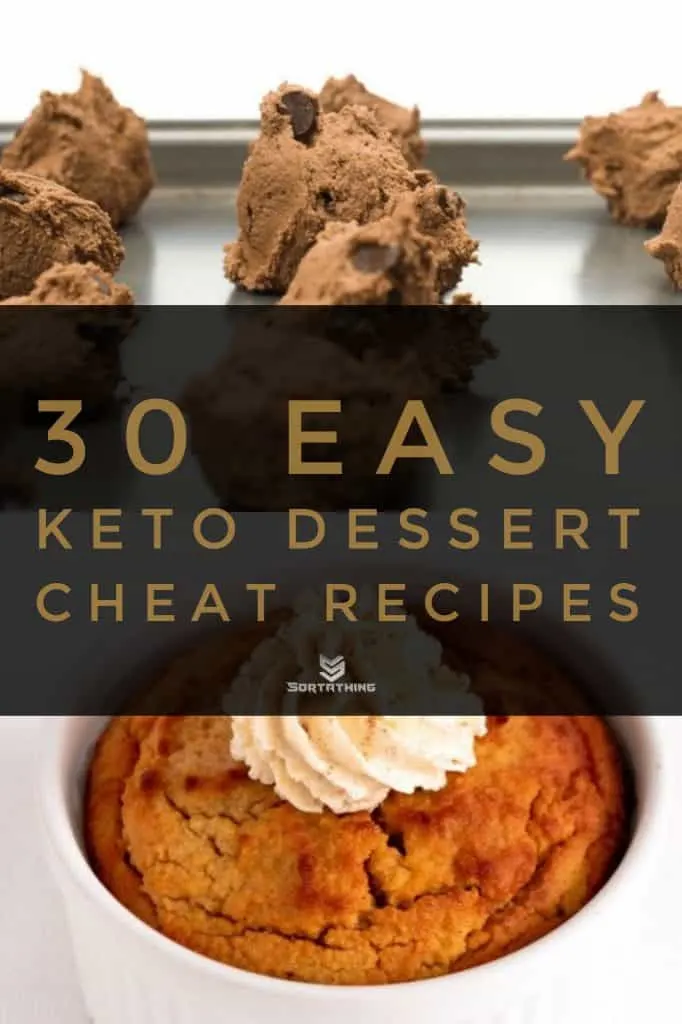 7. Keto Pumpkin Pie Mug Cake
I've never eaten something on the ketogenic diet that tasted so similar to the "real thing" than this Pumpkin Pie Keto Mug Cake.
8. Low Carb Keto Cream Cheese Cookies
These low carb keto cream cheese cookies are so fast & easy to make! Just 6 ingredients, 10 minutes prep, and 15 minutes in the oven.
From Wholesome Yum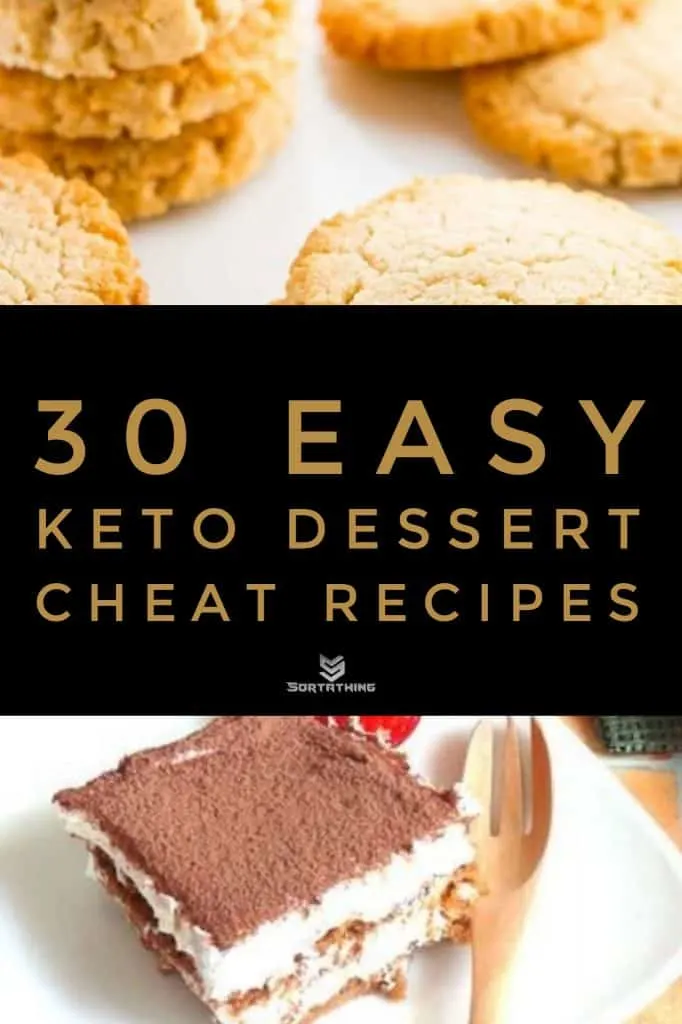 9. Low Carb Keto Tiramisu
How is it possible to make a low-carb tiramisu? With a little ingenuity, the right ingredients and inspiration it's actually kinda easy. Delicious too.
From Keto Diet Channel
10. Keto Carrot Cake with Cream Cheese Frosting
This recipe for Keto Carrot Cake with Cream Cheese Frosting is the PERFECT dessert. With only 3 net carbs per slice, it's a great, low carb alternative to traditional carrot cakes. Serve it as is – or toss in some chopped pecans for some extra crunch!
From This Mom's Menu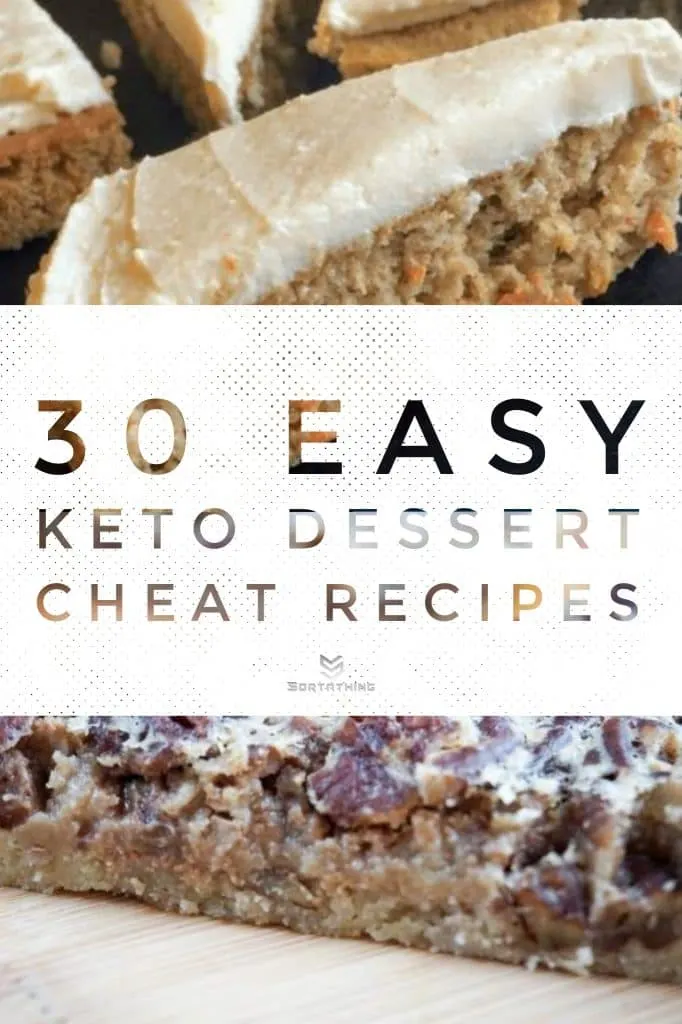 11. Sugar Free Keto Pecan Pie
The best part about this pie is that it's good enough for non-ketoers, so if you're on the keto diet this year and also the one cooking the Thanksgiving meal or bringing a dessert you can bring this pie and no one will know any different!
From Keto Connect
12. No Bake Keto Crunch Bars
Chocolate Crunch Bars are a quick, easy and fool-proof recipe which takes minutes to whip up- Now they have a ketogenic and low carb makeover! A chocolate base loaded with nuts, seeds, and shredded coconut! The ultimate healthy homemade paleo and sugar free chocolate snack or dessert. Vegan, Gluten Free, Dairy Free, Keto.
From The Big Man's World
13. No Sugar Keto Fudge
No sugar Keto fudge is the best chocolate cheat for a low carb or ketogenic diet! Best healthy fudge recipe ever! Diabetic friendly!
From My Keto Recipes
14. Keto-Friendly Peanut Butter Cups
Sometimes I just NEED a little bit of something sweet. Prior to keto my all time favorite was Reeses Peanut Butter Cups, so I set out to make myself a keto version. These keto peanut butter cups aren't exactly the same – but they sure are close! And one thing is for sure – they are absolutely delicious.
From Moscato Mom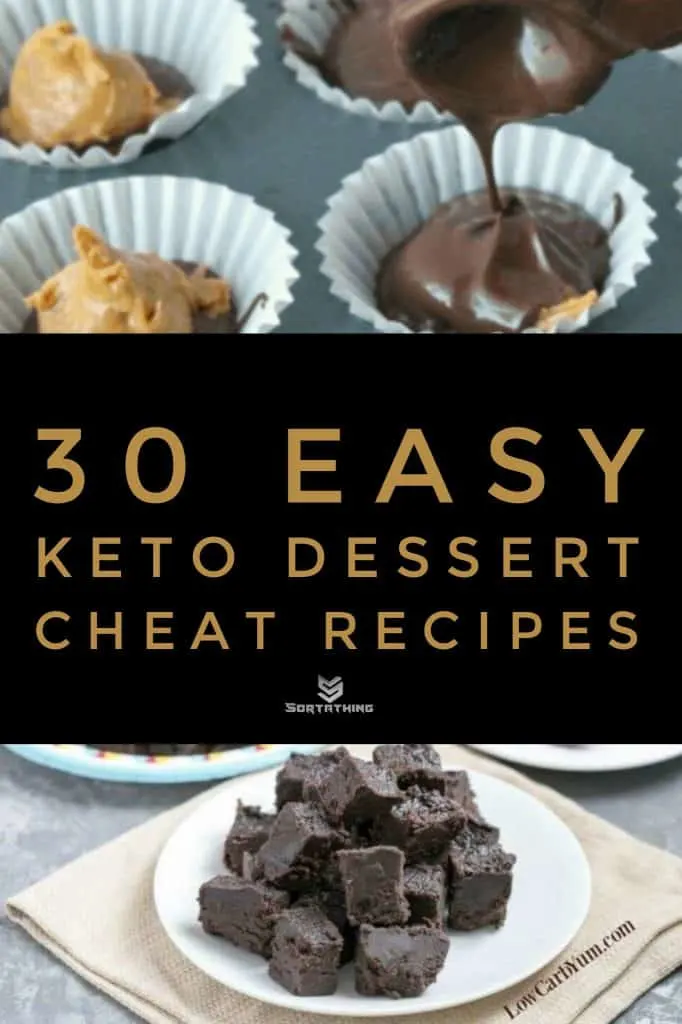 15. Keto Low-Carb Dark Chocolate Cream Cheese Fudge
Satisfy your sweet tooth with this heavenly cream cheese dark chocolate keto fudge. It's a delicious low carb treat with only 3 grams net carb per large square.
From Low Carb Yum
16. Crispy Cinnamon Keto Waffles
Keto waffles doesn't necessarily mean dense and thick. However these waffles are a good texture, they are not doorstop thick and they were an enjoyable breakfast. The secret is also the spices – there is nothing like mixing together those pumpkin pie spices to bring life to a meal.
From The Kitchen Magpie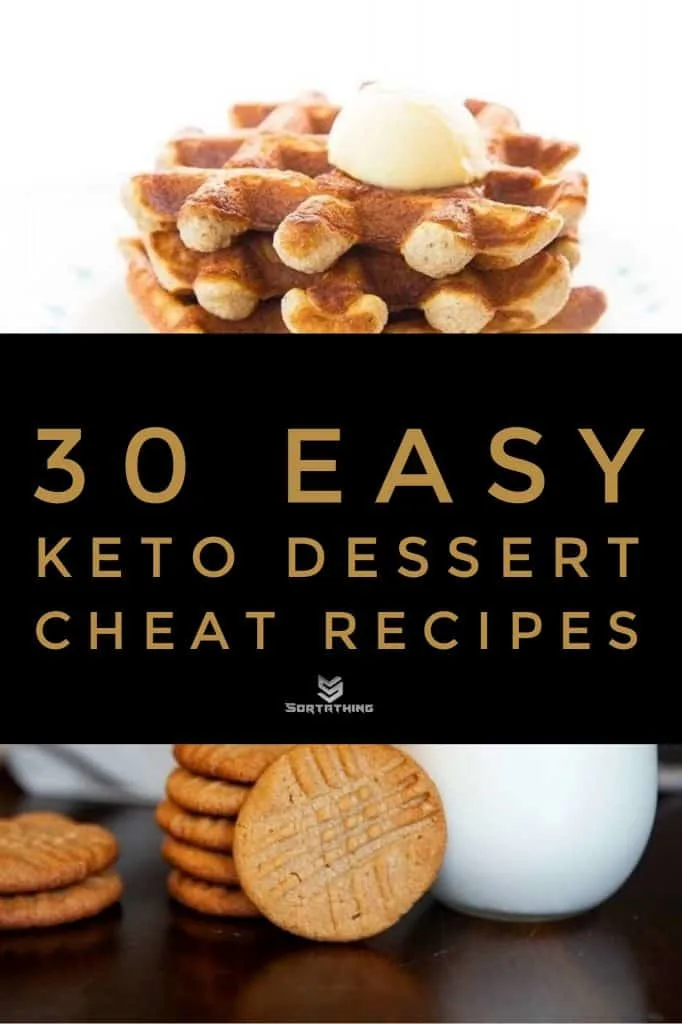 17. Keto Peanut Butter Cookies
If there is anything better than just a spoonful of peanut butter – it is a peanut butter cookie – which is why these keto peanut butter cookies have gotten a permanent place in my heart – and my weekly meal prep!
From Moscato Mom
18. Keto-Approved No Bake 5-Minute Cookies
Creamy, fudgey and crunchy are just a few words to describe these amazing keto no bake cookies. A perfect way to satisfy your sweet tooth and get in some valuable macronutrients.
From How to This and That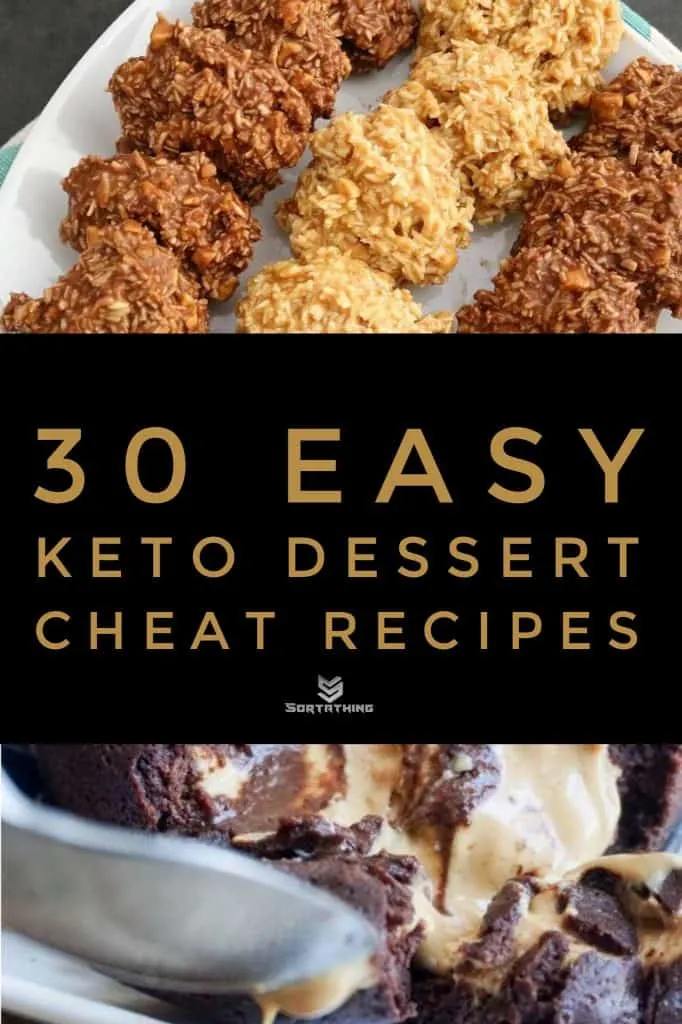 19. Low Carb Keto Reese's Lava Cake
This cake is like a massive Reeses cup just waiting for you to take a bite. And, since you get to dictate how much peanut butter goes in you can make it exactly like the candy with basically a 4 to 1 ratio of peanut butter to chocolate.
From Keto Connect
20. Low Carb Keto Cinnamon Rolls
How is the even possible? Cinnamon rolls are usually such an unhealthy option. But this cheat delivers all the sticky, cinnamony goodness. The little sugar that is used in this recipe is actually consumed by the yeast, so do not fear!
From Great Health Advice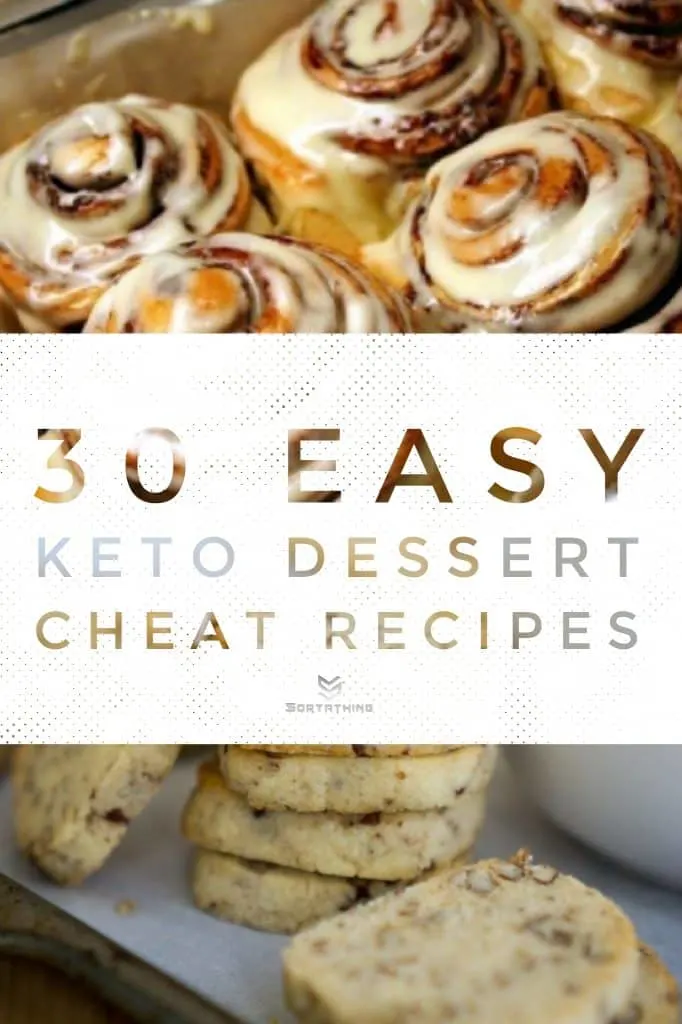 21. Classic Low Carb/Keto Pecan Sandies
What I think is the best part about these cookies is how simple they are. They are legitimately an anytime or any holiday cookie. No matter what you are celebrating or if you are simply taking them to your sons baseball game or having a night in with the family, these are the perfect cookies to make!
From Keto Connect
23. Blueberry Cheesecake Fat Bombs
You can use any berry of your choice (blueberries, raspberries, strawberries, blackberries, etc), as long as your fruit choice is one of the low carb variety. In fact, you could probably even replace the berries with peanut butter or cocoa for an entirely different flavor! Just about anything goes with cheesecake, right?
From Instrupix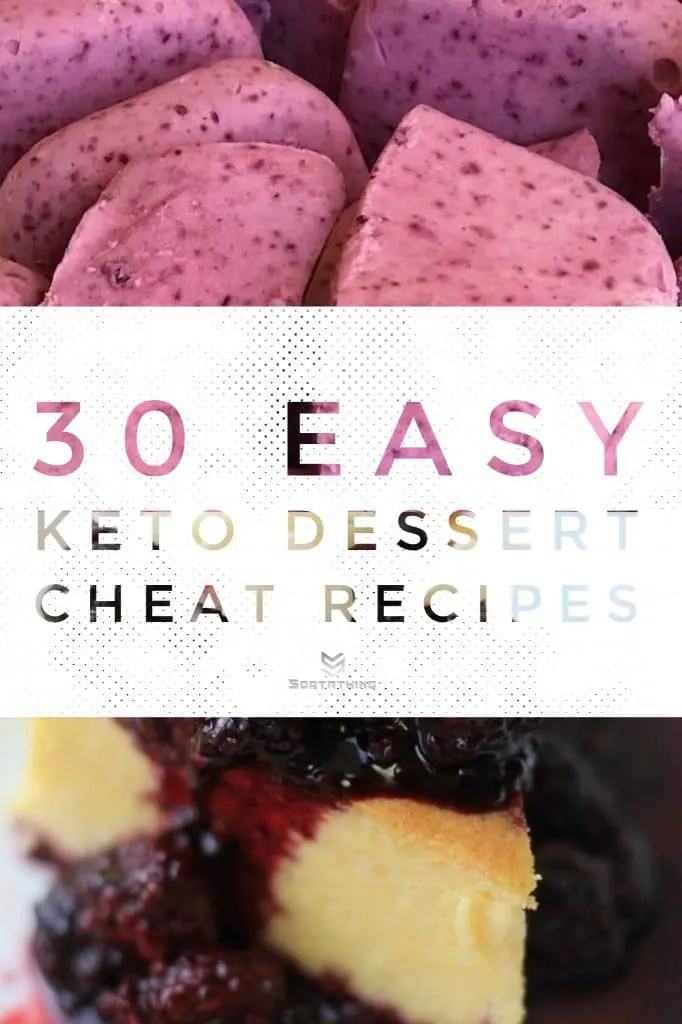 24. Japanese Cotton Cheesecake
Japanese Cotton Cheesecakes are a bit different than normal cheesecakes as they are based on a meringue and are very light and fluffy. They don't require as much sugar as regular cheesecakes and often contain flour. Some cheesecakes use chocolate instead of sugar and some can also add milk or sour cream. This one sweetens with Stevia.
From My PCOS Kitchen
25. Chocolate Peanut Butter Dirt Cake
When converting her recipe into a low carb dirt cake recipe, I tried to adhere to the spirit of the original peanut butter chocolate dirt cake recipe as much as possible, including making it a no-bake treat
From All Day I Dream About Food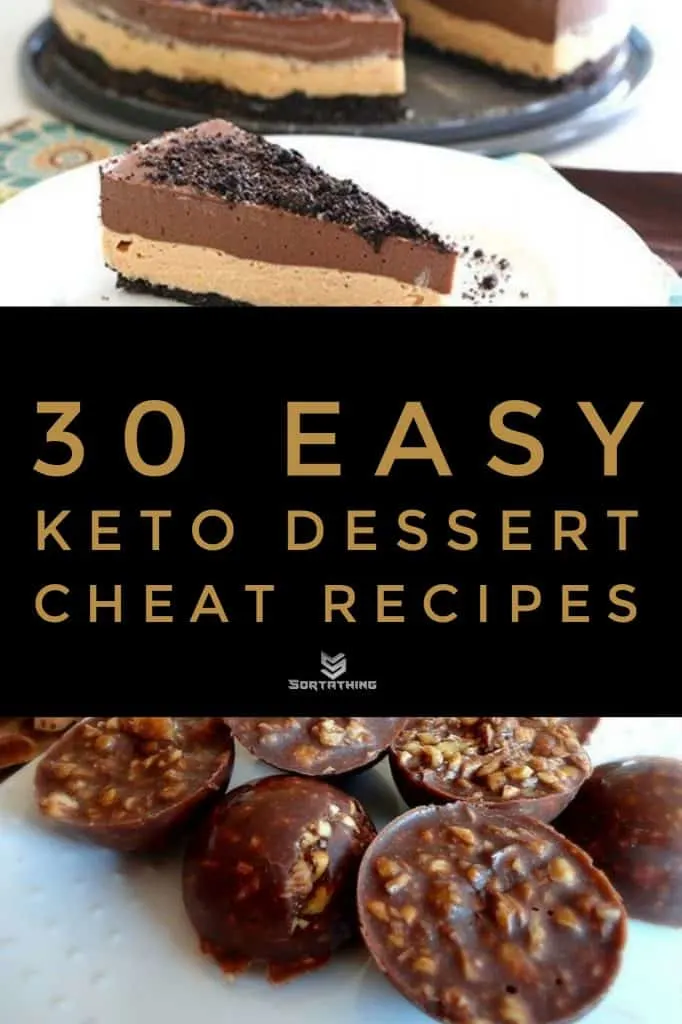 26. Pecan Peanut Butter Fat Bombs
Crushed pecan nuts, mixed with peanut butter, cocoa, butter and coconut oil. Seriously… I cant get enough of this stuff! Nuts are a good choice for a low-carb diet because most nuts are fairly low in carbohydrates, plus they're loaded with good stuff – fiber, healthy fats, vitamins and minerals. If you're following a very-low-carb diet, you'll need to limit your daily servings of nuts because carbs can add up fast.
From The Keto Way
27. Craving Buster Fat Bombs
These Craving Buster Fat Bombs have three simple ingredients: coconut oil, cacao powder, and almond butter. There's no sugar, not even natural sweetener, and contains less than 1 gram of sugar so these fat bombs are ideal for a no-sugar diet.
From Living Well Mom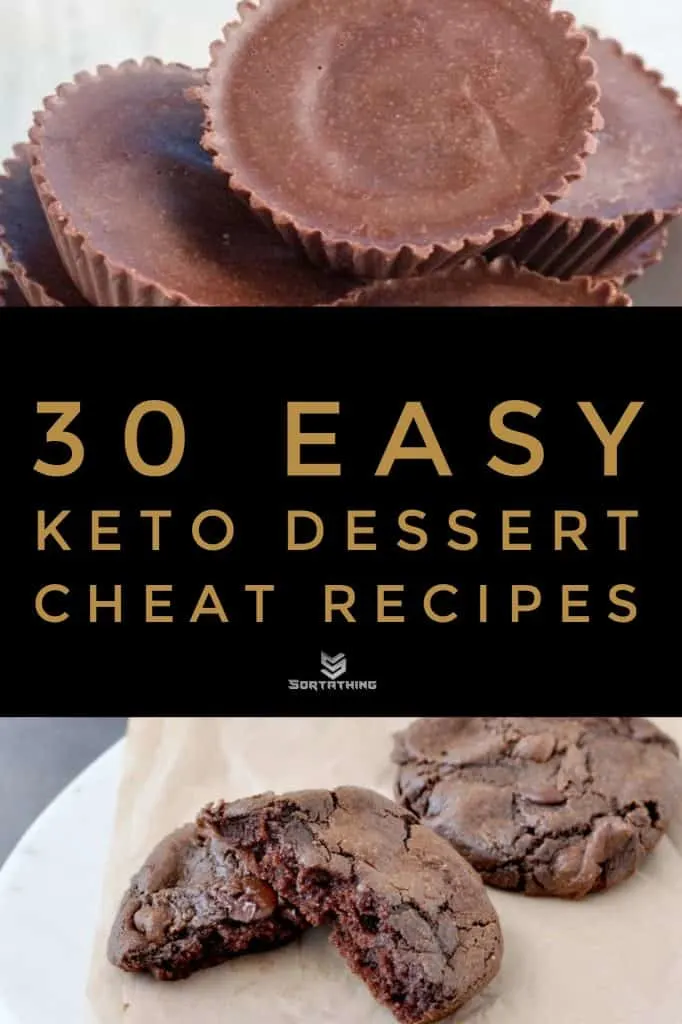 28. Keto Flourless Chewy Double Chocolate Chip Cookies
I'm pretty sure these will become your all-time favorite low carb cookie. Think low carb brownie meets perfect keto cookie. It's a marriage made in chocolate heaven. Keto Flourless Chewy Double Chocolate Chip Cookies
29. Fluffy Keto Sugar Cookies
Soft, pillowy, buttery sugar cookies that live up to what I've been missing since going Keto! These are made from Fathead dough, which if you're not familiar is basically dough made from melted mozzarella and cream cheese combined with Almond flour and other assorted ingredients.
From Fit Mom Journey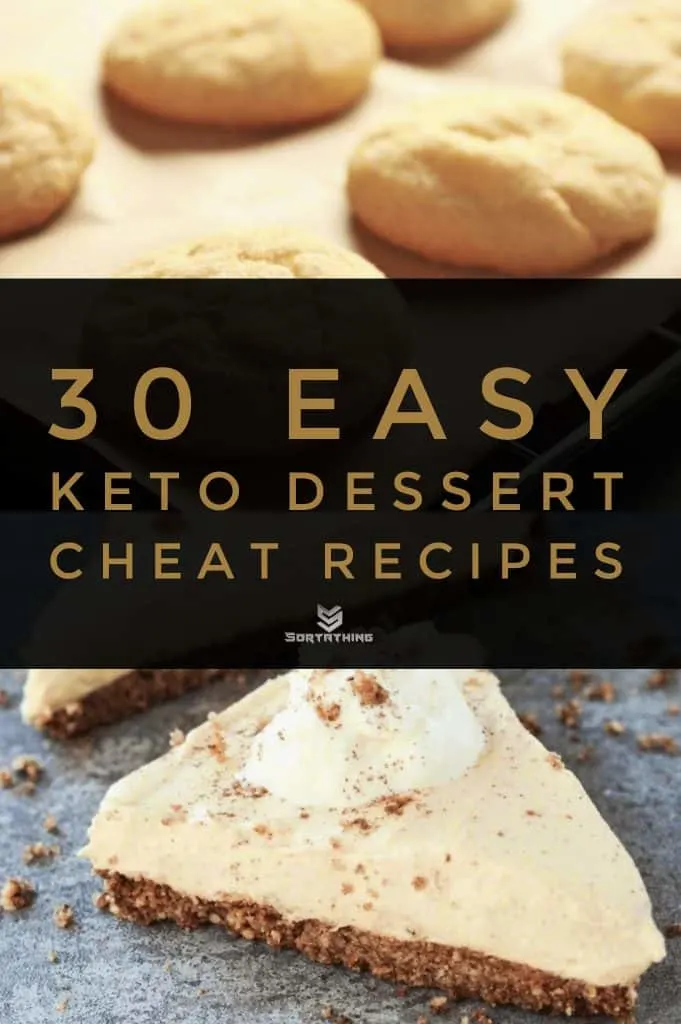 30. Keto Pumpkin Cheesecake
Keto Pumpkin Cheesecake is always the answer, no matter the question. Check out this easy recipe to make a Fall favorite low carb style! A note about pumpkin…be careful because you CAN overdo it on Keto. With 4 net carbs in 1/2 a cup of pumpkin puree, it can be easy to overindulge.
From Hey Keto Mama
We've also posted a bunch of low carb air fryer dessert recipes, fathead dough desserts and keto spring & summer desserts