What are the best keto air fryer recipes?
The air fryer is what the microwave always promised to be. These 30 low-carb keto air fryer recipes demonstrate the appliance's versatility. You can air fry meat, chicken, vegetables, eggs and even chocolate cakes, with none of the bubbling grease used in deep fat fryers.
Tip: use avocado, olive oil, coconut oil or ghee cooking spray with your air fryer ingredients and you can throw your seed oils in the trash forever. Eating keto and avoiding vegetable oils unlocks six dormant health superpowers.
Millions of air fryers arrived in kitchens this year. They were one of the year's most popular gifts. These keto air fryer recipes mean you'll enjoy faster cooking times (no waiting for the oven to come up to temperature), less cleaning, less energy used or wasted.
Everyone should own an air fryer. Everyone probably will! These keto air fryer recipes prove why.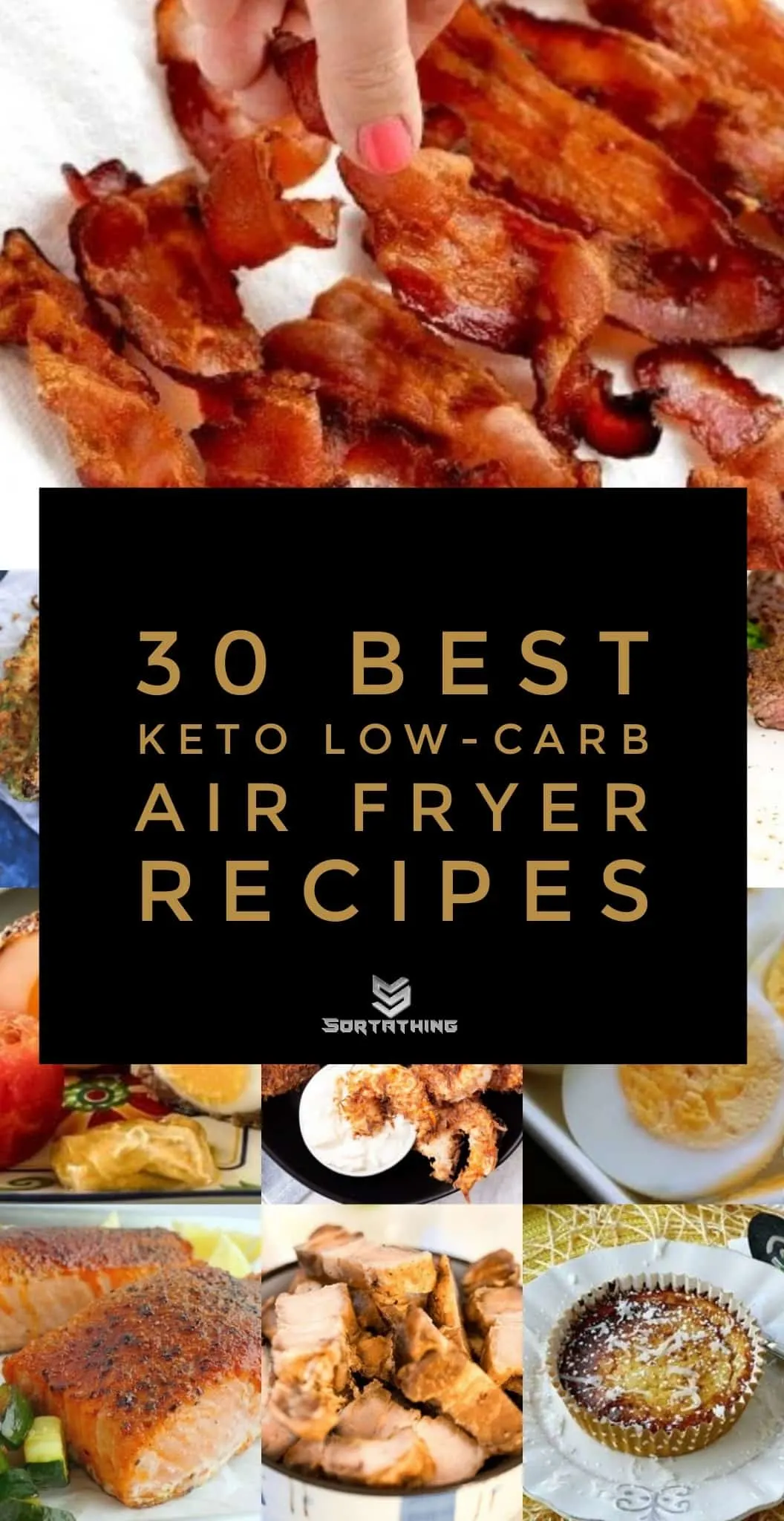 1. Perfect Air Fryer Steak with Garlic Butter
Wondering how to make the perfect air fryer steak? Look no further. This method of cooking steak in the air fryer provides perfect juicy steak each and every time. I use this method every day!
From: My Forking Life
2. Air Fryer Ribeye with Coffee and Spice
This one is special. The best part of this air fryer steak is the sear! How to make an actual sear happen by using an air fryer? Coffee and brown sugar! The coffee adds color and the sugar caramelizes for texture under high heat.
OK, not strictly keto with brown sugar in the mix, but it's worth it on this occasion.
From: The Foodie Eats
3. Perfect Air Fryer Salmon
I would have never guessed making salmon in an air fryer would have produced the most tender and juicy salmon every time. I promise this Perfect Air Fryer Salmon will become your new way to conquer salmon in the kitchen.
From: Noble Pig
NEW: We've published a post devoted to Omega-3 Boosting Air Fryer Fish & Seafood and a whole post devoted to the most Omega-3 rich white fish of all, Black Cod.
4. Air Fryer Bulgogi Burgers
These Bulgogi Burgers are actually some of the best burgers I've ever eaten. To keep it keto, you'll want to wrap this in with lettuce leaves or in a low-carb burger bun. If you aren't low-carbing, have them in a soft bun and enjoy the old-fashioned way!
From: Two Sleevers
5. Air Fryer Bourbon Bacon Burger
When the burgers and bourbon bacon are cooked to your liking, top each patty with a slice of Colby Jack cheese and air-fry for an additional minute to melt the cheese.
From: Blue Jean Chef
6. Air Fryer Fried Eggs
This is one of the most basic things you can make in the air fryer, it's almost too easy and only takes about three minutes. But if you want boiled eggs, scroll down, we have the perfect technique, timings and temperature below.
From: Fork to Spoon
7. Air Fryer Hard Boiled Eggs
If you are overloaded with information on how to cook boiled eggs in the air fryer, then this is the real deal. The Recipe This team used a lot of eggs to get this data!
Whether you like hard-boiled, soft-boiled or medium-boiled (not too hard but not too soft), this technique has the temperature and timing tips to conjur up the perfect boiled eggs every single time. And all without steaming up your kitchen.
From: Recipe This
8. Air Fryer Keto Low Carb Scotch Eggs
Love scotch eggs but hate all the extra fat that comes with deep frying them? Two Sleevers' Air Fried Scotch Eggs give you all the great flavor of traditional Scotch eggs without the extra grease, since they're made in your Air Fryer
From: Two Sleevers
9. Air Fryer Carne Asada
Ever wonder what goes into an authentic Carne Asada Marinade? Well, lots of different ways to make an authentic carne asada but here is how I made mine, and then I made Air Fried Carne Asada for a quick dinner.
From: Two Sleevers
10. Air Fryer Healthy Eggplant Parmesan
Crispy on the outside and super soft on the inside with toppings of marinara sauce and fresh mozzarella cheese. This Air Fryer eggplant parmesan will be a super hit in the family.
From: Watch What U Eat
11. Air Fryer Crispy Pork Belly
I love meat that is crispy on the outside, and juicy and tender on the inside. This Crispy Pork Belly Lechon Kawali is just that and it will literally melt in your mouth. It's crunchy, delicious, and something you will want to make over and over again.
From: Two Sleevers
12. Crispy Keto Air-Fried Pickles
These keto-friendly crunchy air fryer fried pickles are LEGIT! They are SO CRUNCHY, satisfying, and simple to whip up using the air fryer.
From: Hip 2 Keto
13. Air Fryer Low-Carb Keto Beef Satay
Air Fried Beef Satay is a super-fast, very authentic recipe that requires very little hands-on time. Marinate the meat, walk away, cook for 10 minutes and eat. See how easy it to make beef satay in an oven or air fryer.
From: Two Sleevers
14. Low Carb Air-Fried Onion Rings
This recipe for Low Carb Air Fried Onion Rings makes for a great appetizer. Clever use of flour and bread alternatives keep them low-carb too. This has been the most popular recipe ever posted on this site!
We wrote a new post dedicated to onion ring recipes – including many bacon-wrapped onion rings.
From: The Sugar-Free Diva
15. Keto Fried Asparagus
A low carb and keto-friendly version of deep-fried asparagus, with parmesan cheese and almond flour breadcrumb coating. This recipe uses a deep fryer, but a spray of cooking oil (use avocado or coconut rather than seed oils) and an air fryer makes for a healthier, crunchier result.
From: Savory Tooth


16. Air Fryer Bacon
So here we are, one of the main reasons to own an air fryer – they casually product the best bacon finish ever. Hands-off perfection. This method actually renders out a lot of the grease, but you can put that aside for later use, it's good stuff.
From: A Pinch of Healthy
We recently added this post on different types of bacon like beef bacon, duck bacon and even seaweed bacon!
17. Air Fryer Buffalo Chicken
These Buffalo Chicken Air Fryer Chicken Legs are perfect for beginners. All that great Buffalo Chicken Wing taste without the fat from deep frying.
From: Wonky Wonderful
18. Air Fryer Crispy Chicken Wings with Parmesan
If you're looking for a healthy alternative to fried chicken with the same great taste and crunch this Air Fryer Chicken Wings recipe is it.
From: Recipes from Pantry
19. Air Fryer Fried Parmesan Zucchini
All this air fryer fried parmesan zucchini recipe requires is two zucchini, two eggs, grated parmesan cheese, almond flour, garlic powder and some Italian seasoning. They're great with a yoghurt dip like tzatziki, or simply salt and pepper with a drizzle of olive oil or lemon juice.
From: Low Carb Delish
20. Air Fryer Cauliflower Fried Rice
It is so easy to make air-fried cauliflower rice in the air fryer. You can follow this recipe exactly or mix-and-match your own veggies to suit your tastes. My personal favorite is egg and soy sauce.
From: Glue & Glitter
21. Easy Air Fryer Coconut Shrimp
This air fryer recipe gives you perfectly cooked crispy coconut shrimp perfection. It partners well with a creamy yoghurt dip or subtle chilli dip. Or maybe not-so-subtle if you can stand the heat.
From: Eazy Peazy Meals
22. Air Fryer Coconut Curry Salmon Cakes
A great way to cook fresh salmon. If you can find wild salmon, that's even better. Wild salmon contains a higher proportion of Omega-3 fatty acids and air frying avoids ruining that with nasty, heat-damaged seed oils. This is brain food for smart people.
From: Food, Faith, Fitness
23. Air Fryer Paleo Keto Chicken Coconut Meatballs
These delicious Air Fryer Low Carb Chicken Meatballs are so simple and will melt in your mouth. And not a carb in sight!
From: Two Sleevers
24. Crunchy Air Fryer Avocado Fries
Lovely soft inside and crunchy outside, this air fryer avocado fries will blow your mind! I had never thought of putting avocado anywhere near my air fryer until I found this recipe, but it works.
From: Berry Maple
25. Crispy Brussel Sprouts in the Air Fryer
This recipe could convert even the staunchest sprout-hater. It's the crispiness that makes them irresistible. I like to add crispy bacon bits, that really shifts this dish up a gear or two.
From: Glue & Glitter
26. Best Air Fryer Buffalo Cauliflower
What is so good about this Air fryer Buffalo Cauliflower bites? They are crunchy and kinda "meaty" at the same time. We have more vegan air fryer treats listed here.
From: Berry Maple
27. Air-Fried Okra
This air-fried okra is a great recipe for air fryer skeptics. If you like old-fashioned deep-fried okra, get ready for a very pleasant surprise because this healthier version actually tastes better!
From: The Healthy Kitchen Shop
28. Super Crispy Air Fryer Asian Roasted Broccoli
The air fryer makes broccoli so crispy and golden brown that you may not be able to handle how delicious your mouth thinks it is. Yup, that good.
From: Food, Faith, Fitness
29. Air Fryer Easy Coconut Pie
A dessert you can easily bake in the oven OR bake in an air fryer. A delicious quick and easy gluten-free pie to make any time. It looks like an egg custard but with an ever mellower taste.
From: Wine Lady Cooks
30. Air Fryer Gluten-Free Low-Carb Chocolate Lava Cake
Warm, gooey, chocolatey goodness is just a few short minutes away. This easy to make Air Fryer Gluten-Free Chocolate Lava Cake is dairy-free, low-carb, keto and THM-S. Air fryers have come a long way from heating up chips with luscious dessert treats like this.
From: Mama Shire
So there we go, 30 excellent keto air fryer recipes that will satisfy your taste buds, calm your cravings for crispiness and all without spiking your insulin.
Looking for more keto air fryer recipes?