It can be hard to keep to a ketogenic diet and almost impossible if you have guests who aren't into it. But we've found a bunch of savory keto cheat recipes that look and taste like they should be stuffed full of carbs, but really aren't.
Most are very easy to make too and, because of what they're clever keto-friendly ingredients, even tastier and more nutritious than the originals. And for afters, check our keto dessert recipes.

Article image from Seasonal Cravings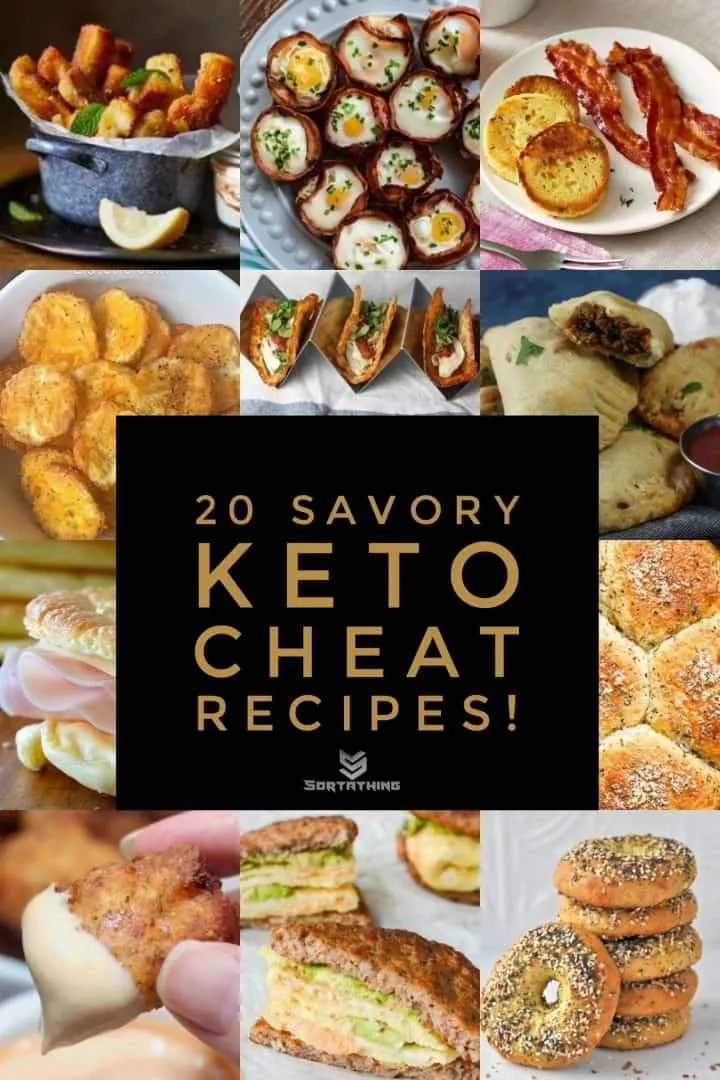 1. Zero Carb Cheesy Bread
If you've recently started the ketogenic diet you'll know it means eating almost no carbs (20g a day) so this cheesy bread recipe is an exceedingly tasty option that keeps you away from regular bread.
From: Crafty Morning
2. Keto Chicken Tenders
Eating the keto way doesn't have to mean giving up foods you love. Simply find alternatives that are just as delicious, like these super moist and crunchy keto chicken tenders.
From: How to This and That
3. Delicious Keto and Low Carb Cheddar Garlic Biscuits
They are delicious, low carb pieces of heaven that everyone loves. I am not going to waste my time in bragging I will just share the recipe so you can enjoy in them as much as I do.
From: Kasey Trenum
4. Keto Garlic Bread
The secret to really good low-carb bread? Cheese, glorious cheese! This wonderful garlic bread uses almond flour.
From: Delish
5. Cloud Bread
Cloud bread is a great substitute for bread on the ketogenic diet. The term "cloud" comes from the fact that its quite light and fluffy tasting, which comes from the egg whites being mixed and folded into the rest of the recipe.
It is seriously a good burger bun or even an Asian bao bun! I have used cheese and ham in the photo above, but you can pretty much put whatever toppings on it you like.
From: Fat for Weight Loss
6. The Best Keto Breakfast Sandwich
My favorite keto breakfast sandwich is low in carbs, high in healthy fats and off the charts in flavor! The sausage on the outside is the perfect touch to make you not miss the bread at all!
From: Hey Keto Mama
7. Avocado Bacon & Eggs
The combination of the avocado with the cheese, bacon and eggs makes for a simple but filling breakfast that I think you will enjoy too. And they're packed full of good fats.
From: Lil Luna
8. 90-Second Low Carb Keto Bread
Forget Atkins and Paleo — the new low-carb diet du jour is called keto, as in ketogenic. Although there are many similarities between these diets, a keto diet is all about restricting carbohydrates and increasing healthy fats.
The goal is to force your body's metabolism into ketosis, which means it burns fat instead of glucose — because, without carbs, glucose isn't readily available.
From: Kitchn
9. Keto Low Carb Sugar-Free Mug Bread
It is not every day that you see a bread recipe for keto diet followers. What I like about this bread is that it is quick to make and you only have to make one serving at a time. I like that there are no leftovers to tempt me into eating more than I should.
From: Sugar Free Diva
10. Low Carb Keto Everything Bagels
This is a Starbucks Chonga Bagel Copycat Recipe – All the flavors of your favorite Everything Bagel, but without all the carbs and gluten. Sinfully delicious. There are not a lot of things I miss from my old lifestyle, but those morning trips to Starbucks are one of them.
From: Peace, Love & Low Carb
11. Keto Doritos
AKA Dorketos. Not sure that will catch on! Prep time and oven time were about 15 minutes in total. The amazing crunchy mouth satisfaction I got from these was such a relief! In the end they didn't last very long, but turned out to be quite hearty and surprisingly satisfying.
From: Baking Outside the Box
12. Halloumi Fries
Crisp and slightly salty shallow-fried halloumi fries make perfect party food. Great with a sprinkling of za'atar and a spicy yogurt for dipping.
This recipe uses wheat flour but I would recommend swapping that out for a low-carb alternative live Almond flour.
From: BBC Good Food
13. Keto Buffalo Chicken Cauliflower Tots
Who says tailgate food can't be healthy too? Crispy, cheesy Buffalo Chicken Keto Cauliflower Tots are guilt-free and totally crave-able!
From: The Soccer Mom
14. Keto Cheese and Bacon Bread
Once you've been eating Keto for a while, you can get a bit tired of the same old lunches and dinners. That's why I created this Keto Cheese and Bacon Bread. It reminds me of those cheese and bacon rolls you get from bakeries, you know the ones with the cheesy crusts? It is so much moister and obviously much lower in carbs though so is a Keto win!
From: Aussie Keto Queen
15. Garlic Butter Keto Bread
Garlic Butter Keto Bread – crisp on the outside and moist in the inside, this is the Holy Grail for keto bread! Using a cream cheese and mozzarella dough combined with almond flour and bacon bits, this is the best keto garlic bread recipe you'll ever make.
It's the parmesan and herb crust – perfectly golden and brushed an amazing garlic butter sauce – that makes this keto bread recipe totally stand out. Enjoy!
From: Eat Well 101
16. Low Carb Keto Breakfast Egg Muffin Cups
Low Carb Breakfast Egg Cups – 9 Ways are packed with protein and perfect for busy school or work mornings or a holiday brunch. Best of all, they're all easy to make-ahead for a healthy breakfast on the go.
From: Life Made Keto
17. Cheese Taco Shells
Cheese Lovers of the World, Rejoice! If you're Keto, these are pretty much a godsend when Tuesday rolls around and everyone is celebrating Taco Tuesday. Just roll up with your Cheesy taco Shells and join the party and stay in Ketosis. These are super easy to make.
You can make with other cheeses but provolone works best for it tastes delicious too.
From: Mince Republic
18. Bacon and Egg Cups
I'm obsessed with these cute Bacon and Egg Cups. I've made them several times now and perfected my bacon so it becomes crispy. They are super easy to make ahead and can be stored in the fridge or freezer for several days of healthy, protein filled breakfasts on the go.
From: Seasonal Cravings
19. Keto Low Carb Beef Empanadas
These Ground Beef Empanadas are definitely one of my favorite keto recipes. They're really easy to make and so delicious, plus super versatile because you can make all different kinds of flavor combinations.
From: Mince Republic
20. Instant Pot Low Carb Dairy Free Beef Rendang
Make the curry to beat all curries with this cheater Malaysian Instant Pot Beef Rendang recipe! Beef Rendang is a dry curry recipe that normally takes several hours to make. It was actually originally a way to preserve meat but now is eaten as a tender, flavorful dish.
I decided to figure out how to cook this in my Instant Pot so I could cut down cook times without cutting down on authentic flavor. It's fall-apart tender and absolutely delicious. But best of all? Ready in under an hour!
Personally, I like to let it cook on a little and dry out and intensify the flavor.
From: Two Sleevers
Looking for more Keto Cheat Recipes?
Also check out our Fathead Dough, Fathead Dough Dessert Recipes and Easy Keto Dessert Recipes