[mv_video aspectRatio="true" doNotAutoplayNorOptimizePlacement="false" doNotOptimizePlacement="false" key="ekykfymnvomjifp5nqpu" thumbnail="https://mediavine-res.cloudinary.com/video/upload/ekykfymnvomjifp5nqpu.jpg" title="Greatest Keto Dessert Air Fryer Recipes" volume="70″]We've scoured the web for keto-friendly air fryer dessert recipes. There are not many out there yet, but we've found the best of best. If your family's favorite is missing, the timings and ingredients used in these recipes will help you develop your own air-fried dessert ideas.
One little tip – always use avocado, olive oil, coconut oil or ghee cooking spray with your air fryer ingredients.
Why? You know all those fats we've been encouraged to eat for a generation? Well, it turns out they've been making us sick. There is growing and compelling evidence that Omega-6 rich frying oils like safflower, corn oil, soy oil (and so on) promote inflammation, obesity and diabetes.
Air frying with fats like avocado, olive, coconut, tallow, lard and ghee is a better way to get a junk food kick without the junk!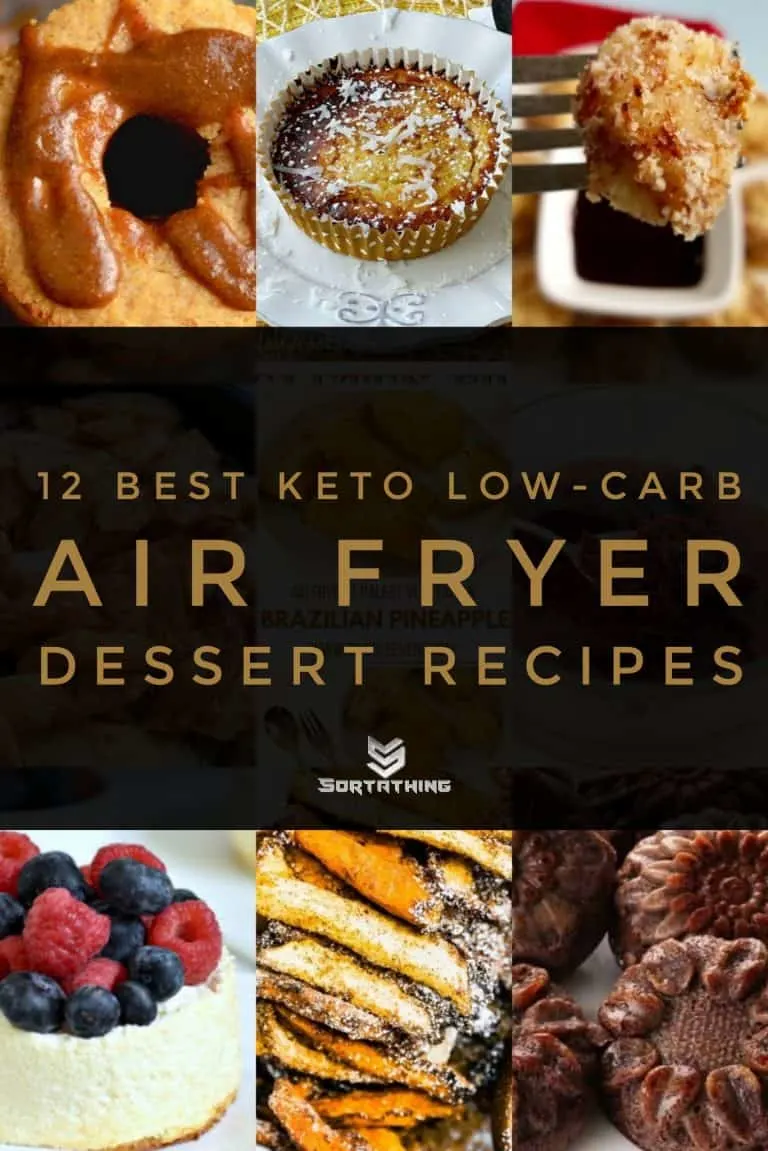 Article image from: Kaboompics
1. Low Carb Air Fryer Cheesecake
I'm going to start with the best of the bunch. How about a super easy, crust-less cheesecake. Epically indulgent but with the delicious knowledge that there are minimal carbohydrates to spike your insulin. You can put the whole thing together with a hand blender before letting the air fryer do its magical stuff.
From: Home Jobs by Mom
2. Keto, Low Carb Air Fried Cheesecake Bites
Not in the mood to build an entire cheesecake? Fine, so how about a whole collection of portable cheesecakes? These beauties feature rich cream cheese, vanilla extract and almond meal instead of Graham cracker crumbs. Lightly air fry until each is golden brown then let them cool and present to your guests or keep on hand as a go-to snack any time of day.
From: Easy Keto Dishes
3. Nut-Free, Keto, Low Carb Keto Chocolate Cake
How on earth can you make a chocolate cake with an air fryer, let alone a keto-friendly chocolate cake? This gluten-free, nut-free, low-carb cake is ever so soft, moist, light and simply delicious. This recipe substitutes coconut flour, a great option if you gluten intolerant, keeping the carbs low or need to stay away from nuts like almond flour.
From: the ever-brilliant Two Sleevers
4. Keto, Low-Carb, Gluten-Free Flourless Chocolate Brownies
Using only five simple ingredients you can make flourless chocolate brownies that barely move the carb needle with only 3 grams per serving. They look like brownies, taste like brownies but they're better than brownies.
From: Two Sleevers
5. Paleo Apple Cider Vinegar Donuts
Grain-free donuts that substitute gluten for fiber and protein. A simple everyday healthy donut recipe!
From: Skinny Fitalicious
6. Air-Fried Spiced Apples
Air-Fried Spiced Apples make a super-simple, quick and comforting finish to your meal. Gluten-free & dairy-free (until you drench them in heavy cream like I do!). Satisfying air fryer dessert recipes don't come simpler than this.
From: Mama Shire


7. Life-Changing Keto Donut Mix
It's a readymade mix but it's got the taste of a real donut, the texture of a real donut, and one recipe makes a real half dozen of real donuts.
From: Linneyville
8. Air Fryer Sweet Potato Dessert Fries
This healthier, refined sugar-free dessert recipe is made with sweet potatoes that have a sweet cinnamon coating. They actually taste like churros too!
From: Cotter Crunch
9. Air Fryer Brazilian Pineapple
I can remember the first time I had roasted pineapple at my local Brazilian restaurant. That was two years ago but I can still think about it sometimes… When you cook pineapple in your air fryer with brown sugar and butter it turns it into this delicious, light dessert and you will want to make it every night.
OK, this is in no-way low carb, but pineapple contains bromelin, which is good for the lungs, and we all got a pair of them, right?
From: Two Sleevers
10. Easy Air Fryer Paleo Coconut-Encrusted Cinnamon Bananas
These air fried coconut crusted cinnamon bananas are rich in flavor with a nice sweetness about them. The coconut gives these bananas a nice little crunch that surprises the taste buds. Not the lowest-carb option here but bananas are a good way to get your potassium.
From: Awe Filled Home Baker
11. Air Fryer Gluten-Free Chocolate Lava Cake
We couldn't go with just one chocolate cake and this one offers something extra – a gooey centre that threatens to overwhelm with warm, velvety, chocolate goodness, fresh from the air fryer (though please allow time to become slighly less lava-like!).
From: Mama Shire
12. Gluten-Free Easy Coconut Pie Air Fryer Recipe
It looks beautiful and has that distinctively mild coconut taste. This dessert can be baked in the oven or finished off in an air fryer.
From: Wine Lady Cooks
Enjoy these air fryer dessert recipes?