Finding a really good low-carb keto cheesecake recipe can be a challenge. So many choices. Bake or no-bake? Base or no base? Which sweetener to use? What toppings to finish with?
We have you covered here with two dozen deliciously keto-friendly cheesecake recipes that look spectacular on the table, whether it's the holidays or high summer.
And if you're looking for more low-carb dessert ideas, check out our keto desserts, fathead desserts and chaffle recipe round-ups.
Article image from My PCOS Kitchen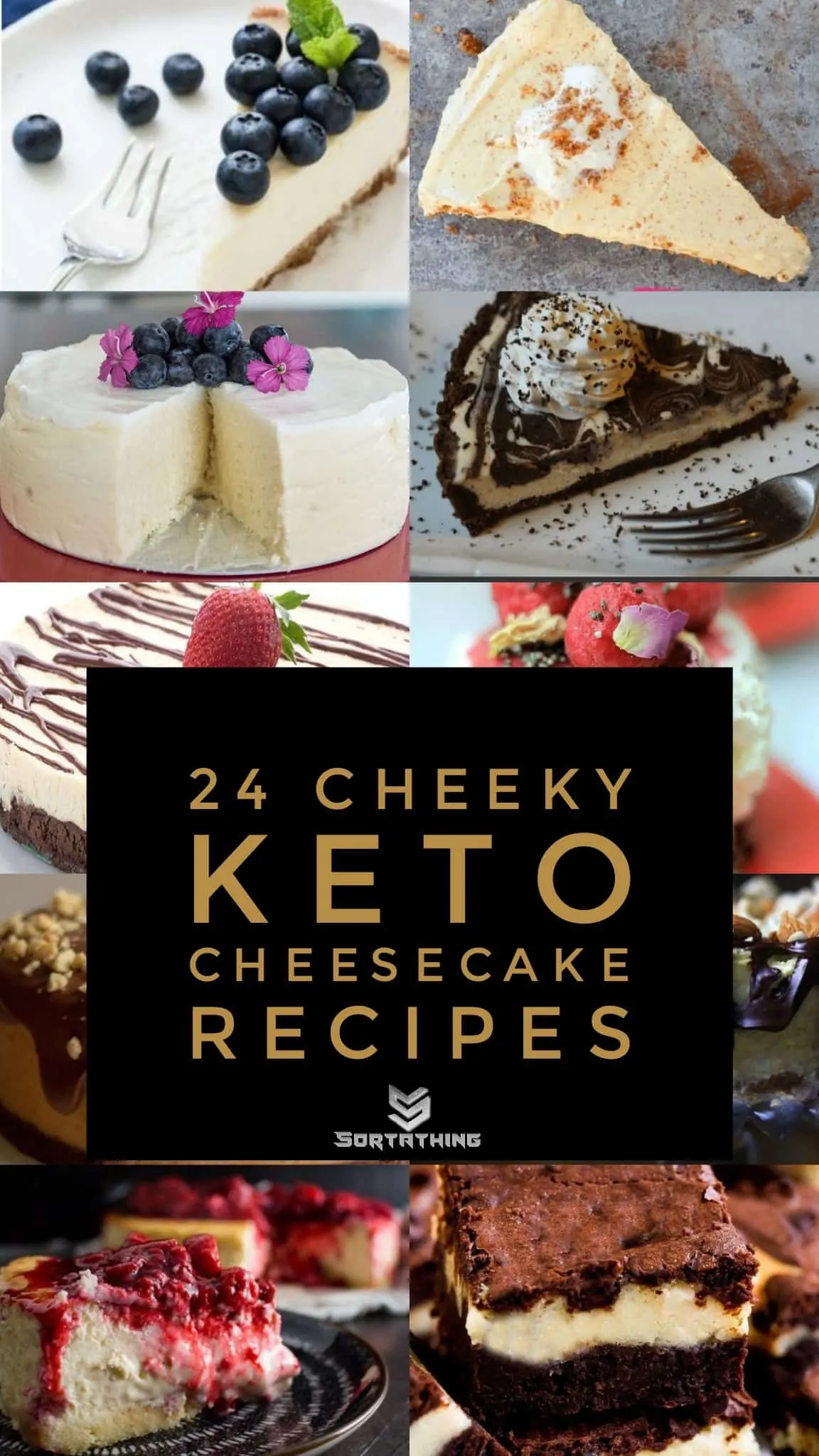 1. Keto New York Cheesecake
The creamiest and the densest cheesecake you'll ever make! This recipe uses coconut flour, almond flour and stevia as a sweetener. You can decorate it with melted chocolate, chopped nuts or really whatever you want.
From: My PCOS Kitchen
2. Keto Banana Bread Bottom Cheesecake
I love banana bread and I love cheesecake – so putting the two together seemed like a match made in heaven. You won't believe that this Banana Bread Bottom Cheesecake is low carb or how easy it is to make using your instant pot. If you don't have an instant pot, don't worry. This recipe also includes directions for baking in the oven.
From: This Mom's Menu
3. Keto Sopapilla Cheesecake
Here's an easy, low-carb, sopapilla cheesecake! Instead of a traditional crust, we will substitute a pork rind based dough.
From: Recommended Tips
4. Keto Chocolate Peanut Butter Cheesecake
It doesn't get much better than a dessert that combines the three of the most heavenly foods on the planet – chocolate, peanut butter and cheesecake! It's seriously delicious. This Chocolate Peanut Butter Cheesecake is so decadent that you won't believe that it's low carb – or how easy it is to make using your instant pot!
From: This Mom's Menu
5. Low Carb Keto Pumpkin Cheesecake
The most decadent low carb keto pumpkin cheesecake recipe ever. Seriously, you won't even be able to tell that this is a low carb pumpkin cheesecake. It tastes like the real thing.
From: Wholesome Yum
6. Keto Cheesecake Stuffed Brownies
This recipe is a spin-off from a keto flourless brownie recipe with a few adjustments. Because the cheesecake filling offers a bit more moisture and weight, the brownie base needed to be more substantial. The addition of almond flour gives this dessert just enough structure to stand up to creamy pockets of cheesecake while still being fudgy and a little gooey!
From: Ruled.me
7. Instant Pot Keto Cheesecake
When I discovered that I could make a keto cheesecake in the Instant Pot, that was a happy day in this house. Since this cheesecake is low-carb, we're skipping the crust altogether. That means that there's the possibility for leaking with the push-pan. The solution to that is to wrap the bottom of the pan in a piece of foil.
From: Our Paleo Life
8. No-Bake Keto Cheesecake
The key to sweetening this amazing cheesecake without the "chemically" taste of artificial sweeteners, is this amazing all-natural, non-GMO erythritol sweetener, Swerve. It is amazing! I have had a really hard time with any diet until now, because I hated all artificial sweeteners.
From: The Struggle is Beautiful
9. Low Carb Brownie Cheesecake
Brownie Cheesecake combines gluten-free brownies and low carb cheesecake into one delicious sugar-free dessert recipe. This is the best keto cheesecake you will ever eat. Two delicious sugar-free desserts in one!
From: All Day I Dream About Food
10. No-Bake Keto Chocolate Cheesecake
The ultimate low carb, keto-friendly dessert, and no baking is required!
From: Keto Connect
11. Keto Peanut Butter Cheesecake
Peanut butter cheesecake HAS to be one of the most decadent desserts ever created. Nothing says delicious quite like the combination of peanut butter and cream cheese in this amazing chilled treat. Don't settle for a bland dessert menu, kick things up a notch with this sweet little dessert!
From: Tasteaholics
12. Keto Pecan Cheesecake Muffins
Pecan is one of our favourite nuts to use as we just love their flavour. These are a great option to give to your non-keto family members as they are delicious. These are our favourite sweet treat and we love to have some stored in the freezer when we are craving something sweet.
From: Have Butter Will Travel
13. Keto Cheesecake with Blueberries
The cake looks really nice with a few blueberries (but you could also use other berries) placed along the outside edges of the crust. I like to hand pick the best looking ones of the batch I have and save them for the topping.
From: Lettuce Thrive
14. Keto Pumpkin Eggnog Cheesecake
If you want to seriously impress your family & friends with a Keto/Low Carb dessert this holiday season, this Keto Pumpkin Eggnog Layered Cheesecake Recipe is going to be it! Cheesecake is a delicate work of art and this creation is now the BEST Keto/Low Carb holiday recipe out there.
From: Low Carb Inspiration
15. Keto Pumpkin Cheesecake Bars
These healthy pumpkin cheesecake bars are layered with a bottom almond flour crust, a middle cheesecake layer, and a top pumpkin layer. Low carb, keto friendly, and gluten-free.
From: Savory Tooth
16. NYC Style Cheesecake Keto & Gluten Free
This is a basic cheesecake recipe, which means that you can adapt it to your taste and cravings. You can turn this into a chocolate cheesecake if you wish, top it with blueberries instead of strawberries, or even turn it into a chocolate peanut butter decadent treat. Have fun!
From: Broke Foodies
17. Low Carb Lemon Cheesecake
Creamy and delicious no-bake Low Carb Lemon Cheesecake with a buttery almond crust. Even if you are not on a low carb diet, you will love this!
From: Mother Thyme
18. Mini Cinnamon Roll Cheesecakes
These mini keto cheesecakes absolutely exceeded my expectations. They were firm but creamy and had a lovely cinnamon "sugar" flavour. They really did taste like cinnamon rolls in cheesecake form.
From: All Day I Dream About Food
19. Keto Blueberry Cheesecake Squares
This keto blueberry cheesecake square is nut free, grain free, gluten free, wheat free, no added sugar (the only sugar is from the berries and cream cheese) and incredibly low carb.
From: Ditch the Carbs
20. Avocado Lime No Bake Cheesecake
This was originally going to be a lime cheesecake, but to give it some color I thought of adding some healthy fats like avocado to it! Making an avocado cheesecake may seem a little odd at first, but trust me it will be one of the yummiest cheesecakes you'll ever make!
From: My PCOS Kitchen
21. Chocolate Swirl Cheesecake
This cheesecake recipe is a great way to celebrate in a healthy way, without feeling deprived! Nobody likes attending a party and watching everyone else enjoying their dessert, right? The crust of this dreamy dessert is so simple to make too. Just toss all your crust ingredients into a food processor and turn it on.
From: My Table of Three
22. Keto Raspberry No-Bake Cheesecake
I first made this recipe in a normal cheesecake mold, but thought it would be better and cuter if they'd come individually prepared in a cute cupcake liner. I found these super adorable parchment paper based cupcake liners at the dollar store and decided to make mini cheesecakes using these!
From: My PCOS Kitchen
23. Keto Pumpkin Cheesecake
Keto Pumpkin Cheesecake is always the answer, no matter the question. Check out this easy recipe to make a Fall favorite low carb style!
From: Hey Keto Mama
24. Boston Cream Cheesecake
A fabulous low carb Boston cream cheesecake that bakes up in no time. It's got a layer of gluten free cake topped with cheesecake then a layer of chocolate! It looks a lot more involved than it really is so don't be afraid to try it because it looks complicated. It's so easy to put together.
From: Low Carb Yum
Want more keto dessert recipes? Check our keto pecan pies recipes, air fryer desserts and fathead dough desserts. Almost forgot! Low-carb pecan pie desserts too.