Fathead dough dessert recipes take the low-carb, keto-friendly mozzarella and nut flour recipe and make it sweeter, flakier and more pastry-like.
In the early days of your low-carb diet, it's sweet, indulgent things that are most likely to tempt you: that morning Danish or muffin, a slice of cake, a stray egg custard…
But it need not be so. You can take those cravings and use them to explore the surprising world of sugar-free, grain-free and gluten-free baking with these fathead dough dessert recipes. They are better than the "real" thing, and not only because they're all delicious.
If you like these fathead dough dessert recipes, be sure to take a look at our Savory Fathead Dough Recipes plus our brand new 30 best sweet and savory chaffle keto waffle recipes.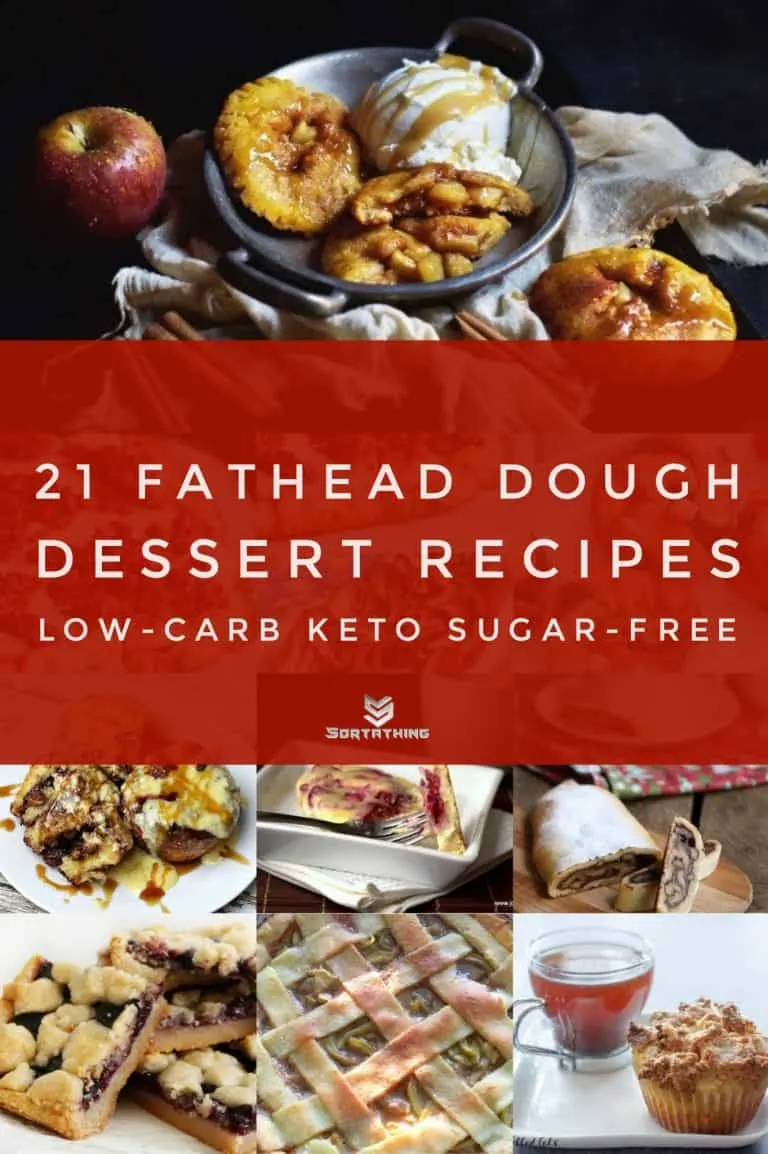 1. Sweet Cinnamon Cranberry Danish
This recipe has a lot of steps but you can make the dough first, then the cream cheese topping and then the cranberry topping one after the other in a food processor without washing it. So it is much simpler than it seems.
From: Joy-Filled Eats
2. Keto Low Carb Fat Head Chocolate Babka
Babka, an Eastern European Jewish dessert, is made from a doubled and twisted length of dough that is baked in a loaf pan. It usually contains a sweet cinnamon or chocolate filling. This version is totally sugar-free and low-carb all the way.
From: Keto Diet Channel
3. Low Carb Nut-Free Fat Head Pumpkin Twists
These Sugar-Free Low Carb Pumpkin Twists are made using a nut-free Fat Head Low Carb dough recipe. No almond flour in this baby. Easy to make, gluten-free, grain-free and perfect for parties!
From: Sugar-Free Mom
4. Fathead Blueberry Bars
These fathead blueberry bars are kinda like your traditional fruit square, only the recipe has been corrected to a low carb version.
Blueberries are great because, like raspberries, you can eat them in moderation on low-carb and keto. The dough is a pastry style version of the famous fathead dough.
From: How to This and That
5. Low Carb Fat Head Carrot Cake Sticky Buns
These little fellas have everything you love about sticky buns, minus the carbs and sugar but with walnuts and spice present and correct.
From: An Edible Mosaic
6. Low Carb Fathead Fruit Pizza
This fathead fruit pizza is eye-catching, showstopping and a delicious low-carb dessert that is perfect for a spring or summer party. It's also gluten-free of course with only has 4g net carbs per slice!
From: My Life Cookbook
7. Keto Blueberry Cream Cheese Tart
This blueberry tart is something like a danish. It has a savory-tasting crust with a sweet'n'creamy filling that's easy to make, yet somehow fancy and indulgent! It's actually an adaptation of the Fathead Bluebarry Bar recipe at number 4.
From: Paleo Mom Noms
8. Keto-Friendly Custard Tarts
Egg custard tarts are one of my favorite things, always have been since I was kid when my dad used to give me one to eat when he drove me anywhere. But that wheatflour crust makes them a guilty pleasure these days. No more! There's a fathead version. Yay!
From: My Sweet Keto
9. Low-Carb Apple Pastries
Modern apples are fairly high in carbs, sugar basically, so go easy on them in this recipe. One medium-sized apple will easily make ten of the pastries. Cinnamon and nutmeg give them an irresistible spiciness.
From: Simply So Healthy
10. Keto Maple Pecan Cinnamon Rolls
That's a lot of great flavors in small package. Maple, pecan and cinnamon is the dream ticket for me. This quick and easy keto-friendly recipe uses a modified version of fathead dough, topped off with maple cream cheese icing!
From: Dr Davinah's Eats
11. Raspberry Cream Cheese Danish
A golden pastry dough topped with sweet cream cheese and raspberry that scores highly for indulgence, especially at breakfast time. It's also a low-carb winner that's free of grain, gluten and sugar-free.
From: Joy-Filled Eats
12. Keto Low-Carb Fathead Pancakes
The secret here is cream cheese instead of the shredded mozzarella that is the hallmark of fathead dough. Very clever, really. Top 'em with whatever you like.
From: Yummy Keto Recipes
13. Keto Cinnamon Pretzels
Soft, chewy, low carb pretzels that full of flavor but free of carbs! These Keto Cinnamon Pretzels are the perfect snack, especially when you're craving something sweet.
From: Butter Together Kitchen
14. Caramel Pecan Sticky Buns
Coffee was made to go with these sticky, nutty, spicy buns. Thank you, Fathead Gods, you've made the world safe for Ketonians to live in. No, to thrive in!
From: Joy-Filled Eats
15. Keto Fathead Dough Baked Churros & Chocolate
If you're looking for some delicious keto desserts that just so happen to also be some sweet fathead desserts…. this is the one you need to try. With some keto-friendly chocolate to dip them in? Oh, go on then. Seriously, why not?
From: How to This and That
16. Fathead Berry Twist Buns
Fat Head Berry Twist Buns. Low-Carb? Check. Keto-Friendly? Check. Gluten-Free? Check. Sugar-Free and Nut-Free too? Check, check. How about tasty? Are they tasty too? Yuh-huh.
From: Keto Diet Channel
17. Low-Carb Braided Blueberry Danish
A golden brown dough, a ton of cream cheese filling, and blueberries that pop with juicy goodness. Proof that fathead dough works beautifully on both sweet and savory occasions.
From: Joy-Filled Eats
18. Low-Carb Cinnamon Rolls
Another day, another Danish. These cinnamon rolls are best enjoyed fresh and warm out of the oven. You could even reheat the leftovers (should you have any…) to revive their nice soft texture.
From: Briana Thomas
19. Chocolate Walnut Swirls
This is one of the very first sweet fathead dough recipes, from way back in 2015. Is it a cake, a roll or a cookie? Who cares, I know they're good for breakfast, good for the Holidays.
From: All Day I Dream About Food
20. Keto Coffee Cake Muffins
This is a new recipe that isn't strictly fathead as there's no mozzarella involved. But these coffee cake muffins look delicious, so I had to share regardless.
Bakery style almond flour muffins with a cinnamon streusel topping. These keto coffee cake muffins are going to be your new favorite breakfast!
From: All Day I Dream About Food
21. Salted Caramel Fathead Pie Crust
To finish off, I'll leave you with an all-purpose sweet fathead recipe. This here is a sturdy, not-too-crumbly legit pie crust that you can finish with whatever keto-friendly (or indulgently sugar-packed if you wish) filling takes your fancy.
From: Keto Evangelist Kitchen
Did you like these Fathead Dough Dessert Recipes?
If you enjoyed these fathead dough dessert recipes you'll love our 30 best fathead dough recipes