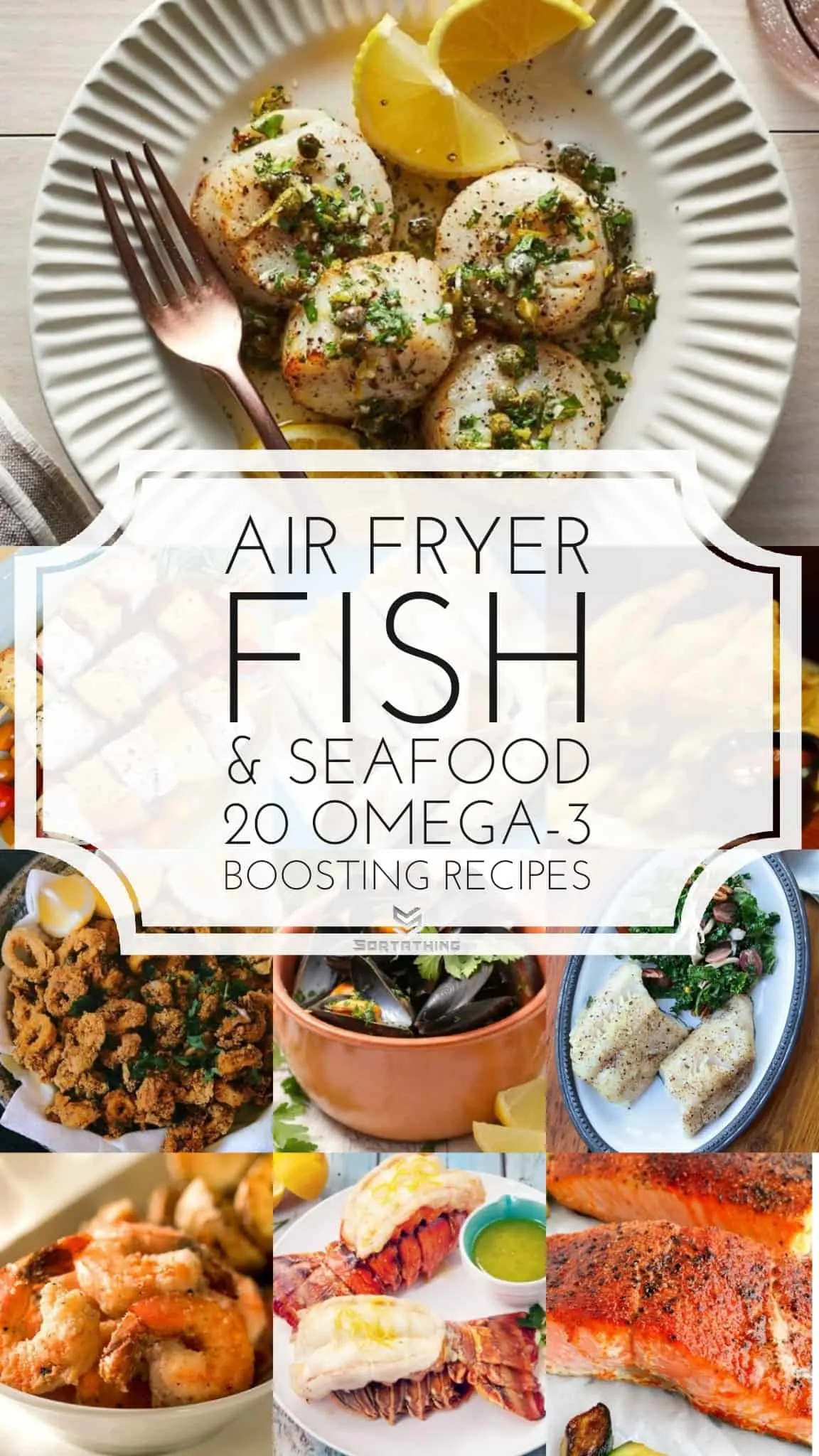 Fish is an important part of a healthy diet. It's high in protein and one of the best sources of Omega-3 fatty acids. Getting the right balance of Omega-3 and Omega-6 fats is an important part of staying healthy throughout your life. Air fryer fish is one of the healthiest ways to prepare it.
But if you fry your Omega-3 rich fish in Omega-6 rich canola oil you cancel out much of the health benefit. We evolved to consume a balanced ratio of Omega-3 and Omega-6. Too much Omega-6 causes inflammation and is linked to many psychological conditions, heart disease and even cancer. There's a detailed article on the why you should aim to balance your Omegas here.
Cooking seafood in your air fryer reduces your use of unhealthy cooking oils. A quick spray of avocado or coconut oil is all you need.
Shellfish are an especially rich source of nutrients like Zinc, Iodine, Magnesium and Vitamin B12, as well as Omega-3 fatty acids. Air frying seafood means most of these nutrients remain in your food and don't get lost in excess cooking oil or water. These delicious air fryer recipes show you exactly how to do it.
1. Crispy Air Fryer Fish Recipe
Frying fish in oil is the way we've always done it but air frying is a healthier method that gives great results. It's super simple and you can even use frozen fish fillets with this technique. And if you want chips with your fish, check out the next recipe.
From My Forking Life
2. Air Fryer Fish & Chips
Fish & chips is a British favorite, millions of portions are eaten every week. To be totally authentic you'd eat them out of newspaper soaked in vinegar and crusted with salt. But you won't need newspaper to soak up the grease here, air fried fish and chips are way healthier.
From Air Frying
3. Air Fryer Tilapia
Tilapia is a good fish for air frying because it comes in portions of the perfect thickness. It's also inexpensive, doesn't taste particularly fishy, which helps make it the fourth most commonly eaten fish in the United States. This breaded recipe is quick and easy, with only four simple ingredients.
One thing to bear in mind though – Tilapia has a relatively low Omega-3 content, only about a tenth of what you'd find in wild salmon. There's often a greater proportion of Omega-6. Ouch. Reason enough to only ever air fry this fish.
From Food Hussy
4. Air Fried Chilli Lime Tilapia
Here's a more complex Tilapia recipe with a hot and sour flavor. If you served this with some avocado wedges, as recommended, you'll also be balancing out any excess Omega-6.
From Beauty and the Bench Press
5. Air Fryer Southern Fried Catfish
Catfish has more Omega-3 per portion than Tilapia, but it's still on the low side. Omega-3 fatty acids are comprised of two important polyunsaturated fatty acids, eicosapentaenoic acid (EPA) and docosahexaenoic acid (DHA), which are primarily found in fatty fish and fish oils. It's just that there's less of it in catfish than there is in mackerel or salmon, but slightly more than Tilapia.
From This Old Gal
6. Air Fryer Garlic Parmesan Crusted Salmon
This recipe offers both oven-baked and air-fried versions. Air frying will create a crunchier crust and less time and hassle. That's one of the most enticing benefits of cooking with an air fryer – get your timings right and everything comes out perfectly crispy. About 7 to 12 minutes, in this case, depending on the thickness of your salmon.
From Crunchy Creamy Sweet
7. Perfect Air Fryer Salmon
We suspect this will be one of the most popular recipes here because salmon is so delicious, healthful and widely available. This recipe takes care to show each step in detail, complete with temperature and timing. We've been using this method all through this year, it's a keeper!
From Noble Pig
8. Air Fryer Black Cod (Sablefish)
Second only to mackerel for Omega-3 content (and having the highest of any white fish), you should definitely seek out black cod, also known as sablefish. This recipe is pretty wonderful as it also uses grapes, pecans, fennel and kale on the side.
We're so impressed by Black Cod we've devoted a whole post to it
From Blue Jean Chef
Want to try Omega-3 rich Black Cod? We've found a sablefish supplier that delivers! Vital Choice Wild Seafood & Organics
Vital Choice is a trusted source for fast home delivery of the world's finest wild seafood and organic fare, harvested from healthy, well-managed wild fisheries and farms. Buy your sablefish, salmon, lobster tails and shrimp online today. (We may be compensated by Vital Choice if you do so)
9. Air Fryer Bacon Wrapped Shrimp
Shrimp is another seafood that is rich in Omega-3 fatty acids as well as Iodine, Selenium and the anti-inflammatory, neuroprotective antioxidant astaxanthin. So with all that goodness going it'll do harm to wrap 'em in bacon and give them a blast of the air fryer. Here's how…
From Take Two Tapas
10. Air Fryer Salt & Pepper Shrimp
A nice gluten-free reicipe here form Two Sleevers, one of our favorite food blogs. They always come up with something a little different and very delicious. We really like the use of Sichuan peppercorns here, there's nothing tastes anything like them. Recipe includes a video of how to do it.
From Two Sleevers
11. Air Fryer Crab Rangoon Recipe
Crab wontons! That's what we're talking about here. A cracking recipe for air fryer crab.
From Fryer House
12. Cheesy Tuna Air Fryer Flautas
This recipe uses canned tuna to make super-crispy Mexican-style flautas. A great snack that Ginger Casa recommend for Cinco de Mayo celebrations.
From Ginger Casa
13. Air Fryer Tuna Steaks
You could give your tuna steaks a couple of minutes on each side in your air fryer, which would be great, but this recipe adds a bunch of extra flavor with garlic, thyme and pepper. We think a squeeze of lime and maybe a sprig of cilantro would set it off nicely.
From Thrifty Fun
14. Flourless Truly Crispy Air Fryer Calamari
One of the most popular dishes right across the Mediterranean, from Greece to Spain. Done well, it makes the perfect light lunch. But overcooking can leave it chewy and lacking in flavor. Here's how t do it just right and without a dish dripping oil.
From Recipe This
15. Air Fryer Scallops
One of the finest foods you'll find from the ocean, with a unique fine meaty texture and subtly marine tang. Too delicate for the air fryer, you might think? Not at all. A high temperature and careful checking of the internal temperature after a few minutes and you'll have perfectly-cooked, flavor-packed scallops ready to go.
From Eating Well
16. Air Fryer Oysters Recipe
Oysters are typically served fresh and raw but they are a versatile seafood that work well in your air fryer. This recipe gives them a Cajun-seasoned coating.
From Fryer House
17. Air Fryer Lobster Tails
Drum roll… yes, you can cook lobster in your air fryer and this recipe ensure the results are fantastic. The method used here includes an exclusive little trick that prevents your lobster from drying out. Awesome recipe.
From Blue Jean Chef
18. Air Fryer Steamed Mussels
Never in a million years would I have thought of air-frying mussels. But Fork to Spoon have and they've all the details on how to prep your mussels and how to cook them.
From Fork to Spoon
19. Air Fryer Baja Fish Tacos
"Air Fryer Baja Fish Tacos are absolutely the best." This recipes uses Mahi Mahi marinated in lime juice with a recipe for a white sauce to with it.
From This Old Gal
20. Air Fryer Swordfish Kabobs
Quick, easy but an impressive snack. Swordfish has a dense texture and this helps it hold together on the skewer alongside bread and prosciutto ham. Wow, next time I see swordfish on sale (which isn't often in my locality), I'm going to buy it all up to make these.
From Kalorik
More air fryer recipes
We've also published posts on the 30 Best Keto Air Fryer Recipes, Air Fryer Egg Recipes and Air Fryer Meat, plus an Air Fryer Chicken special