If ever there was a superfood, matcha is it. These 40 matcha recipes will help you make the most of its many health benefits.
Matcha has been around for about one thousand years – first in China and then in Japan from the 12th century. Matcha has a tough start. It is grown in the shade, forcing the young tea plants to strive for the little sunlight they receive. This boosts production of chlorophyll and other nutrients. The youngest and freshest leaves are hand-picked then ground, very slowly, into the fine, green powder we know as matcha.
Unlike regular green or black tea, matcha tea is a suspension of the actual leaf powder, not merely the compounds that come out of it. It has a distinctive opaque green color and a clean, fresh taste.
Matcha Recipes have unmatched potency
Matcha contains several important compounds that offer stimulation and genuine long-term health benefits. There's a moderate amount of caffeine as well as L-Theanine which both relaxes and stimulates. The buzz is milder and longer-lasting.
Most important of all for health are the polyphenol catechins, especially Epigallocatechin gallate (EGCG). Japanese matcha was found to have 137 times the amount of EGCG as Chinese green tea (1). One study found that there was a 90% reduction in the incidence of prostate cancer in men taking a green tea extract capsule rich in EGCG and other polyphenols! (2)
Polyphenols like EGCG are powerful antioxidants and good at inhibiting absorption of iron in the body. There is growing evidence that high iron levels have all sorts of bad effect on health, so drinking or eating matcha is a very good way to reduce your iron exposure. Turmeric may also be good at chelating iron too.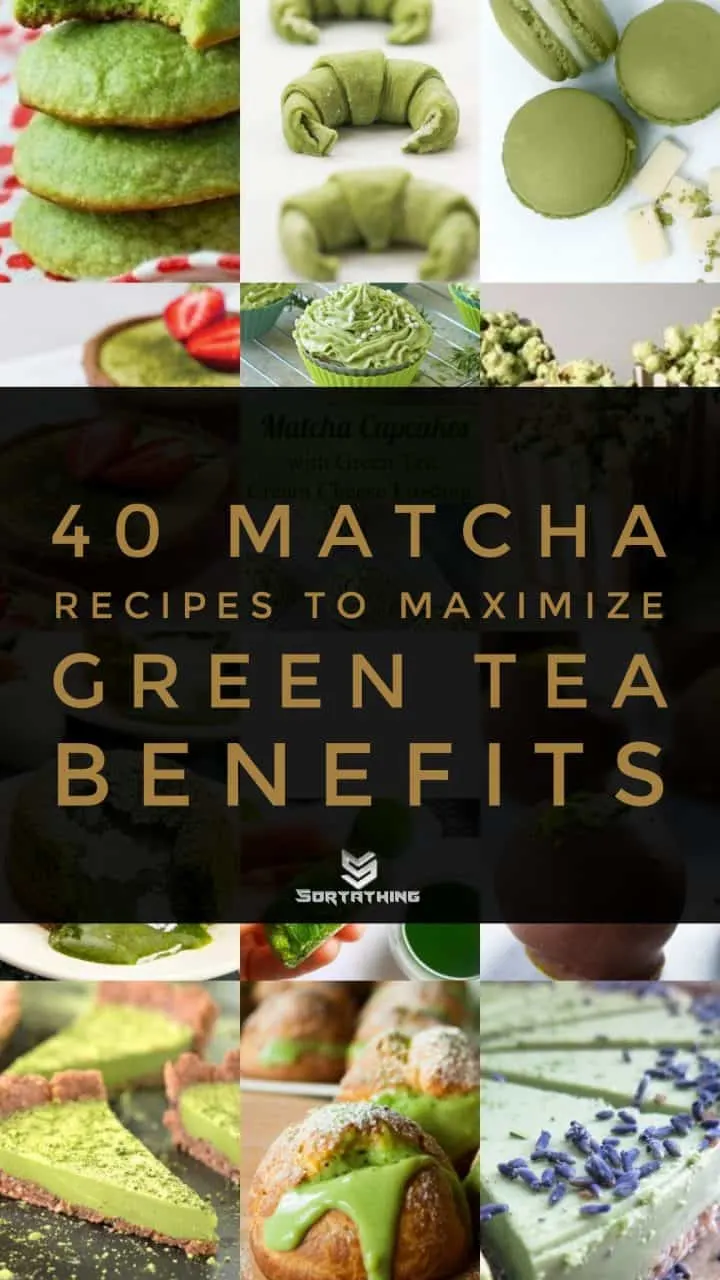 1. Matcha Green Tea Truffles
These Matcha Green Tea Truffles are as beautiful as they are delicious! Matcha green tea powder gives the truffles a light, delicate flavor and a beautiful light green color. I like to dust the tops with a little more matcha powder, to increase the flavor and make a bold statement.
From: The Spruce Eats
2. Matcha Custard Tart
This tart is a most light and refreshing way to end a meal. The airy mousse-like matcha filling melts in your mouth and plays off the crisp dark chocolate crust beautifully. Be sure to use gluten free rolled oats and oat flour if you are allergic to gluten.
From: Veggies by Candlelight
3. Matcha Stovetop Popcorn
No other popcorn tastes as good as stovetop popcorn made at home. It's also the perfect snack. Adding matcha gives it a healthy twist and a delectable taste.
From: Oh How Civilized
4. Fluffy Matcha Cake
Delicious and almost guilt free, you'll adore the texture of this fluffy matcha-boosted sponge cake.
From: Mari Matcha
5. Coconut Vanilla Matcha Latte
After drinking my morning matcha I quickly feel a calm and focused energy that lasts into the afternoon- unlike the anxious jitters followed by an afternoon crash that I used to experience back in my coffee days. This is a delicious way to enjoy the benefits.
From: The Colorful Kitchen
Udderly Adorable Insulated Mug
6. Healthy Matcha Green Tea Shortbread Cookies
These Healthy Matcha Green Tea Almond Shortbread Cookies are sweet, buttery, sophisticated, and seriously delicious. You'd never know these are sugar free, gluten free, dairy free, and vegan too!
From: Desserts with Benefits
7. Chocolate Matcha Swirl Loaf
This loaf actually exceeded my expectations. With a touch of almond, all of these flavors created a perfect loaf. If you're looking for a green treat this season, be sure to give this one a try!
From: The Emotional Baker
8. Matcha Pecan Brownies
The best part of putting matcha tea powder in brownies? You're getting more than a delicious brownie—you're getting all the greatness of matcha green tea powder. From antioxidants that jumpstart your immune system to the calming effects of L-theanine, the matcha green tea powder in these brownies will lift you up instead of weighing you down.
From: Epic Matcha
9. Matcha Green Tea Nice Cream
This Matcha Green Tea Nice Cream blends frozen bananas with a bit of coconut milk and some quality matcha for a premium green tea ice cream. The flavour is aromatic, rich and the perfect sweetness.
From: Two Spoons
10. Matcha Soft Pretzels
A fantastic baking experiment that produced delicious results for brunch or a snack any time of day.
From: Sandra's Easy Cooking
11. Whipped Matcha Honey Butter
Smooth, light, and creamy, this matcha honey butter is the perfect addition to snacks such as pancakes, muffins, toast, and bagels. This matcha whipped honey butter is so delicious, it will feel like dessert—but in fact, it's very good for you.
From: Epic Matcha
12. Matcha Iced Latte
With this iced matcha latte method, you don't need any traditional matcha tools, like a bamboo whisk or a special bowl. Just three ingredients added to water and shaken.
From: Oh How Civilized
13. Matcha Avocado Ice Cream
This matcha avocado ice cream is delicious, easy to make and full of healthy fat. It's gluten free with a dairy free option!
From: A Calculated Whisk (now THAT'S a pun)
14. Mocha Maca Matcha Recipe
This mocha maca matcha it the perfect healthy pick me up drink to start your morning. It's full of healthy and energizing ingredients and you can make it in minutes. Probably not a bedtime drink though, this one is for morning zing!
We've found 30 more energizing Maca recipes too!
From: My Life Cookbook
15. Paleo Matcha Daifuku Mochi
These Paleo Matcha Daifuku Mochi are 100% grain-free and filled with a gorgeously glossy vegan White Chocolate Matcha Ganache.
From: Greens of the Stone Age
16. Matcha Latte Mug Cake
This matcha latte-flavored mug cake cooks in the microwave for an easy dessert that is ready in just a few minutes.
From: Kirbie Cravings
17. 5-Ingredient Matcha Green Tea Energy Bites
Along with dates and almonds, just three more simple plant-based ingredients: chia seeds for omega 3's and fiber, plus a dash of antioxidant-rich matcha green tea powder and vanilla extract for flavor. It's kinda amazing how delicious 5 simple whole foods mashed together can be.
From: Grateful Grazer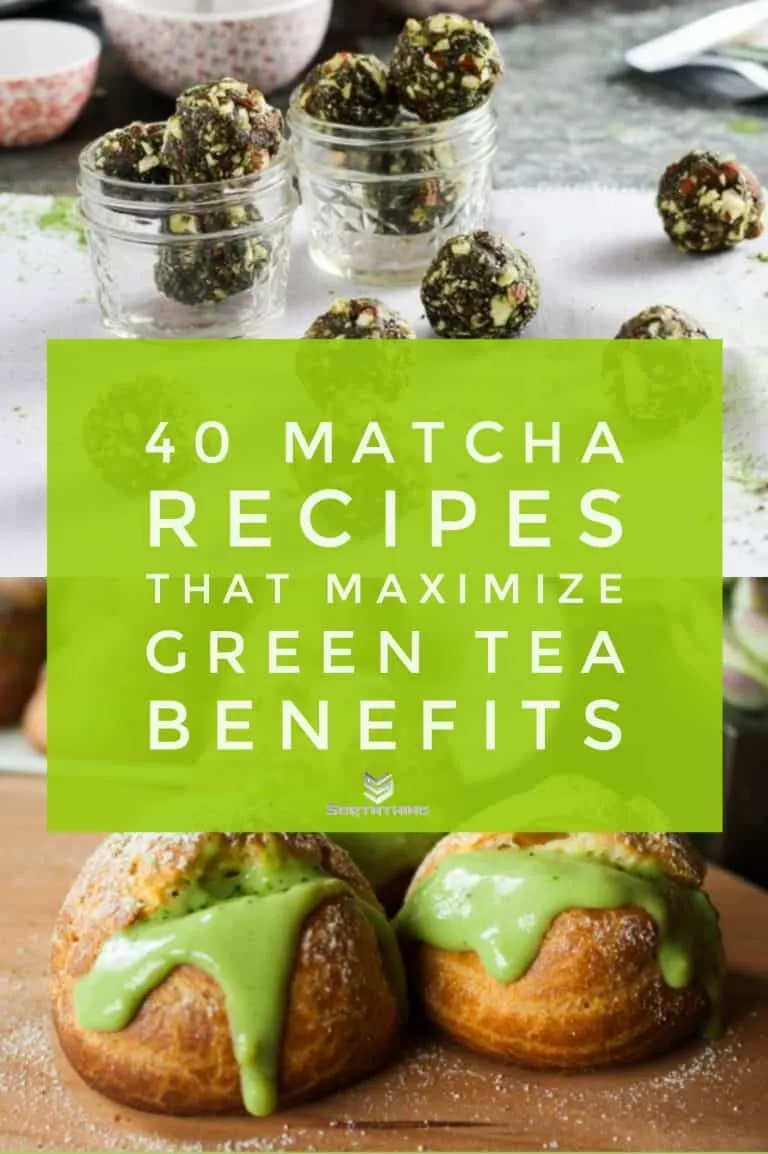 5-Ingredient Matcha Green Tea Energy Bites & Matcha Cream Puffs
18. Matcha Cream Puffs
Crispy cream puffs filled with a matcha custard filling. Not paleo, keto or low-carb – but incredibly delish with a blast of EGCG goodness from the matcha.
From: Joleen Cuisine
19. Matcha Coconut Tarts
An enticing combination of slightly bitter matcha and creamy coconut in a gluten-free crust.
From: Lazy Cat Kitchen
20. Thirsty for Tea Matcha Croissants
A great, traditional croissant recipe with one simple addition that makes each croissant go from pale butter yellow to earthy leaf green: a good quality matcha powder.
From: Thirsty for Tea
21. Matcha Mousse Raw Vegan Easter Egg
This healthy Matcha Mousse Raw Chocolate Easter Egg has a thick chocolate shell draped in raw white matcha chocolate and filled with a dreamy matcha mousse.
From: Greens of the Stone Age
22. Mango Matcha Green Smoothie
This mango matcha green smoothie is thick and delicious and good for your too. Healthy greens and the boost of matcha green tea make this a great breakfast choice.
From: My Life Cookbook
23. Matcha Mint Choc Chip Energy Bites
These cookie dough balls are very quick and easy to make and make pretty healthy treats, perfect for snacking. They're also raw, vegan, gluten-free and grain-free too.
From: Wall Flower Kitchen
24. Matcha Green Tea Chia Pudding
This matcha chia pudding is both paleo and vegan, and perfect for anyone with food allergies.
From: Fearless Dining (Check out their other matcha recipes – they're awesome)
25. Matcha Green Tea Cheesecake
This No-Bake Matcha Green Tea Cheesecake is a wonderful and unique dessert to share for any celebration. Even though it looks sophisticated, the recipe is quite simple and requires only a few easy-to-find ingredients.
From: A Squirrel in the Kitchen
26. Vegan Matcha Cheesecake
This Vegan Matcha Cheesecake is super easy to make. I made them into mini cheesecakes, cause they are cute.
From: Pies and Tacos
27. Coconut Matcha Energy Bars
With a combination of nuts, seeds, shredded coconut, and matcha green tea powder, these flavorful energy bars are a healthier alternative to most store-bought energy bars.
From: Grateful Grazer
28. Matcha Cupcakes
Matcha Cupcakes with delicious green tea cream cheese frosting are perfect for Christmas or any other occasion!
From: Ilona's Passion
29. Matcha Green Tea Molten Lava Cakes
Matcha green tea is mixed with white chocolate to create delicate cakes with a molten lava center. It's an easy dessert to make for a dinner party or date night.
From: Kirbie Cravings
30. Matcha Green Tea Macarons
A beloved Japanese flavor in macaron form. Matcha green tea is infused into the shells making the macaron extra flavorful. White chocolate ganache is sandwiched in between for a delicious flavor pairing.
From: Indulge with Mimi
31. Magic Matcha Cake
You'll be enchanted by this matcha dessert's wonderfully yummy texture and flavor.
From: Tastemade
32. Dark Chocolate Matcha Green Tea Truffles
Delicious yet amazingly good for you – the Chocolate Matcha Truffle. Gluten-free yet packed with nutritious ingredients like avocado and dark chocolate.
From: Lean, Green Nutrition Fiend
33. Green Tea Fudge
This Green Tea Fudge recipe is made with matcha green tea, coconut butter, maple syrup, and a couple other simple ingredients that together create an irresistible, rich and satisfying, healthier treat with an extra buzz.
From: Living Well Mom
34. Soft and Chewy Matcha Cookies
Matcha cookies have the delicate flavor and color of green tea. These soft, pillowy and chewy green tea cookies are perfect with tea.
From: Ahu Eats
35. Honey Coconut Matcha Latte
Not only does this latte promise a slow and steady release of pure energy, it is packed to the tippy top with antioxidants. One matcha latte has the same amount of antioxidants as 10 cups of green tea!
From: Catching Seeds
36. Gluten-free Matcha Green Tea Banana Bread
If you have a couple of over-ripe bananas, this flavorful gluten free matcha green tea banana bread is a delicious way to start your morning.
From: Fearless Dining
37. Raw Matcha Brownies
This gluten & dairy free dessert tastes as good as it looks! It is packed with lots of healthy goodness and is super easy to make. One of the essential matcha recipes.
From: Becomingness
38. Creamy Banana Matcha Smoothie
Banana and matcha are a beautiful pair and this refreshing, energizing, antioxidant-rich smoothie is a perfect summer drink.
From: The Garden Grazer
39. Matcha Soda
A refreshing matcha soda for all green tea lovers. Fizzy water meets matcha syrup to create this bubbly tea drink.
From: Oh How Civilized
40. Mushroom Matcha Smoothie
This smoothie gets its beautiful hue from our Mushroom Matcha, which can give you all the lift of coffee, without the caffeine letdown.
From: Four Sigmatic


Matcha Recipes References
1. Determination of catechins in matcha green tea by micellar electrokinetic chromatography
2. Chemoprevention of Human Prostate Cancer by Oral Administration of Green Tea Catechins in Volunteers with High-Grade Prostate Intraepithelial Neoplasia: A Preliminary Report from a One-Year Proof-of-Principle Study