If only I'd known this before buying my first electric bike
It would have saved a lot of money, time and frustration. Don't make my mistakes!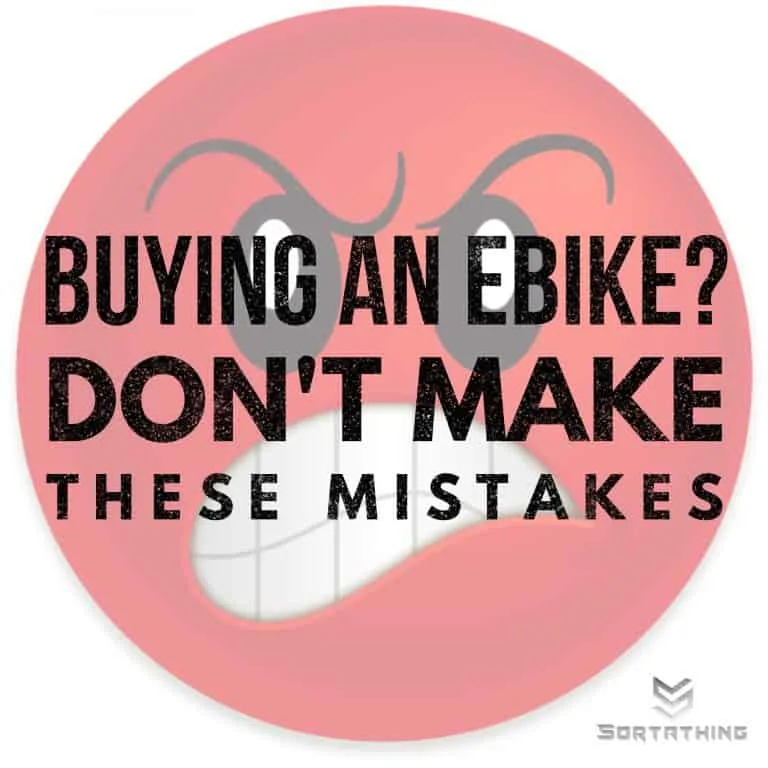 Weight is not that important
Weight is overrated when it comes to choosing an electric bike. Unless you'll need to carry it up a flight of stairs or lift it over an obstacle, you shouldn't get too obsessed about buying the lightest possible bike.
Electric assistance makes all e-bikes easy to get up to speed and ride gracefully. A lot of electric bikes are sold on the basis that they're the lightest folder, mountain bike, commuter bike but you need to ask how has that saving been made? A hugely expensive Carbon frame? Missing equipment? A tiny battery pack and limited range?
Don't worry too much about weight. Sure, it's a factor but not the most important one for everyday use.
Spending more on a big battery is not that important
E-bike brands strive to set themselves apart. Battery capacity has always been an area where bigger is always assumed to be better. Yes, a big battery will make your bike go further per charge and you're less likely to suffer range anxiety (the fear that you'll run out of juice far from home). But bigger batteries are more expensive, take longer to charge and add weight.
If you're determined to ride 50 or more miles per day or only charge your battery once a week, by all means, get a bike with the biggest battery you can afford. There are some whoppers available now. Dual 625Wh batteries are available on some Bosch-power models in 2020.
If you're not likely to ride more than 20-30 miles between charges, huge battery capacity cannot be justified. A 500Wh battery, which is pretty much the standard over the past ten years, will be plenty for 95% of e-bike riders. Money saved buying a modest battery spec can be spent on a bike with better lights, gears, suspension, tyres and brakes.
Buying a bike the right size is important
My first electric bike was way too small. There were reasons for this – I imported it from Japan, I didn't check the measurements and I'm over six feet tall. I suspect I looked pretty ridiculous riding around perched on such a tiny bike, but it was just about rideable and I had no choice.
Besides, my typical journey was only around five or six miles so there was little time to feel cramped or uncomfortable.
But if you're planning to ride long distances every day it's essential that you get bike sizing and set-up right. If you buy from a bike shop and have their guys adjust the bike for you it will pay off. You'll be able to ride as far as you like without getting sore, numb or developing aches in your wrists. If your bike doesn't fit you're unlikely to want to ride it as much as you should, so take time to choose the right size and have tuned in to you at the shop.
Having a test ride is very important
If you have the opportunity to test ride your e-bike before buying it, take it. No matter how good an electric bike looks in theory, the only way to tell if it's the bike for you is to take as long a test ride as possible.
We look into the reasons in how to test ride an electric bike.
Get a bike with a remaining range meter
In the old days, electric bikes didn't come with any kind of display. These days, most do, but not all of them give information about how many miles you can expect to ride before it runs out of power. I would never ride a bike like this. I want to know that there is enough battery power to get me home
Get a bike with a faster charger
Look out for how many Amps your charger uses. Most output at 2 Amps but some output at 4 Amps or higher. That means charging the battery will take half as long.
However… fast charging can reduce your battery's useful lifetime (but probably not so much you'd notice for several years).
Get a bike with puncture-resistant tyres
I wouldn't buy any bicycle without puncture-resistant tyres. Electric bikes, being so much heavier than a regular pedal cycle, really need them to maximise your time on the road, not fixing a flat by the side of it.
Schwalbe pioneered this market with its Marathon range of tyres. I highly recommend them. Fixing a puncture on an electric bike is an experience you'll want to limit to maybe once or twice a lifetime (especially if it has a hub motor or hub gears…)
Get a heavy-duty lock
Word about electric bikes has got out into the criminal community. Electric bikes used to be less likely to be stolen because they were so unusual and easy to trace back to the owner. With so many more on the streets and so many people interested in owning one, there is now a market for stolen ebikes. Sad but true.
You can make your electric bike less likely to be stolen by choosing one with a detachable display, removable battery, built-in lock and immobiliser but what you really need is the best lock you can afford to buy. I often use two locks if I'm cycling into a thieving hotspot – one to secure the quick-release front wheel and the other to secure the bike to.
An electric bike is great at hauling extra loads, so you'll barely notice that you're carrying a heavy lock (or two).
Note down the frame number
This can save a lot of trouble later. Take a note of the identification number that will be stamped somewhere on the frame. It varies from bike to bike and brand to brand, even from season to season, so you may have to ask the dealer to point it out for you.
Some brands print the frame number in the documentation that comes with the bike. Cube do this and if your bike is a speed pedelec it'll be printed on the vehicle record that should come with your bike.
If your bike is ever stolen, the frame number is a reliable way to identify it when it's recovered. Not the bike's SKU, key number or model name – the frame number is what you need to know before your bike disappears. Share it with law enforcement and your insurer if the worst happens.
Keep the spare keys somewhere safe
It's too easy to effectively disable your bike by losing all the keys that came with it. This could mean it makes it impossible to remove the battery for charging (not all batteries come with a charging port), switch on the bike before riding or unlock any onboard security it may have.
If your bike comes with more than one key, keep it separate and keep it safe. Also, take a note of any number that identifies the key – it's usually easy and not too expensive to order a replacement from brands like AXA, Abus, Trelock that manufacture most of these keys.
Is there a way to remove speed limitation?
Electric bikes are speed-limited to obey the law of the land. In most of Europe, the speed limit is 25kph or 15.5mph. It's 20mph across most of the United States. Here's an updated list of electric bike laws and speed limits.
Some bikes can be modified to exceed the speed limit. Some cannot. Ask!
Discounts are usually available if you ask
After years in the e-bike business, this is one thing I definitely wish I'd known before buying my first.
If you ask for a discount, you'll probably get it.
The e-bike market is incredibly competitive, the number of dealers vying for your business is growing and it's a struggle to stay afloat. That struggle is most acute in the game to find new customers. So don't be too enthusiastic and be prepared to walk away. This could save you a small fortune. Think 10% on a $2500 bike, easily.
If you can find a friend or relative who's also keen to go electric, if you both go along it's even more likely you'll be able to score a big saving on a pair of bikes.
And if you don't succeed in getting a discount, try asking for a free service in a few weeks' time, or some accessories like a helmet, lock or luggage.
You're more likely to be successful at certain times of the year. Winter and late Autumn are the times when dealers are looking to move old stock.
All I'm saying is, it doesn't hurt to ask. I wish I had!
How much assembly there is to do if a bike is delivered to you
This only applies if your bike is shipped to you. If you ride away from the shop, you won't have to worry about unpacking or assembly.
If you're not confident in using a spanner and Allen keys, or with lifting a heavy bike out of a box, think again about having your e-bike delivered. It'll need some assembly before it's ready to ride. This could just mean attaching the pedals, or it could involve fitting the front wheel, adjusting the brakes and a whole lot more.
Check with the vendor before delivery. Some places and brands offer a white-glove service via companies like Velofix that will see a fully-assembled and checked bike delivered to your door.
Most electric bikes don't come with toolkit
You could buy $200 bike from Walmart and expect more of a toolkit than you'll get with most electric bikes, new or used.
Fortunately an allen key set and adjustable wrench will allow you to adjust pretty much everything on a modern bicycle.


Finally, I wish I'd know I should have bought my first electric bike earlier!
Had I understood the life-changing power of my electric bike, I would have invested in one years before I did. I hesitated, waited for the right bike to come along, missed a season of cycling at least.
Since owning one I've discovered that for most journeys, riding an electric bike is simply the best way to travel.
The freedom and exhilaration are like nothing else. Which is why electric bikes are set to transform personal mobility in the 21st century.
How much does an electric bike cost?
I wish I'd known I could pick up a very acceptable used electric bike for hundreds of dollars less than new.
Also read Electric bikes vs electric scooters: Which are best?