2021's best air fryer chicken recipes
Crispy, succulent, perfectly-cooked chicken. It's one of the best things you can make in an air fryer. And there are so many air fryer chicken recipes to play with – wings, taquitos, satay, even chicken skin crackers.
Frying chicken usually means dunking it in boiling oil. But there are concerns about how healthy that is. In fact, there's growing evidence that vegetable oils (especially when heated repeatedly) do you no good at all.
Air frying chicken avoids this. A couple of sprays of healthier oil – like avocado, coconut, olive oil or ghee – are all you need. Air fryers bring the best out of your chicken recipes, with more intense flavors, crispier skin and juicier meat.
They also take less time, use less energy and create less waste along the way. Here are the best air fryer chicken recipes we've enjoyed so far in 2021.
We also cover air fryer recipes for meat, the best vegan air fryer recipes, keto air fryer desserts and even a dozen air fryer egg recipes.
Article Photo by Yanuar Putut Widjanarko from Pexels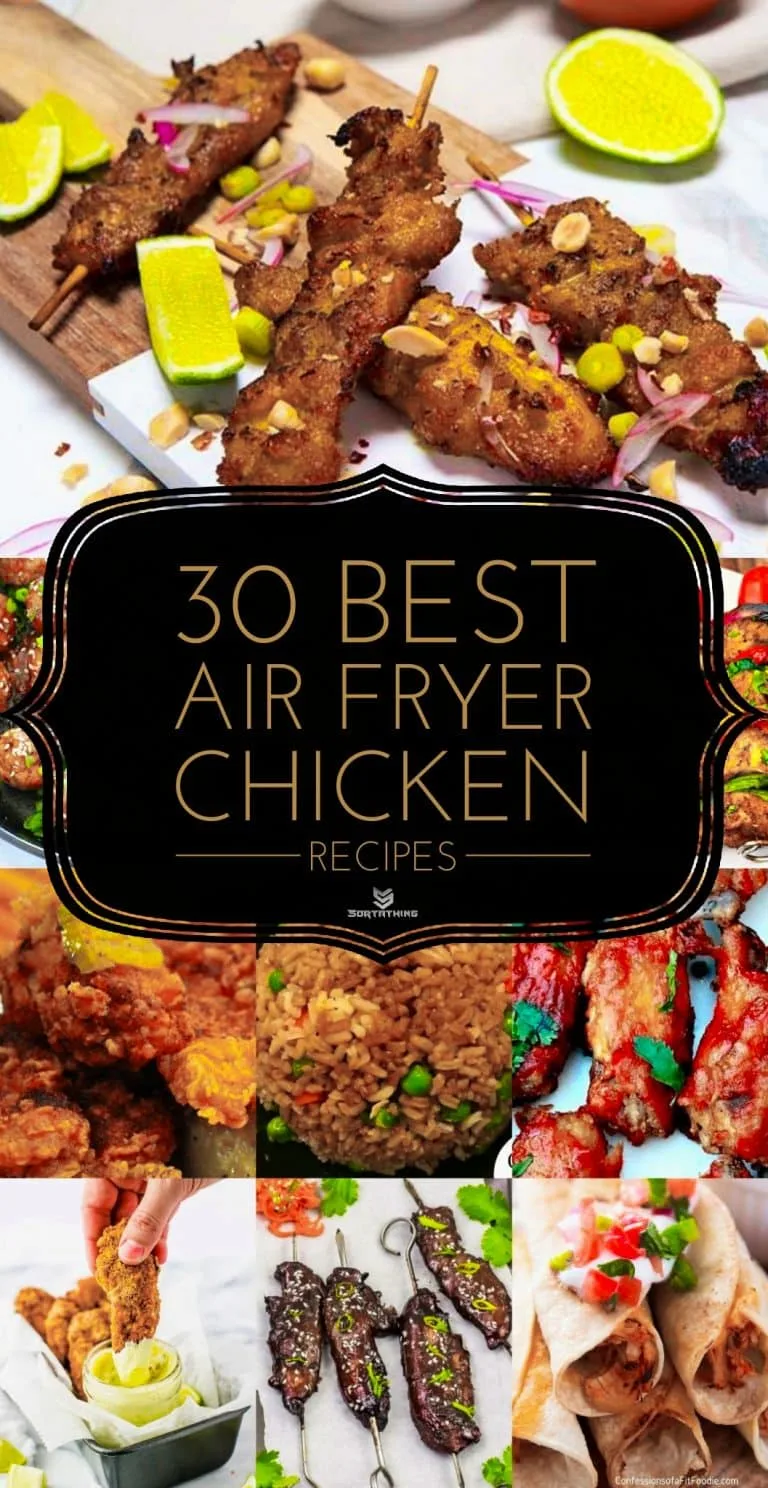 1. Super Crispy Air Fryer Chicken Wings
If air fryers excel at one thing, it's crispiness. And what's better than a crispy chicken wing? This keto recipe recommends using a dusting of baking flour – that's the super crispy secret ingredient.
From: Wholesome Yum
2. Crispy Chilli Lime Chicken Tenders
As well as the recipe for the chicken tenders you also get one for avocado ranch dressing. Tajin is one of the ingredients used here – it's a mixture of mild chilli, salt and dehydrated lime that makes flavours explode.
From: Healthy Little Peach
3. Air Fryer Sriracha Honey Bourbon Chicken Wings
Warning! The sweet and spicy wings you'll make with this air fryer recipe are strongly-seasoned and highly addictive. Not exactly low-carb either with honey in the coating. But damn, they tasty!
From: Stay Snatched
4. Korean Gochujang Air Fryer Chicken Wings
"The King of Chicken hotwings packed with outrageous flavors. Spicy, sweet, tangy, crispy, savory is what these air fried Korean wings are." SOLD!
From: Foodies Terminal
5. Air Fryer Chicken Satay with Peanut Sauce
A good chicken satay air fryer recipe was surprisingly hard to find, but Food Thinkers have come through with this one. As well as the peanut sauce recipe, which is great, they also use an expertly-composed marinade with all the good stuff – turmeric, cilantro, lemon grass.
A satay made well is a superior healthy snack.
From: Food Thinkers
6. Air Fryer Chicken Taquitos
Air frying could be the best way to cook taquitos. Crispiness makes them so satisfying.
This recipe uses gluten-free corn tortillas, so though not entirely low-carb or keto-friendly, it's got good health credentials.
From: Confessions of a Fit Foodie & Wunder-Mom
7. Air Fryer Cilantro Lime Chicken Thighs
Marinating the chicken for a good couple of hours makes all the difference with this zesty recipe. Then it's quick and easy to cook and enjoy, with a generous squeeze of lime juice to finish.
From: Stay Snatched
8. Air Fryer WHOLE Chicken
You can get by with a small air fryer but, if you own a larger one, why not let it work its magic on a whole chicken? Breast side down seems to be the best way to do it according to Jennifer, and flip it over for the last ten minutes to crisp up.
From: Low Carb with Jennifer
9. Keto Air Fryer Chicken Tenders
Originally a pan-fry recipe, this recipe also comes good in the air fryer. It replaces breadcrumbs with almond flour and pork rinds so it totally keto too. Don't forget the pickle juice marinade, it makes this air fryer recipe come alive.
From: Mermaid with Muscles
10. Air Fryer Baked Teriyaki Chicken Balls
These Baked Teriyaki Chicken Meatballs are an easy and delicious way to feed a crowd. The teriyaki dipping sauce makes these air-fried treats a popular sharing dish, you'll see!
From: Ruchis Kitchen
11. Air Fryer Chicken Kebabs
One of my favorite Greek dishes is chicken souvlaki and this is a very credible air-fryer version. You can add all sorts of extra on each skewer, but onion, bell pepper work well.
My tip would be halloumi cheese (check out our post on halloumi recipes). This recipe comes with useful pointers about seasoning, timing and temperature.
From: Stay Snatched
12. The BEST Air Fryer Chicken Recipes
This Air Fryer Chicken recipe has had rave reviews so its claim to be best is fully justified with a crispy, delicious skin over the tenderest chicken meat. The article goes on to cover how best to air fry every part of your chicken.
From: The Kitchen Magpie
13. Air Fryer Chicken Fried Rice
Probably the best thing to do with your chicken leftovers, fried rice has a comforting, savory taste all of its own. But in an air fryer? Yes, most definitely, and here's how to do it.
From: Val's Kitchen
14. Air Fryer Honey Garlic Chicken
This recipe works well as a main. Sweet and spicy with a toothsome coating that goes well with boiled rice. This one is by no means low-carb!
From: Mommy Hates Cooking
15. Spicy Asian Air Fryer Chicken Wings
Easy crispy Air Fryer Chicken Wings are the perfect bowlful for game day. A little sweet, a little spicy and completely delicious. Cooked in the Air Fryer, they're crispy yet oil free.
From: Father and Us
16. Air Fryer Korean BBQ Satay
Gochujang makes another star appearance here, giving these air-fried chicken skewers a distinctly Korean flavor. Best left to marinate for up to 24 hours before showing them the air fryer.
From: Awe-Filled Home Maker
17. Nashville Air Fryer Chicken
Nashville chicken is all about the pickles – juice in the coating and pickles as a generous garnish. Spicy, subtly briny and juicy too.
From: Lady and the Blog
18. Air Fryer Bacon-Wrapped Chicken Jalapeno Poppers
Possibly the most flavor-packed combination we've ever featured. Everything is in here and they're great as an appetizer or a main meal. Each popper oozes cheese and there's smokey bacon and barbecue sauce in every bite!
Low Carb and Keto options are included in the recipe too. 10 out of 10 for this air fryer recipe.
From: This Old Gal
19. Air Fryer Spicy Bang Bang Chicken
Another one from This Old Gal, this time with sweet and spicy chicken wings. This bang bang sauce relies on Sambal Oelek, a delicious chilli sauce from Malay and Indonesian cooking.
A very clear step-by-step recipe with photographs of each stage with links to other air fryer recipes like salt and pepper chicken and buffalo wings.
From: This Old Gal
20. Air Fryer Crispy Chicken Wings with Parmesan
Parmesan has a powerful ability to add savory punch to any dish. It certainly takes these chicken wings to a new level of umami-packed perfection.
From: Recipes from a Pantry
21. Air Fryer Lemon Pepper Chicken
I have to confess, lemon pepper is not an ingredient I have heard of or used before, but it adds a noticeable zing to this air-fried chicken creation.
From: Kleinworth & Co.
22. Air Fryer Chicken Parmesan
This Air Fryer Chicken Parmesan is just as crispy as regular deep fried chicken parmesan, but without using any oil – just a simple squirt of cooking spray (olive oil, ghee, coconut and avocado oils are all great for this).
From: Plain Chicken
23. Air Fryer Popcorn Chicken
A crowd-pleasing recipe of moreish, crunchy chicken treats. Twice-marinaded for extra taste.
From: Urban Bliss Life
24. Air Fryer Crispy Chicken Skin Crackers
There's a Korean-Japanese barbecue place I often visit with many amazing things on the menu. Miso aubergines, pork belly, bacon and asparagus, incredible salads with pickles. But one thing I keep coming back to is there charcoal-grilled chicken skins on a skewer. They are incredible.
So I went on the hunt for air fryer chicken skin recipes, including this one that aims for maximum crispiness.
From: Flo Food Ventures
25. Air Fried Barbecue Chicken Skin
Next up in the chicken skin category we have this highly-seasoned recipe. One good tip here – allow them to cool before eating.
Sometimes it can be difficult, especially with all the enticing aromas, but your patience will be rewarded by an even better and more satisfying result that's safe to eat!
From: Mama in the Kitchen
26. Low Carb, Keto-Friendly, Paleo Chicken Chips
The perfect keto munchie cure! Seasoned with salt & pepper then air fried until browned and crisp, these chicken skin chips are the go-to keto snack. Season each chip before air frying and the flavour will work its way right through.
From: Easy Keto Dishes
27. Air Fryer Homemade Chicken Pot Pie
One of the secret abilities of air fryers is their ability to cook pastry well. This classic dish with leftover chicken and pastry comes out beautifully if you keep a close eye on timing.
From: Fork to Spoon
28. Easy Air Fryer Lemon Chicken
Easy AND quick, this recipe requires only ten minutes each side in your air fryer. Put the lemon halves into the air fryer to release all sorts of citrusy aromatic compounds for extra flavor and visual appeal.
From: Sweet C's
29. Air Fryer Chicken Livers Mastered!
Not everyone likes liver, it can be kinda iron-y, and the texture puts some people off, for sure. And, having had one unsuccessful attempt at air frying them (long story short: they explode!), I was reluctant to try again, until I found this recipe.
The trick is to dip in beaten egg and flour, keeps everything together.
From: Copy me that
30. Crispy Spiced Chicken Livers
If you do like chicken livers, this recipe spices them up nicely. Best enjoyed with the aoili dip also revealed in this recipe.
From: Every Day Maven