Our first folding electric bike: the Honda Step Compo aka "Raccoon"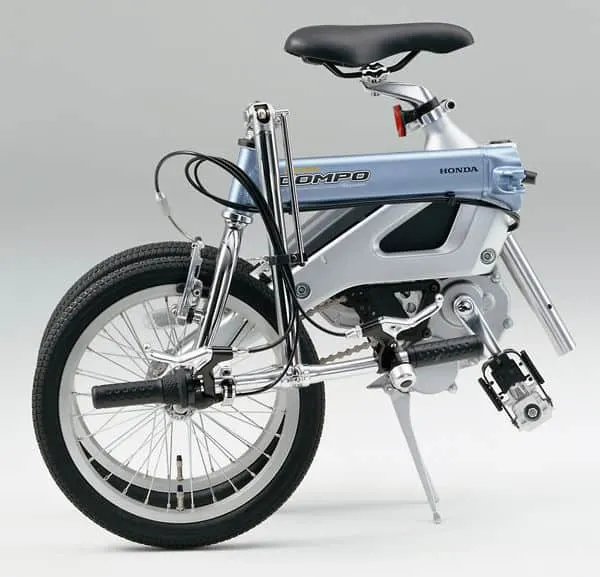 The Honda Step Compo had already been in production a couple of years before we spotted it. Unfortunately, it went out of production soon after, but it was well ahead of its time.
It had a pedal-assist centre motor, a battery tucked away inside the frame, hub gears and a very tidy folding mechanism. It also weighed in under 20 kilograms and so was easy to carry around and stand upright in its folded state.
We sold the few we could get hold of very quickly which set 50cycles.com on the road to success. At this time, Japan was the only place high-quality electric bikes at sane prices existed, so we kept looking.
By Spring 2004 we had found a replacement and one which was the first to offer something that quickly became the standard – a lightweight Lithium-ion battery pack.
Panasonic WiLL Electric Bike
By Spring 2004 the electric bike market was beginning to blossom and folding electric bikes made up a large part of that flowering than is the case now.
Most of them, however, were hobbled by being powered by heavyweight Nickel-metal Hydride or, much worse, Lead-acid battery packs. The could more than double the weight of the bike once fitted and were unwieldy to ride, let alone fold.
But the WiLL bike was using the very latest Japanese technology, a compact, lightweight, rapid-charging, long-lasting and safe Lithium-ion battery pack. At this time, Lithium-ion batteries were still uncommon in mobile phones and laptops so to offer an electric bike with one was very much pushing the boundaries in Japan. We were very proud to offer them to UK customers and again, they sold as fast as we could bring them over. Which wasn't fast enough at the time.
The WiLL bike was the first bike we offered with the Panasonic pedal-assist centre motor which went on to transform the European market, appearing in models from Swiss Flyer and Kalkhoff. This put pressure on the cheaper and less reliable hub motor models for a decade or more and marked the beginning of the incredible growth of e-bikes in countries like Germany, the Netherlands and, to a lesser extent, the UK.
You see, this was a time when twist-and-go electric bikes were still legal in the UK and despite the technological advances offered by this pair of bikes from Japan, we knew that some of our customers were looking for an all-electric, no pedalling type of bike and if it could fold too, so much the better. Once again, the answer came from the Far East.
The eZee Quando folding electric bike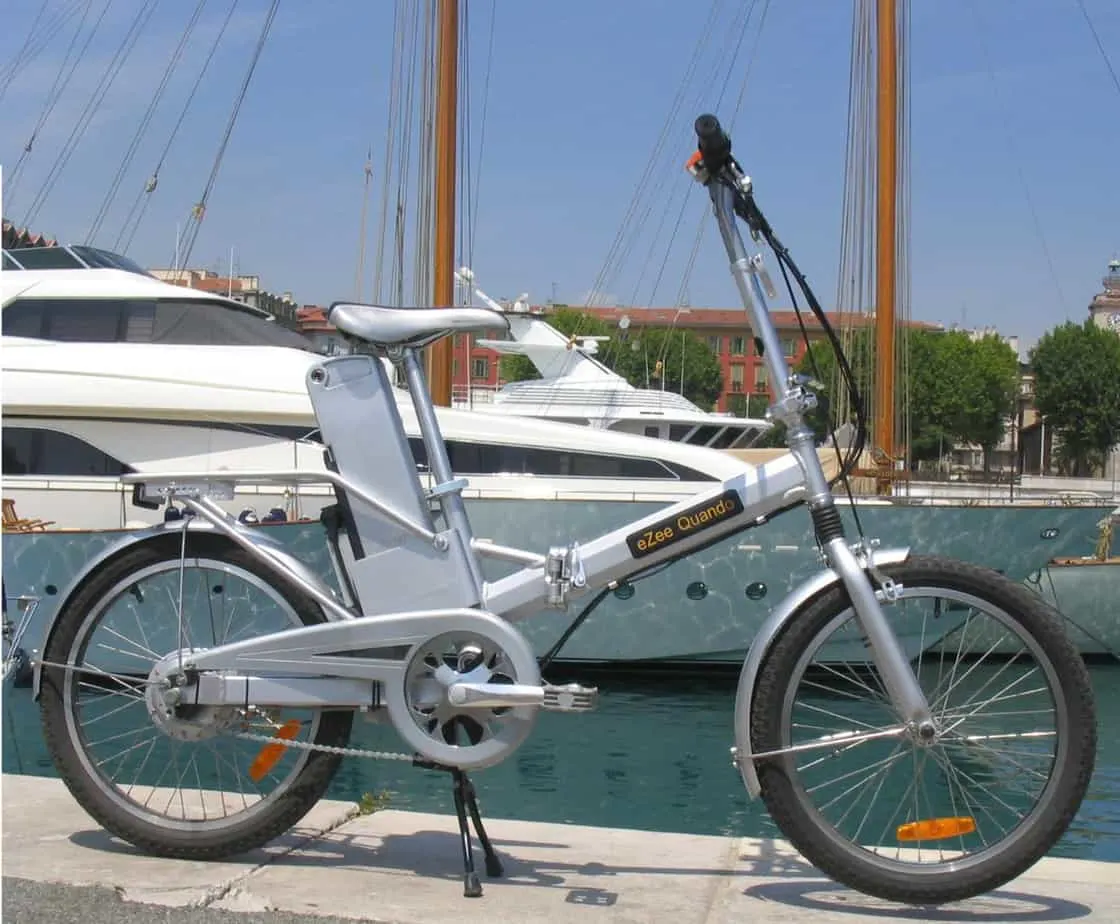 The eZee Quando was a great bike – relatively inexpensive, powerful, well-equipped, fast and you didn't always need to pedal. They sold in their hundreds between about 2005 and 2008. There are no doubt many still in use in the hands of motorhome owners, caravanners and private pilots; stowed away on yachts or standing by in inner-city hallways.
It's 20-inch wheels, willing hub motor and later addition of gears made it a very handy thing to have in your car boot, but it was never the easiest or the most elegant to fold. Nor was it the lightest, quietest or most reliable. But when you opened up the throttle with a full battery, powering through a sun-dappled forest or across a busy city at rush hour, the Quando quickly won you over as an excellent way to get around.
By the time we'd finished with the Quando, the electric bike market had become fairly mature, with lots of folding and non-folding ebikes on the market from dozens of manufacturers. We dabbled in a few of them – the Freego folding ebike, Green Zebra's short-lived offering and the promising BH Emotion. Unfortunately, none of them proved as popular, as reliable or as good value as they needed to be.
And all the time we were pestering Kalkhoff to offer some fully folding electric bikes, but they have always resisted (never say never, though). What they did do was come up with a very, very good semi-folding electric bike.
Kalkhoff Sahel Compact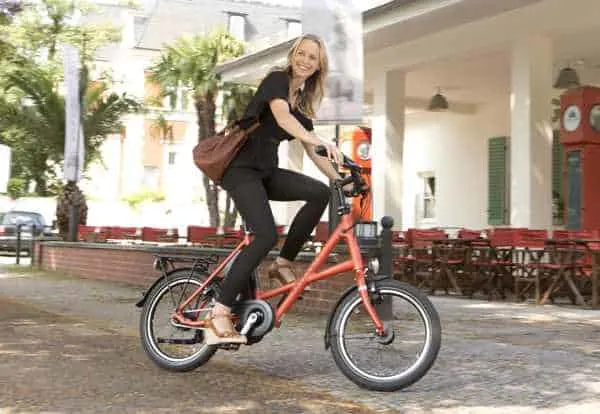 The Kalkhoff Sahel Compact is the closest to an electric folding bike we've had for a number of years. The pedals fold flat, the handlebars can be turned 90-degrees and lowered and the overall length is much less than any of our full-sized Kalkhoffs. It's a bike you can easily fit into a hatchback, estate or SUV, or park in a motorhome or caravan.
However, because it's not a true folder taking it with you on the London Underground as part of a multi-modal commute (i.e. using more than one form of transport to get to your destination) is not usually possible. Nor will it fit into a car boot.
On the other hand, it's enormous battery capacity and range (you could achieve well over 100 miles between charges in Eco mode) mean you might feel able to complete even a long commute on the Sahel Compact.
Customer feedback on this model has always been great, the Sahel Compact will be at the centre of our Kalkhoff line-up for years to come.
Other Contenders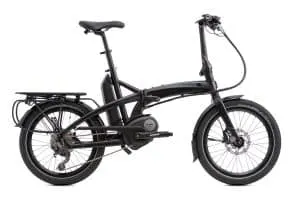 The Tern Vektron folding electric bike caught our eye late last year and we waited patiently first for news of a release date, then we had to wait to hear who would be distributing it and finally, a price and specification was announced.
It did not take long to conclude that the Vektron's £3,300 price tag did not represent sensible value for money, especially when the Hercules Rob Fold, which is nearly £1,000 cheaper, comes with a larger 400Wh battery capacity as standard (compared to the Tern Vektron's 300Wh power pack) and has a specification exceeds that of the Tern in most details.
We also liked the futuristic look of the Gepida Miliare, but vital ready-to-ride features like lights, mudguards and a rack are all missing, even on £3699 version.
So as the supplier with the longest and most varied history of supplying folding electric bikes to British riders, the Hercules Rob Fold is the best on the market at this time. That's the basis on which we can recommend it to anyone who needs practical, reliable folding e-bike without paying too much or compromising on capability.
We recently came across this article from foldingbikezone.com which tackles some common misconceptions about folding bikes in general – namely their hill-climbing ability, speed and long-term durability.
Choosing Your First Electric Bike? 15 Things I Wish I'd Known!
How to Test Ride an Electric Bike | Amazing Insider Tips!
The Best Electric Bikes of the 21st Century So Far (and the Worst!)