Halloumi fries are simply one of the best vegetarian options you can prepare. This famously squeaky cheese that doesn't melt when cooked has very broad appeal to meat-eaters and vegetarians alike. As well as halloumi fries you can use it in extravagant salads and all kinds of meals.
Traditionally made in Cyprus with goat and sheep's milk (rather than cow's milk), halloumi's proteins keep their structure even at higher temperatures. So it doesn't melt. Real halloumi's squeakiness (cow's milk halloumi is squeak-free) is also thanks to the way these chains of proteins behave. There's more on the science of squeaky cheeses at Culture cheese magazine.
Halloumi is super versatile, satisfying and healthy. You should definitely keep some on standby in your fridge. These excellent halloumi recipes will help you get the most out of this marvellous cheese.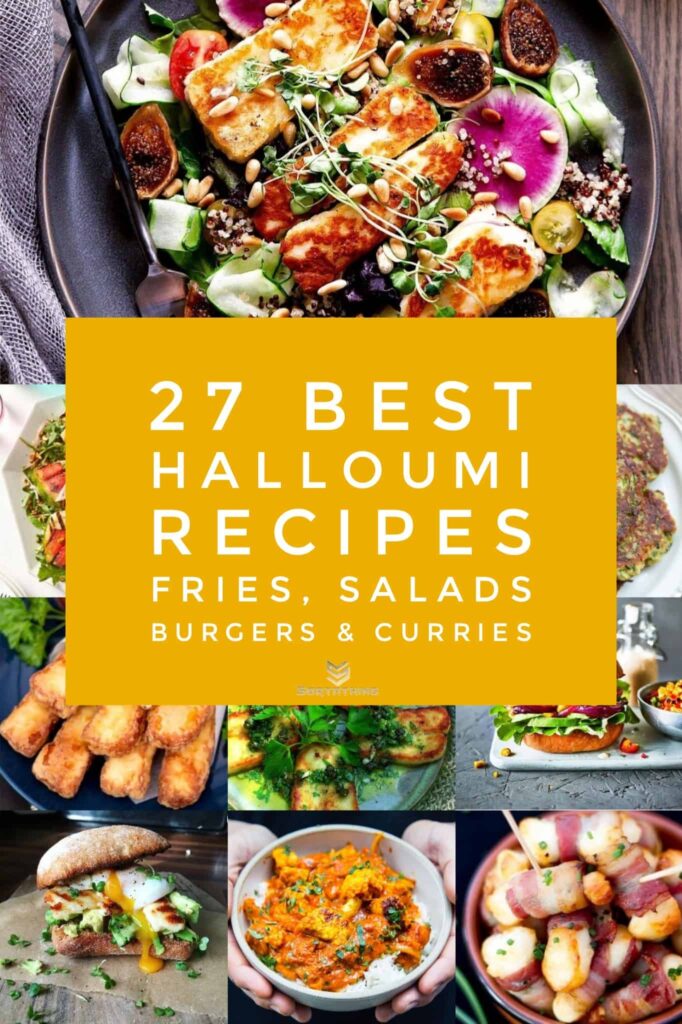 July 2019 Update! The Halloumi BLT Breakfast Sandwich
I just came across an incredible new halloumi recipe for the classic BLT sandwich. Halloumi is blended with a couple of eggs to create a runny dough that makes a delicious wrap when fried. You could fill it with anything but bacon, lettuce and tomato work brilliantly.
It's kind of like a fathead dough bread substitute.
Here's how to make it
Combine 4 ounces (about 112 grams or half a block) of halloumi and 2 eggs in your blender. Mix until thoroughly puréed and fry in a skillet with a little oil or butter. This will make two good-sized wraps, so halve the cheese and use one egg if you're making a single wrap.
Fill it up with two or three slices of fried bacon, sliced tomato and a few lettuce leaves. A dollop of mayonnaise is good, I like it mustardy. This makes such a great quick and easy breakfast.
1. Two-Ingredient Halloumi Fries
If you love cheese you'll love these amazing Halloumi Fries. Made with just 2 ingredients in about 20 minutes, you'll be licking your fingers before you know it.
From: Kitchen Mason
2. Low Carb Za'atar Halloumi Cheese Fries
Za'atar halloumi cheese fries are a delicious low carb snack. Salty, briny halloumi cheese is pan-fried and seasoned with a pinch of za'atar spice (a ground mixture of dried thyme, oregano, marjoram with toasted sesame seeds, sumac and salt).
From: My Life Cookbook
3. Spicy Halloumi Fries
Another low-carb halloumi recipe that brings some heat to the occasion. An almond flour coating with paprika, cayenne and herbs makes these fries a light and moreish appetizer.
From: Divalicious Recipes
4. Crispy Halloumi Fries
Homemade halloumi fries double dipped in panko breadcrumbs for an extra crispy finish.
From: Don't Go Bacon My Heart (LOL)
5. Halloumi Fries & Dips
Halloumi fries are without doubt one of the easiest recipes around. So you should have time to prepare a delicious dip to get them rocking. Sour cream, tzatziki or plain Greek yoghurt are both cooling and great but sweet chilli also works beautifully with these crispy, mild cheese fries.
From: Scrummy Lane
7. Halloumi Frittata
How to describe a frittata? It's essentially an omelette where the fillings are added to the egg mixture before cooking, rather than folded into the omelette later. It's usually finished off in the oven. So a sorta baked omelette if you like. An authentic frittata usually contains potatoes but halloumi takes their place here.
From: Baking Queen 74
8. Minty Halloumi & Sundried Tomato Salad
A very interesting array of contrasting ingredients in this recipe. Salty and creamy halloumi, fresh mint and sweet-sharp sundried tomatoes. Halloumi is so meaty in taste and texture that you can leave prosciutto out if you prefer.
From: Scrummy Lane
9. Grilled Watermelon & Halloumi Salad
This salad is really impressive – it looks great, it's deeply satisfying and it uses a range of subtle flavors to make a memorable meal on its own, or as a side. A super salad for al fresco Summer meals.
From: Real Simple
10. Crispy Fried Marinated Halloumi
Halloumi soaks up a marinade very well. This halloumi recipes uses a classic combination ochillili, garlic and lemon or lime juice. Let it absorb the flavours of the marinade for a few hours before cooking.
From: Fuss Free Flavors
11. Grilled Halloumi Salad with Quinoa and Dried Figs
This dish has many layers. Dry figs add sweetness and balance the saltiness of the cheese. A light honey balsamic vinaigrette adds another dimension of sweetness to the dish. I think pomegranate would make this salad even better.
From: Food & Flair
12. Peri Peri Halloumi Burger with Sweetcorn Salsa
A superior vegetarian choice, halloumi burgers are a firm favorite.
From: Sainsburys Magazine
13. Grilled Halloumi & Red Pepper Burger
Grilled halloumi, red pepper and courgette. A very hearty meal, with lots of flavour from the grilled vegetables and cheese.
From: Tinned Tomatoes
14. Seared Halloumi with Peanut Dukkah & Honey
Salty, squeaky Halloumi covered in warm honey and sprinkled with nutty dukkah—what's not to love? Dukkah is an Egyptian condiment with basic ingredients being hazlenuts, sesame seeds, coriander seeds, cumin, pepper and salt. Dried thyme or mint can be added, dried chilly, anise seeds, fennel seeds etc.
From: Epicurious
15. Grilled Halloumi, Avocado & Poached Egg Wholemeal Sandwich
More of an idea than a recipe. Of course, you could swap out the wholemeal roll for a low-carb fathead bread.
From: Lucy & Lentils
16. Broccoli, Cauliflower & Halloumi Fritters
A couple of fritter recipes now. This one is nicely low-carb. You could shallow fry or crisp them up in your air fryer. Tzatziki dip is a great way to finish these off before snacking on the results.
From: Cooker & Looker
17. Zucchini Fritters with Halloumi Cheese
Zucchini fritters are a family favorite when out in the Greek Islands. You'll find them on the menu under Kolokithokeftedes. I don't think we've ever had them with halloumi as an ingredient, but this recipe shows you how.
From: Happy Body Formula
18. Butter Halloumi
Halloumi curry! Why didn't I think of that? Halloumi is first roasted and mixed into a butter masala sauce for a tasty vegetarian curry with bite. This halloumi curry recipe is easy to make in just 30 minutes.
From: Happy Veggie Kitchen
19. Cashew Nut Curry with Halloumi & Broccoli
A nice and creamy curry sauce, with crunchy cashews and broccoli. Be sure to crisp up your halloumi in a skillet before introducing it to the sauce.
From: The Cook Report
20. Halloumi Curry with Coconut Sambal
Halloumi replaces the traditional Indian cheese, paneer, in this recipe. So what you have here is Cypriot-Indian fusion in a bowl. Serve with rice or a low-carb alternative like riced cauliflower and sprinkle the sambal on the top before serving.
From: The Happy Foodie
21. Creamy Halloumi Curry
A basic halloumi curry recipe with costed ingredients.
From: Mob Kitchen
22. Smoky Tomato & Halloumi Bake
There are several recipes for halloumi and tomato bakes I could have used. This one seemed to offer something more and also explains the benefits of baking halloumi, rather than grilling or frying it. Plenty of garlic and smoked paprika is used. If I saw this on a menu anywhere, I'd order it with gusto.
From: Happy Veggie Kitchen
23. Bacon Halloumi Bites
Two of the universe's greatest ingredients, COMBINED! Likely to be very popular as a party snack. Squeaky, crunchy, meaty moreish goodness.
From: Kitchen Mason
24. Garlicky Halloumi Tacos
To enjoy them at their best, keep these halloumi tacos real simple: a few green leaves, the fried halloumi tossed in garlic and cilantro, topped with a sprinkle of onion and hot sauce. Cracking snacking.
From: Naturally Ella
25. Halloumi & Sweet Potato Burgers with Chilli, Mint & Mashed Avocado
The ultimate vegetarian barbecue burner? This recipes grills marinated slices of halloumi and sweet potato and places them in burger buns spread with a generous helping of smashed avocado.
From: Delicious Magazine
26. Fried Halloumi Lentil Salad
This Halloumi Lentil Salad is made with cooked lentils, roasted tomatoes, zucchini noodles and fried halloumi. It's a splendidly fresh, vegetarian lunch option.
From: The Almond Eater
27. Fried Halloumi Cheese with Lime & Caper Vinaigrette
This halloumi recipe was made to be prepared just before eating outside, in blazing sunshine under a cloudless sky, with gentle waves lapping on the beach only feet away.
From: The Happy Foodie
Looking for something really different? Take a look at our collection of seaweed recipes