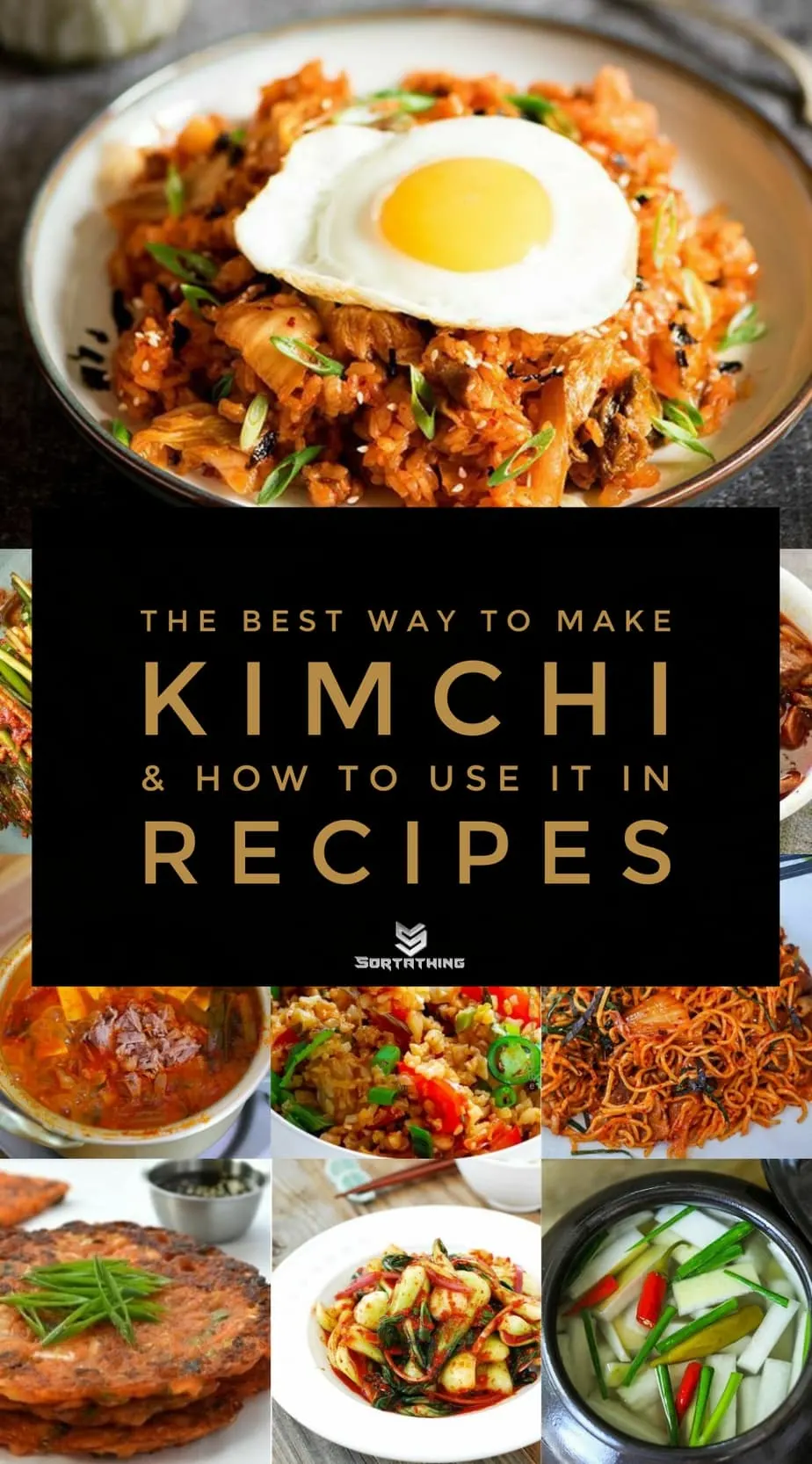 If you're wondering how to make kimchi, it's easier than you think. And once you've made a batch it's a versatile way to bring spicy, lacto-fermented goodness to a range of delicious dishes.
Kimchi Health Benefits
Kimchi has many health benefits. It's low in calories and carbohydrates so can be used in low-carb diets. It is, however, rich in vitamins like Vitamin C and Vitamin K1, and some minerals too. It's kimchi's freight of probiotic bacteria, aka "good bacteria", that is thought to bring the most potent health benefits.
Keeping a favorable ratio of good bacteria to bad bacteria lowers the risk of obesity and disease. It may also fix leaky gut by correcting the gut microbiome. This article provides a good summary of kimchi's benefits (and potential risks for some people). There is even some evidence that kimchi's probiotic potency gives extra immunity against flu and coronaviruses.
Kimchi is a staple food in Korea but it's spent the past decade working its magic in menus around the world. Here are some of the easiest ways to make kimchi at home together with creative recipes for using it in the kitchen.
1. How To Make Kimchi (Mom's Best Way)
This recipe includes some unexpected ingredients and tricks that someone who has been making kimchi for her family all her life uses. Asian pear and salted shrimp are unusual but essential here.
So it's not the simplest recipe, but it will produce the best kimchi you've ever had. You have this guy's mom's word for it!
From Food52
2. Quick Green Onion Kimchi
Also known as Pa Kimchi, this recipe is quick and easy with fewer, simpler steps and ingredients.
From Chopsticks and Flour
3. Carrot Kimchi
Called Tanggun in Korea, this kimchi recipe combines grated carrot, garlic, leeks, radish ginger and fish sauce with the usual gochugaru powder.
From Make Sauerkraut
4. Pineapple Kimchi
Kimchi-flavored pineapple chunks that work well on their own as a fruity snack , served on the side or as a filling in wraps or sandwiches. Just don't put it on pizza, that's technically illegal in most countries now. And rightly so.
From Food Done Light
5. Zucchini Kimchi
An unusual variation but also a great way to use up spare zucchini. The minimum of ingredients are needed for this recipe, it's a really simple kimchi recipe.
From Food 52
6. Spicy Kimchi Pork Belly Fried Rice
Pork and kimchi is a classic combination because the fatty sweetness of pork works so well with the briny, hot and sour bite of kimchi. This is a whole meal, it's so incredibly filling and satisfying.
From Curious Nut
7. 10-Minute Korean Crispy Pork Belly Kimchi Bowls
Eight ingredients (OK, one of them is kimchi) and ten minutes of your time will produce a steaming hot bowl of spicy goodness.
From The Woks of Life
8. Kimchi Yakisoba
Japanese fried noodles with a Korean kimchi sauce
From La Fuji Mama
9. Korean Braised Pork and Kimchi Quesadilla
Yes, kimchi works with cheese, but that's never how it's traditionally served. Complete instructions include braising the pork and putting it all together.
From Cooking with Cocktail Rings
10. Kimchi Pickled Eggs
Regular pickled eggs don't appeal to everyone but the addition of kimchi gives them a salty spiciness that could change your mind.
From Fermenters Kitchen
11. Spicy Korean Kimchi Nachos
Tex-Mex meats Korean in a kimchi-based fusion style.
From Couple Eats Food
12. Easy, Clean Kimchi Shrimp
Super simple to make in one pan, this lean and clean dish makes a great starter.
From Eat, Train and Love
13. Bacon Kimchi Fried Rice
This recipe had me at "bacon", then it got me again with "fried rice" and "kimchi" had me heading to the kitchen and heating a pan…
From Seonkyoung Longest
14. Spicy Kimchi Sesame Noodles
Another easy recipe that requires few ingredients and is a great way to enjoy the healthy benefits of spicy kimchi.
From Simply Lakita
15. Cauliflower Kimchi Fried Rice
Low-carb Kimchi Fried Rice made with stir-fried Cauliflower Rice and spicy Cabbage Kimchi with seasonings.
From Chef de Home
16. Kimchi Grilled Cheese
A marvellously rich breakfast grilled cheese sandwich with a sesame seed crust is filled with kimchi, mango habanero cheddar cheese, red cabbage, cilantro, and scallions.
From Mandy Olive
17. Sriracha Kimchi
If Korean ingredients are hard to find, this homemade kimchi recipe is a good hack. Homemade Korean Kimchi made with Sriracha Sauce. Making authentic Kkmchi can be challenging as many ingredients are difficult to find. Venturists have come up with this ingenious solution.
From Venturists
18. Tuna Kimchi Stew
Also known as kimchi jjigae, or stew, this is an easy recipe that makes creative use of tuna.
From Seongkyoung Longest
19. Kimchi Beef Stew
A recipe from one of our favorite sites at Sortathing, Two Sleevers. We've lost count of the number of times their creations have been included in our round-ups.
This is primarily and instant pot recipe, but you could improvise if you don't have one. Very easy too, just put everything into the pot at the same time and set it cooking.
From Two Sleevers
20. Daikon Radish Kimchi Recipe
A kid-friendly fermented food delight that could keep colds and flu away with its gut-healthy probiotics.
From Fermenters Kitchen
21. Dongchimi Korean Vegan Water Kimchi
A winter kimchi recipe with very clear step-by-step photographic instructions.
From Seonkyoung Longest
22. Red Cabbage Kimchi
A useful recipe if you're unable to get your hands on the traditional napa cabbage used in kimchi.
From Fermentation Recipes
23. Brussel Sprouts Kimchi
A novel use for the humble sprout – why not spice them up with kimchi next time?
From Serious Eats
24. Instant Pot Kimchi Chicken
Instant Pot cooking is quick and easy but it need not be boring or repetitive, as this excellent recipe proves.
From Mommy's Home Cooking
25. The Best Kimchi Fried Noodles
Kimchi and rice is a perennial favorite but did you know it also makes for a superb noodle dish? This step-by-step illustrated recipe shows you how to make it.
From Seongkyoung Longest
26. Refrigerator Cucumber Kimchi Pickles
Cucumbers are fine, I guess. But they do benefit from a little care and attention to get the best out of them. This is a really simple way to pickle cucumbers the kimchi way.
From Jeanette's Healthy Living
27. Kimchi Pancakes
Kimchijeon are savory kimchi pancakes you can eat on their own as a snack or at breakfast, or serve them on the side with a main. No wheatflour here, so they're gluten-free too.
From Kitchn
28. Korean White Kimchi
Baek kimchi is quite different to regular kimchi, white kimchi is not as spicy. It has more of a clean and refreshing flavour but is more interesting than sauerkraut, which it resembles.
From Asian Recipes at Home
29. Baby Bok Choy Kimchi Salad
Geotjeori differs to most kimchi because it's made in small batches for immediate consumption and is lightly salted rather than fermented. This version is called cheonggyeonchae geotjeori.
From Korean Bapsang
30. Garlic Chive Kimchi
This recipes can also be served immediately as geotjeori or left to ferment for a few days.
From Asian Inspirations
Kimchi is not the only fermented food with health benefits. Turns out lots of foods can be lacto-fermented. Take a look at our article 44 Kinda Weird Fermented Foods to Make and Try