Chorizo is my go-to snack between meals when I'm keeping to a ketogenic diet. I usually munch a couple of slices with maybe a pecan nut or two for texture. But that really isn't doing this wonderful ingredient justice.
Wondering how to cook chorizo? Here are 14 spicy keto chorizo recipes that make the most of juicy, spicy treat without spiking your blood sugar with added carbs.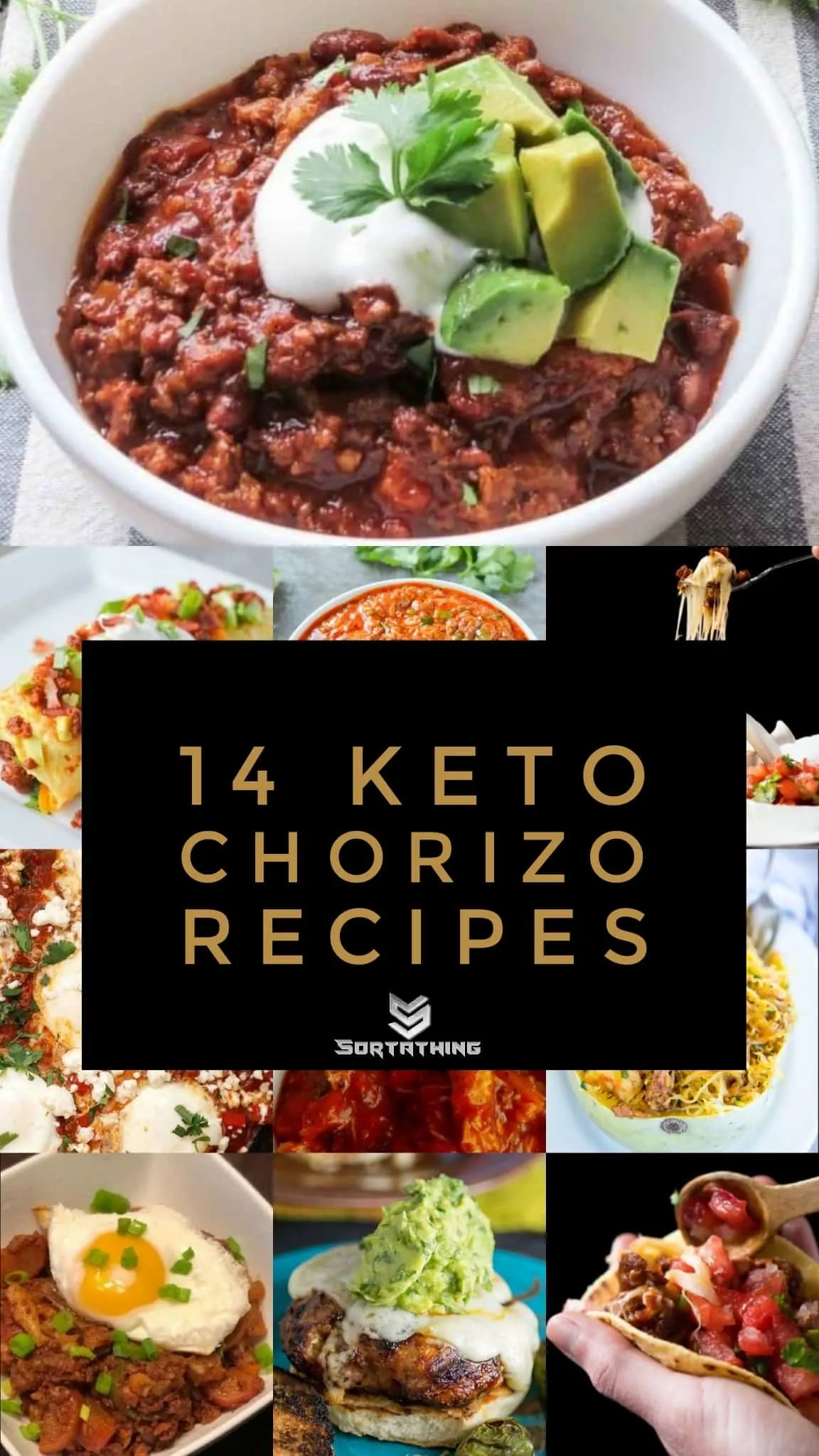 1. Easy & Convenient Homemade Chorizo
There will be no hog casings or meat grinders in this homemade chorizo. All you really need is ground pork, some dried chili peppers, and the simple belief that it's easier than it sounds. So consider this the express version of chorizo making, designed for people who don't have time to make their own chorizo.
From Mexican Please
2. Keto Shrimp & Chorizo Spaghetti Squash Bowl
Sweet, succulent shrimp tossed with spicy chorizo, and nestled in ribbons of tasty spaghetti squash – what's not to love about this easy keto dinner that you can have on the table in 30 minutes??
Spaghetti squash is a versatile low-carb pasta substitute, so check out our collection of the 20 recipes in How to Cook Spaghetti Squash.
From I Breathe I'm Hungry
3. Slow Cooker Chicken & Chorizo Stew
Chicken and chorizo in a rich tomato sauce with a subtle warmth, this Slow Cooker Chicken & Chorizo Stew is perfect for a cold winter night served with rice or tortillas and salad and a dollop of soured cream.
From Curly's Cooking
4. Turkey-Chorizo Burgers
A recipe for juicy burgers made from a mixture of ground turkey and spicy Mexican chorizo, perfect for the grill, served up with extra creamy guacamole. Just leave out the bun to stay the right side of keto 😉
From Chili Pepper Madness
5. Chorizo Y Papas
This recipe comes together quickly, is inexpensive to make and doesn't even take any special ingredients! It's very allergy friendly and you get a wonderful serving of vegetables! Oh, and in case you are wondering, jicama has about 4 grams of carbs per cup! So you can have a generous serving without worry! If I could enjoy a low carb tortilla with this dish I would totally add that too. If you or someone in your home can have eggs, this dish is even better with a couple of fried eggs laid on top. So delicious.
From Oil of Joy
6. Low Carb Chorizo Breakfast Skillet
We love this Mexican chorizo breakfast skillet that is both low carb and keto friendly. In fact, it's so good and filling that we actually eat it for dinner twice a month! You can add as many or as little vegetables to the dish to customize to your family's tastes, and even throw in some potatoes if you aren't looking for a low carb breakfast skillet option.
7. Keto Chorizo Shakshuka
Shakshuka is a traditional Middle Eastern or North African dish of eggs poached in a flavorful tomato sauce. It's a one pan family-style dish that is easy to prepare using everyday ingredients. Typically the sauce is vegetarian and may include beans or potatoes. This keto version of Chorizo Shakshuka is a twist on the traditional and incorporates some Mexican flavors. It's made with spicy chorizo sausage and tomatoes, simmered with chili powder and cumin, and topped with queso fresco and cilantro.
From Ruled Me
8. Keto Meatloaf Stuffed with Cheese
This Keto Meatloaf Stuffed with Cheese will knock your tastebuds out with its amazing flavor! Using budget friendly chorizo with the beef really packs a flavor punch!
From Low Carb with Jennifer
9. Keto/Low Carb Chorizo & Pepper Egg Muffin Cups
These little egg muffin cups are perfect for those busy mornings when you need to grab breakfast and go! Easy to assemble, they are full of flavor, with a little spicy kick. Change things up from the traditional scrambled eggs breakfast, and give these a try!
10. Keto Cheesy Chorizo Dip
New favourite dip! This Keto Cheesy Chorizo Dip is a hearty dish full of bold flavor, spice and everything nice! The best part? Less than 1 carb per serving!
From Hey Keto Mama
11. Keto Chorizo Omelette
Chorizo is completely the hero of this dish. It makes for a unique, spicy flavor that will get your morning started off right. Cheesy, Spicy, Meaty, Hearty, it is such a yummy breakfast with excellent macros.
From Hey Keto Mama
12. Keto Chorizo Hash
This meal is very versatile as it cooks well for breakfast topped with a fried egg, or dinner with toppings such as avocado, sour cream, pico, cheese, etc. This meal also works really well for meal prep as it does not lose quality after being frozen and reheated. I usually make this for meal prep and before freezing top with some shredded cheese. Give this one a shot as it might be your new go to recipe for meal prepping.
From Keto Midwest
13. Keto & Gluten Free Choriquesa Tacos
These gluten free and keto chorizo and cheesy tacos (i.e. Mexican choriqueso!) are an absolute delight and easy-peasy to whip up! Choriqueso is a spanish compound word of chorizo and queso, fully descriptive of the two ingredients in this stellar Mexican entree: chorizo and cheese.
From Gnom-Gnom
14. Chorizo Skillet Chilli
Stay on track with an Easy Chorizo Skillt Chili recipe that only takes minutes to put together. Because it's made with homemade chorizo it's made with wholesome ingredients. This quick weeknight meal is suitable for those following a low carb, gluten-free, dairy-free, Paleo, Keto or THM lifestyle.
From Low Carb Maven
Bonus Vegan Chorizo Recipe!
Vegan Chorizo Sausage and Squash Gumbo
An easy vegan chorizo recipe to finish of that was recommended to me by Jen Reviews. You could use pork chorizo and chicken rather than vegan substitutes of course if you don't happen to follow a vegan diet. This dish some serious plant-based nutrition as well as deep rich flavors.
A little more about the gumbo part. The mucilaginous fiber found in okra (or lady's fingers) has been shown to reduce uncomfortable digestive issues such as bloating, indigestion and constipation. Okra also offers a dense profile of vitamins and minerals that are essential for skin and maintaining normal blood pressure.
From: Jen Reviews