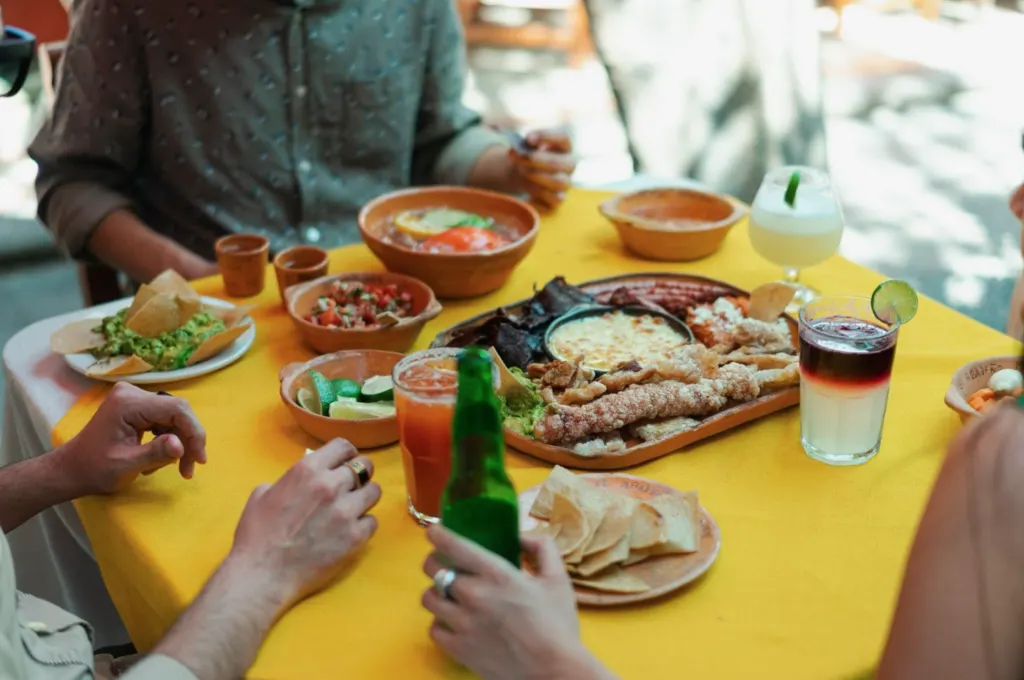 This time of the year can be great for bringing your whole family together. We understand the preciousness of this opportunity to come together, especially when someone invests the time and effort to plan an event that would make everyone feel cherished. However, family gatherings can vary as much as the members they bring together.
Some prefer large, outdoorsy, and spontaneous events, while others lean toward something more laid-back and planned. But nothing promises more fun than a Mexican-themed gathering in your Houston backyard. In this article, we've compiled a variety of ideas for an unforgettable Mexican family event that your family will truly appreciate and remember for a long time.
We'll showcase the Mexican food you can serve and numerous decor ideas, including colorful papel picado banners, which, when used appropriately, can help create the perfect ambiance. And, of course, let's not forget the games and entertainment, such as traditional music, to keep everyone engaged and turn your gathering into a memorable fiesta.
Food, First
Let's start with the most exciting part – the food! Houston's delicious Mexican cuisine is famous for its rich flavors, so offering a variety of dishes to please everyone is essential. A self-serve station can make a big difference because it lets guests create their own plates with their favorite party foods. Think tacos, cheesy enchiladas, and churros – these are sure to be crowd-pleasers and must-haves for a Mexican-themed family gathering.
Don't forget the classic tortilla chips, perfect for dipping in guacamole and various salsas. DIY fajitas are also a hit with many people. Another great idea is to set up a taco or tortilla buffet, complete with shredded salad, salsa, chicken, sour cream, and plenty of lime wedges for garnish. And for dessert, why not treat your guests to churros? These pastries are a delight, especially when they're dusted with cinnamon and sugar.
While you could try making these treats yourself, a more convenient (and, let's be honest, even tastier) option is to consider hiring a local catering company that specializes in Mexican cuisine. Luckily, there's no shortage of restaurants serving delicious Mexican food in Houston. One excellent option to consider is Blue Agave Cantina — a charming eatery that blends traditional Mexican flavors with contemporary twists. With its warm ambiance and mouthwatering dishes, it's the perfect choice to add an authentic Mexican touch to your event, creating a memorable dining experience for your guests.
Plan The Decor
When it comes to creating a Mexican-themed atmosphere, go all out with vibrant and colorful decor. You can't go wrong with papel picado banners. These intricate, hand-cut paper banners come in various hues and can be hung across your gathering space, transporting your loved ones to the heart of Mexico. Don't forget the cacti centerpieces, a true representation of Houston, adding an authentic touch to your decor.
Sort Out Bar Cart Essentials
Bar cart essentials are essential for family gatherings. You don't want people leaving early, do you? Mix up some tasty cocktails, like a classic Paloma, and a few well-crafted Margaritas.
You'll want a good bottle of tequila, or maybe more than one. Take a moment to explore different cocktail options to determine if you prefer a crisp blanco or añejo. Some also enjoy refreshing Micheladas. Every Mexican cocktail calls for a squeeze of lime juice, so have those limes at the ready. You could also use store-bought lime juice if you prefer. But for an authentic Mexican touch, go with Mexico's favorite cocktail: the Paloma.
Lastly, for a hassle-free self-serve option, consider hollowing out a watermelon to create a punchbowl filled with Watermelon and Tequila.
Ensure Your Guests Aren't Getting Bored!
Family gatherings can get really boring, really quickly, without proper entertainment — especially when there are kids around. Traditional Mexican games like piñata-bashing are always a hit. The piñata is a colorful papier-mâché shape adorned with bright tissue paper and filled with trinkets and treats. When it's game time, blindfolded guests are spun around and get three attempts to swing at the piñata.
Next, let's have some limbo fun! Imagine two guests holding a long pole, high enough for friends to easily pass or dance beneath as the Mariachi band plays festive music. With each round, the pole gets lower, and your guests will need to get creative – shuffling, squatting, or shimmying underneath without touching the ground. The best part? You'll have a collection of hilarious photos for your Insta page.
To capture all the fiesta vibes, set up a photo booth! It's a fun way to add some flair. Include silly sunglasses, sombreros, and feather boas for added entertainment.
Turn Up The Music
No Mexican-themed gathering is complete without mariachi bands or traditional Mexican music. You can hire a local mariachi group. If that's beyond your budget, create a playlist filled with Latino tunes, from legends like Cesária Évora to more contemporary acts like Rosalía. Provide a musical backdrop that will bring the whole gathering together. Maybe even consider a talent show where each family member can showcase their musical talents.
Conclusion
Planning a Mexican-themed family gathering in Houston offers the perfect recipe for creating lasting memories with loved ones. From vibrant decor and delicious cuisine to lively entertainment, embracing Mexican culture is a surefire way to host an unforgettable fiesta for your family. So, why wait? Start planning your Mexican fiesta today!