[mv_video key="wawv6gpyunqsqprg29gc" volume="50″ aspectRatio="true" title="Who rides electric bikes in 2019?" thumbnail="https://mediavine-res.cloudinary.com/video/upload/wawv6gpyunqsqprg29gc.jpg" doNotOptimizePlacement="false" doNotAutoplayNorOptimizePlacement="false"]
Ubco 2×2 TRANSFORM THE WAY YOU RIDE
Two wheels, two motors, no petrol, no noise. The Ubco 2×2 will redefine how you ride, work and play, both on- and off-road.
All terrain and all performance, you'll say goodbye to the limitations of your environment, and experience the ease of on- to off-road travel.
With its lightweight frame and powerful, near silent motors, the Ubco 2×2 gives you complete control for all your adventures. It is just as capable cruising through the city as it is zipping down your favourite bush track. Whether you're getting the cows in or commuting to work, the Ubco 2×2 is ready to take on whatever you throw at it.
The 48Ah Lithium-Ion Portage Battery System not only fuels the vehicle; it powers all your tools from your phone to your drill (at the same time).
Cart your gear from job to job with ease and adapt the 2×2 as you need it with clever accessory lugs located across the frame. The dual electric drive is smooth, ultra-quiet and low maintenance; it can go through trenches, up hills and over asphalt without a second thought. And all of this with an equivalent efficiency of 882mpg.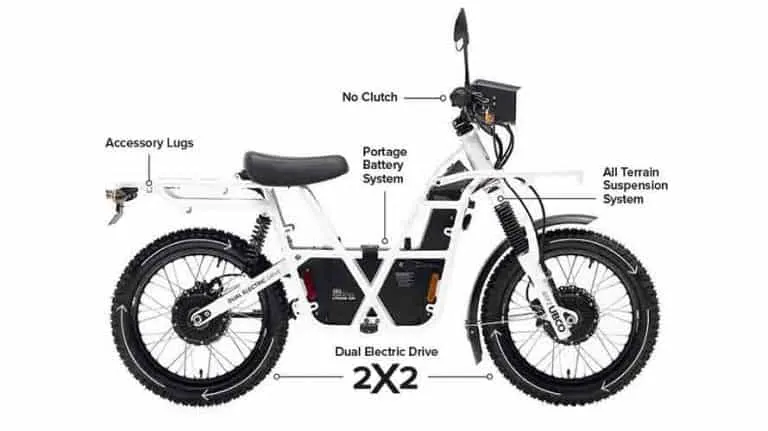 DUAL ELECTRIC DRIVE
With a motor in both wheels — no clutch, drivetrain, emissions, or noise — you'll say hello to improved traction, all-terrain performance and improved handling.
ALL TERRAIN SUSPENSION SYSTEM
Built with front wheel drive in mind to bring you a smoother, more compliant ride that can be adjusted to zip around the city, or tackle your favourite off-road track.
THE POWER TO GO
No more running out of juice for your phone or tools. Keep your battery life and your productivity at 100% by charging directly from the Portage Battery System.
ADAPTIVE DESIGN
Accessory lugs allow you to attach anything from a holster to a trailer to storage bags. The 2×2 loves to be kitted out!
A RANGE OF APPLICATIONS
UBCO first built the 2×2 to help out on the farm, but really, the possibilities are endless. This is just a sample of the places we imagine it fitting in; it's perfect for work or play.
Agriculture

Recreation

Professional

Emergency

Farmers
Viticulturists
Orchardists
Horticulturists
Pest Control
Horse Breeders
Trail Riders
Fishermen
Hunters
Mobile Repair
Event Patrol
Security / Park Rangers
Postmen / Delivery
Tourism
Photographers
Film Industry
Police / Firemen
Search and Rescue
Ambulance
Disaster Relief
Military
This is without a doubt the most interesting new electric vehicle we've seen in many years. It ticks all the boxes: enormous power and range, throttle operation, it's useful, robust, intelligently-designed and has the all-important LOADS OF FUN factor.
They're going down a storm in New Zealand, check out Ubco's own website for more details and case studies.
We had a couple of Ubco 2×2 electric motorcycles shipped to us at the end of 2016. Our initial test rides were a revelation. Having two motors means no terrain is off limits. Decide where to go and the Ubco will take you there. There were a couple of teething problems with the battery connector coming loose on bumpy surfaces, but that was easy to remedy. The Ubco 2×2 felt rock solid out in the wilds of the wintry South Downs and I had the ride of my life for those few months. Since then Ubco have amped up the power, battery capacity and capability.
Those first bikes were a strictly off-road version without speedo, brake lights, mirrors or indicators. Since then Ubco have launched their Dual Use version which is perfectly road legal. Some work needs to be done on homologation and final preparation for the UK market and we've put everything on hold until Brexit is settled. But some day in the not-too-distant future we hope to have Ubco 2×2 bikes in stock, ready to go and transform the way you ride, wherever you're going.