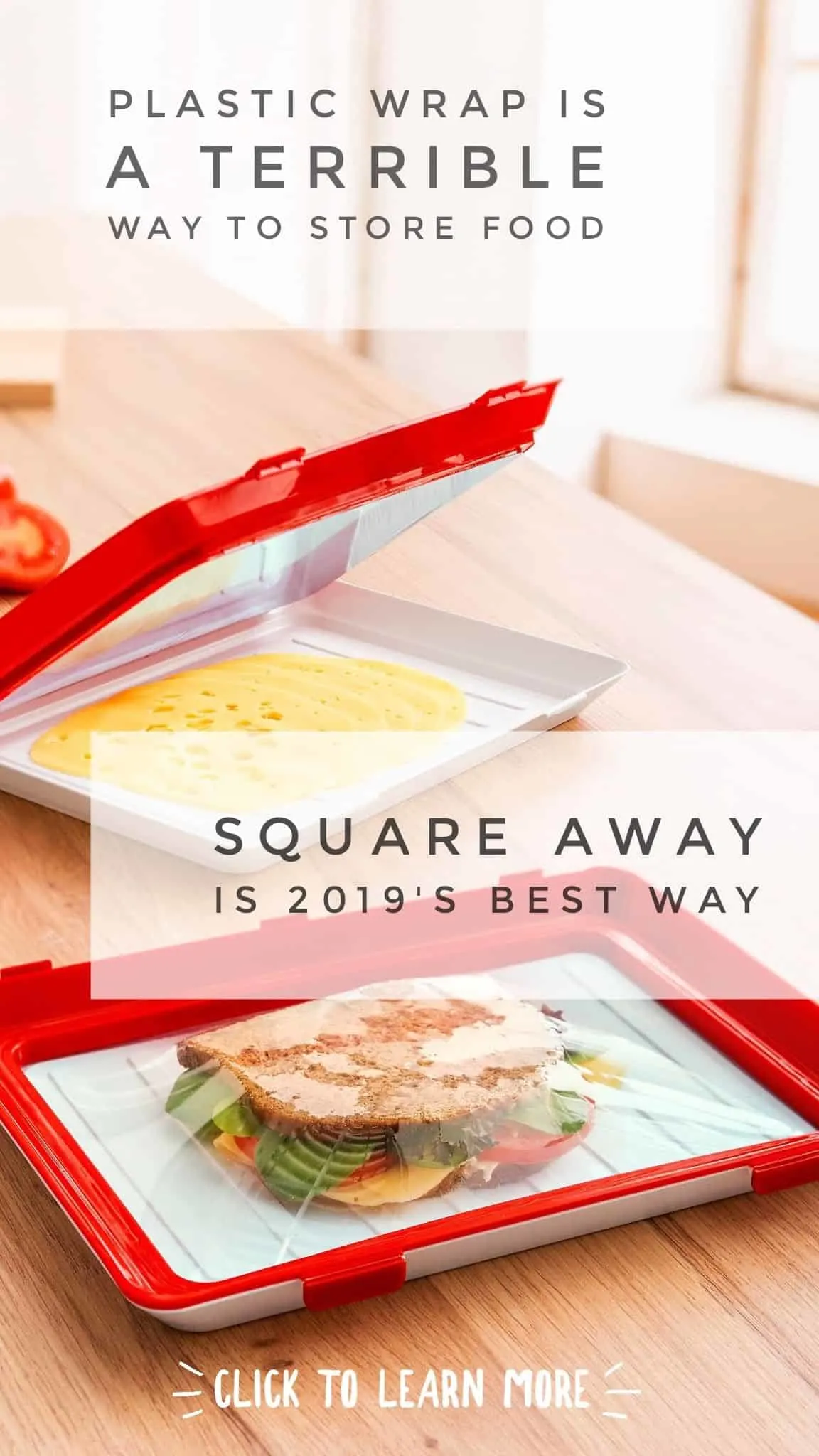 Square Away is the King of food storage containers. It keeps all kinds of food fresh and leaves my fridge clutter-free. It's so much better than the old way…
I cook a lot of things in my air fryer and there's often a portion or two left over. I used to put the surplus in a couple of bowls and try to seal it with plastic wrap. But they never sealed properly and took up all the space in my fridge.
A lot of food went to waste or was forgotten. Plus all that plastic wrap ends up in the trash, which can't be good.
I looked into it and the average American family gets through around 24 rolls (or around $90 worth) of the stuff
[mv_video key="op1iopu2gp6ygvdrvckd" volume="70″ aspectRatio="true" title="Square Away Solves Your Food Storage Problems" thumbnail="https://mediavine-res.cloudinary.com/v1567415032/xalypqvcw6hvpqywnmob.jpg" doNotOptimizePlacement="undefined" doNotAutoplayNorOptimizePlacement="false" sticky="false"]each year. And it doesn't even keep your food properly fresh unless you take time and care to make your wrapping airtight. Tough to reuse it too. Such a waste!
Introducing Square Away Airtight Food Storage Containers
Over in Europe, they've started doing it differently with Square Aways. I first saw these in a deli in Switzerland. This is food wrapping taken into the 21st century: clutter-free with less waste and longer freshness. It's why they were nominated for a major 2019 European Innovation award.
And unlike hastily-wrapped food sweating inside plastic, you can take Square Aways anywhere and look like a pro!
I've already used mine for picnics (they hold sandwiches together beautifully) and beach barbecues (they keep sand and critters away from your burgers and sausages). Al fresco eating with zero mess or inconvenience.
Then you simply take everything home and wash it, ready to use again. Try doing that with plastic wrap or foil!
The secret to all this is the sturdy tray and elasticated transparent film lid. This fits snugly around your food – whether it's meaty leftovers, sliced fruit and vegetables or a packed lunch – keeping air out and flavor in.
The lid is held in place by easy-to-use clips. You can stack two or more loaded Square Aways easily in your fridge or freezer. And when you come back to your food hours or days later, it's still fresh and ready to go. I'm definitely wasting less food now – especially things like sliced ham, smoked salmon and avocado halves – because everything stays fresher longer.
We've added them to our store at $13.49 each (including shipping) but you can also buy a bundle of four for the price of three this month.
With the money you'll save on plastic wrap and spoiled food, they'll soon pay for themselves within a week or two. Having a clutter-free fridge is a nice bonus too!
Square Away is available to buy now in our Sortathing Shop.
Simple, but very smart. Why you need Square Away in your kitchen
Goodbye, Plastic Wrap
The average American family throws away 24 rolls of plastic wrap each year. That's around $90 on plastic waster! Square Away saves you a small fortune in foil & wrap.
Keeps food wonderfully fresh
Square Away's stretchy, see-through lid wraps around your food. It keeps air out and moisture in. It's satisfying to know your food is stored properly in the fridge
Fast & Frustration-Free
Ever struggled to wrap food in plastic wrap? Frankly, it's a pain. Square Away's lid slips and then clips into place, sealing your food away from the outside world until you need it
Safe and hygenic
Square Away is made using non-toxic, BPA-free polypropylene and food-grade silicone.
Neat & Tidy
Square Away is a clever tray that stacks easily. If there's ever a competition for the World's tidiest fridge, you'll be a contender!
Durable & Washable
Square Away is dishwasher-safe and made to last, with a tough transparent lid. You can wash and use them again and again.
Versatile Square Away Food Storage Containers
The best way to store fresh food in your fridge
Great for lunchboxes – holds sandwiches together!
Perfectly presentable at picnics and parties
Keeps pesky critters away from your barbecue bits
Where to buy Square Aways
Square Aways are exclusive to Sortathing's shop and they're on sale at the special introductory rate of $13.49 this month.
Don't Miss Our 4-For-3 Checkout Bundle Offer
Click our Checkout Offer box to save 25% and buy four Square Away for only $40.47, not the usual $53.96. That's right, buy three and get a fourth for nothing. Free US shipping too!
Buy Square Aways, the best food storage containers in the Sortathing Shop now