Sous vide steak has to be tried to be believed. Sous vide is the French term for "under vacuum", the method that seals food in a plastic bag before immersing it in warm water. This means far longer cooking times because sous vide works at a temperature that is much lower than normal, usually around 50°C (131 °F) to 60 °C (140°F) for meat.
Sous vide ensures even cooking without overcooking, while retaining all the juices and flavor. It transforms cheaper cuts into the tenderest steaks. The best cuts are taken out of this world.
Sous vide brings health benefits too. Vitamins, minerals and other nutrients are better retained with sous vide than with traditional cooking methods. There's no better way of making the most of your meat's texture and flavor.

Article image from Shared Appetite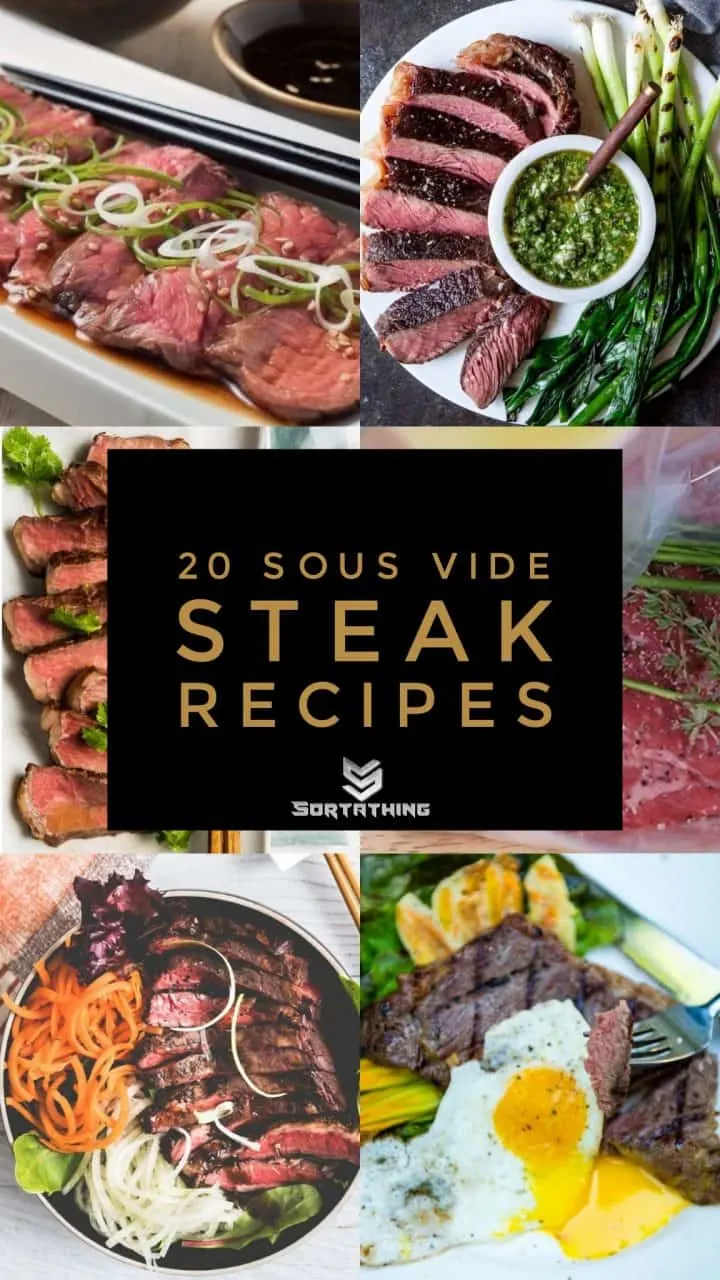 1. Wagyu Beef Sous Vide with Japanese Ponzu Sauce
Sous Vide Kobe Wagyu Beef, served Cold with Ponzu Sauce, Silgochu (Korean Chili Thread) and Bean Sprout. This is an upscale dining appetizer experience!
A5 Kobe wagyu beef cube roll from Hyogo Prefecture in Japan is slowly cooked with kelp or seaweed and sliced mushrooms until medium well done, then chilled overnight until the fat hardens. Cut into bite-sized portions and serve with tangy, citrusy and savory chilled ponzu soy sauce.
From: Dentist Chef
2. Sous Vide Wagyu Flank Steak
Full-flavored Wagyu flank is made fork tender when cooked in a water bath with a few aromatics. Finish with a quick sear, baste with black truffle butter, and cut against the grain for a truly great steak.
From: D'Artagnan
3. How to Sous Vide then Sear a Ribeye Steak
Rumor has it that if you sous vide then sear a ribeye steak, you will end up with the juiciest, most tender steak that you've ever tasted. This how-to guide explores this method so that you can give it shot and judge for yourself.
Please note that this is one of the most popular AND controversial new cooking methods for good reason, but you'll have to cook it yourself in order to discover the truth…
From: I Love Grilling Meat
4. Sous Vide Burgers
You need never eat an overcooked burger again! Top it off with your favorite burger toppings and enjoy!
From: Sur la Table
5. Spicy Teriyaki Sous Vide Skirt Steak Salad Bowls
Sous vide works with a variety of sauces including delicious, umami-packed teriyaki. The biggest problem you'll have is resisting the urge to eat these juicy steak slices before they even reach the plate!
From: Nomageddon
6. Instant Pot Sous Vide Steak Fajitas
I recently learned that you can make Steak Fajitas in the Instant Pot Ultra using the Sous Vide function. While there are a few extra steps when making sous vide recipes, it's so worth it.
The meat comes out super tender and flavorful and you don't have the huge mess of food popping all over the stove to contend with. You'll find that most meats come out with a wonderful texture when you cook them using the sous vide method.
From: Happy Mothering
7. Sous Vide Steak Chimichurri
When you cook steak the traditional way, you're pretty much guessing. You are hoping that when you take it out of the pan or off the grill it's cooked perfectly through, but unless you're using a thermometer it's a complete toss-up until you cut into that beautiful piece of meat.
Overcooking your sous vide steak is pretty much impossible!
From: Shared Appetite
8. Sous Vide Steak Sandwiches
Loaded with tender steak and melty cheeses, these Sous Vide Steak Sandwiches are a favorite in our house! For these Sous Vide Steak Sandwiches, I started with long sub rolls and then layered on the sliced London Broil along with a mix of cheeses.
From: Spiced Blog
9. Sous Vide Filet Mignon
We've been tinkering for a few years, ever since we got our sous-vide oven, and we really love this sous-vide steak recipe. In the past we've made flank steak, which cooks wonderfully in a sous-vide, but sous-vide filet mignon is worth it!
From: I am the Maven
10. Sous Vide French Dip Sandwiches
It seems like a magic trick: take a cheap, tough cut of beef, like a top round roast or a chuck roast, cook it for twenty-four hours without peeking, and Abracadabra! Now it's suddenly filet mignon.
From: Simply Recipes
11. Sous Vide Entrecote with Potato Gratin
Steak with potato gratin. A dream duo. This recipe is simple but incredibly effective.
From: Spring Lane
12. Sous Vide Steak and Eggs
Perfect tender medium-rare. Sous-vide Steak, cooked with herb butter to perfection with pan-fried fried eggs atop and a simple sprinkle of salt and pepper is the classic hearty breakfast. And it's not even hard to master.
From: Girl Carnivore
13. 2-Hour Sous Vide Ribeye
After tasting one steak done this way, I will never go back to cooking it any other way. I also never order steak in restaurants anymore, because this method tastes better than any steakhouse I have ever had. Also, chicken is juicy, moist, absolutely succulent, no more dry meat!
From: Culinary Envy
14. Sous Vide Bulgogi Bowls
Korean beef bulgogi bowls are such and easy weeknight meal. Cooking the steak sous vide makes it extra tender and flavorful, too! Once topped with spicy bulgogi sauce your dinner is ready.
From: Simply Recipes
15. Rosemary Garlic Sous Vide Steak
With only 5 minutes of prep time, this sous vide steak recipe is quick and easy to make for dinner. Take sirloin steaks from the refrigerator or freezer and place in ziploc bags or vacuum seal with rosemary and garlic for a delicious meal!
From: Whitney Bond
16. Sous Vide Steak Sashimi with Ponzu Dressing
Compared to traditional cooking methods, not only does this scientific approach yield very consistent and perfect results every time, it also generates much more evenly cooked meat.
From: Omnivores Cookbook
17. Sous Vide Steak au Poivre
Sous Vide Steak Au Poivre is a sous-vide steak recipe worthy of an easy week night meal or a special occasion. New York strip is cooked to the perfect temperature and smothered in a creamy Au Poivre Peppercorn Sauce.
From: Savory Experiments
18. Sous Vide Brisket
What makes this sous vide brisket recipe so delicious is how the long cooking time makes everything incredibly tender while the low temperature keeps everything medium rare. This is the type of recipe where sous vide stands out and gives you a dish you couldn't get with other cooking methods.
From: Umami
19. Sous Vide Boneless Ribeye Roast
An entire roast ribeye? Yes! I cooked this 4½ inch roast straight from the freezer (which works great with sous vide, by the way) so I went with 8 hours, plus a couple of minutes of searing. Bon appetit!
From: Dad Cooks Dinner
20. Tataki Style Sous Vide Steak
Tataki simply means flash seared and thinly sliced. It's delicious – the meat is cooked so fast that most of its juices are retained which set of the earthy sear wonderfully. This is a special way to add intensity to the sous vide technique. A visually-stunning, aromatically-enticing sharing plate.
From: Glebe Kitchen
On the hunt for more meat recipes? Check out our air fryer meat recipes article or learn all about the original superfood, pemmican