Fast food is hard to resist. It's made to be as appealing as possible, sold using the most sophisticated marketing techniques, and it's everywhere.
This makes fast food a minefield for anyone who wants to reduce or eliminate their consumption of carbohydrates, seed oils and intensively-farmed meat and vegetables.
But you don't have to resist these keto fast food copycat recipes.
It is possible to have your low-carb cake and to eat it. Here are 20 keto-friendly, low-carb fast food copycat recipes inspired by favorites from McDonald's, KFC, Chick-Fil-A, Chipotle, In-N-Out, Wendys, Starbucks and more.
Take your fast food copycat recipes to the highest level of quality (and taste) with USDA-approved organic beef and chicken. Amazon have some great deals on fresh meat delivered direct to your kitchen.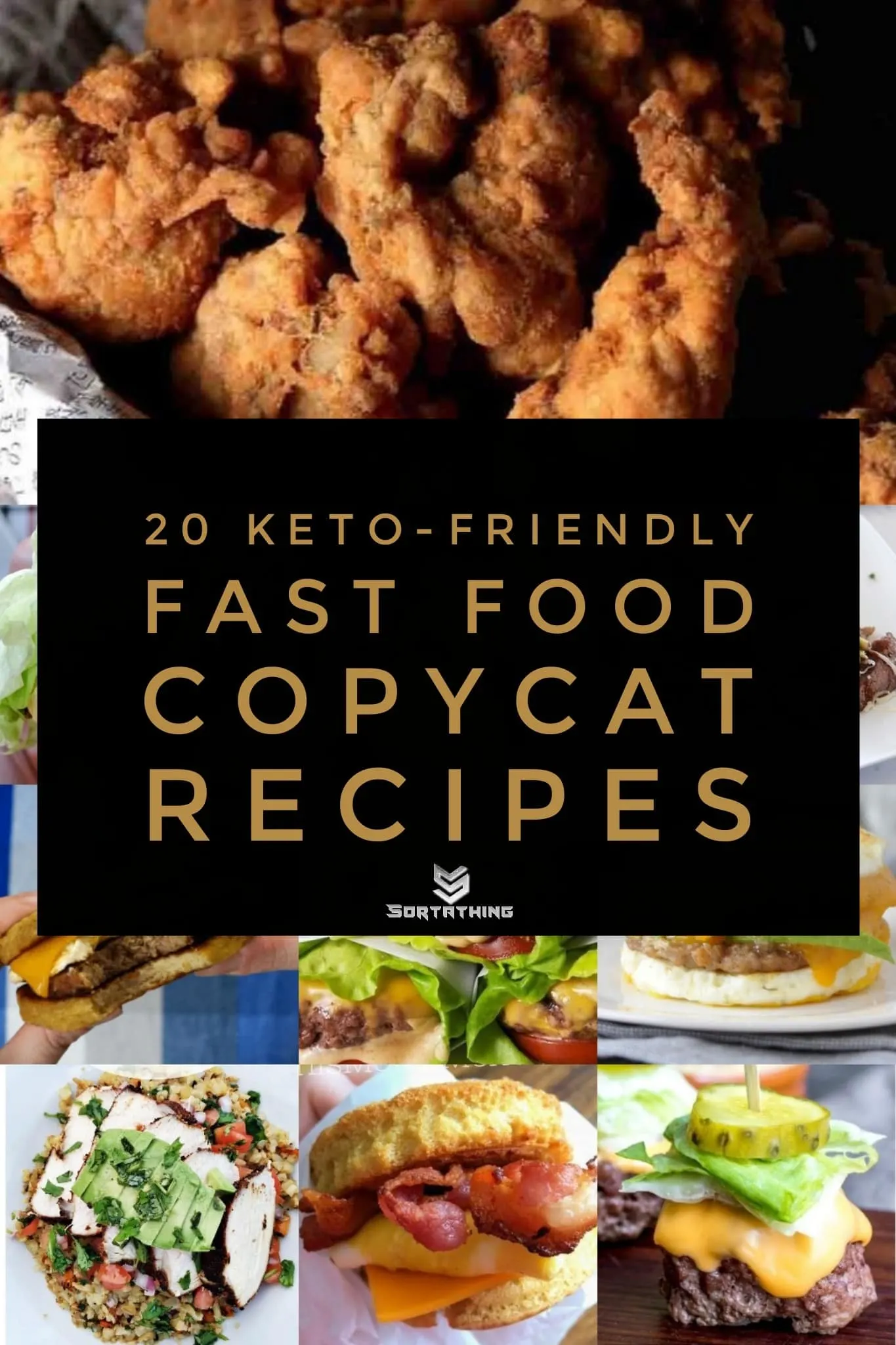 1. Low Carb Big Macs
Starting with the big one, this recipe passes on the bun and wraps the patties in lettuce instead. The secret sauce recipe is worth checking out. After all, that's what makes a Big Mac a Big Mac.
From: Delish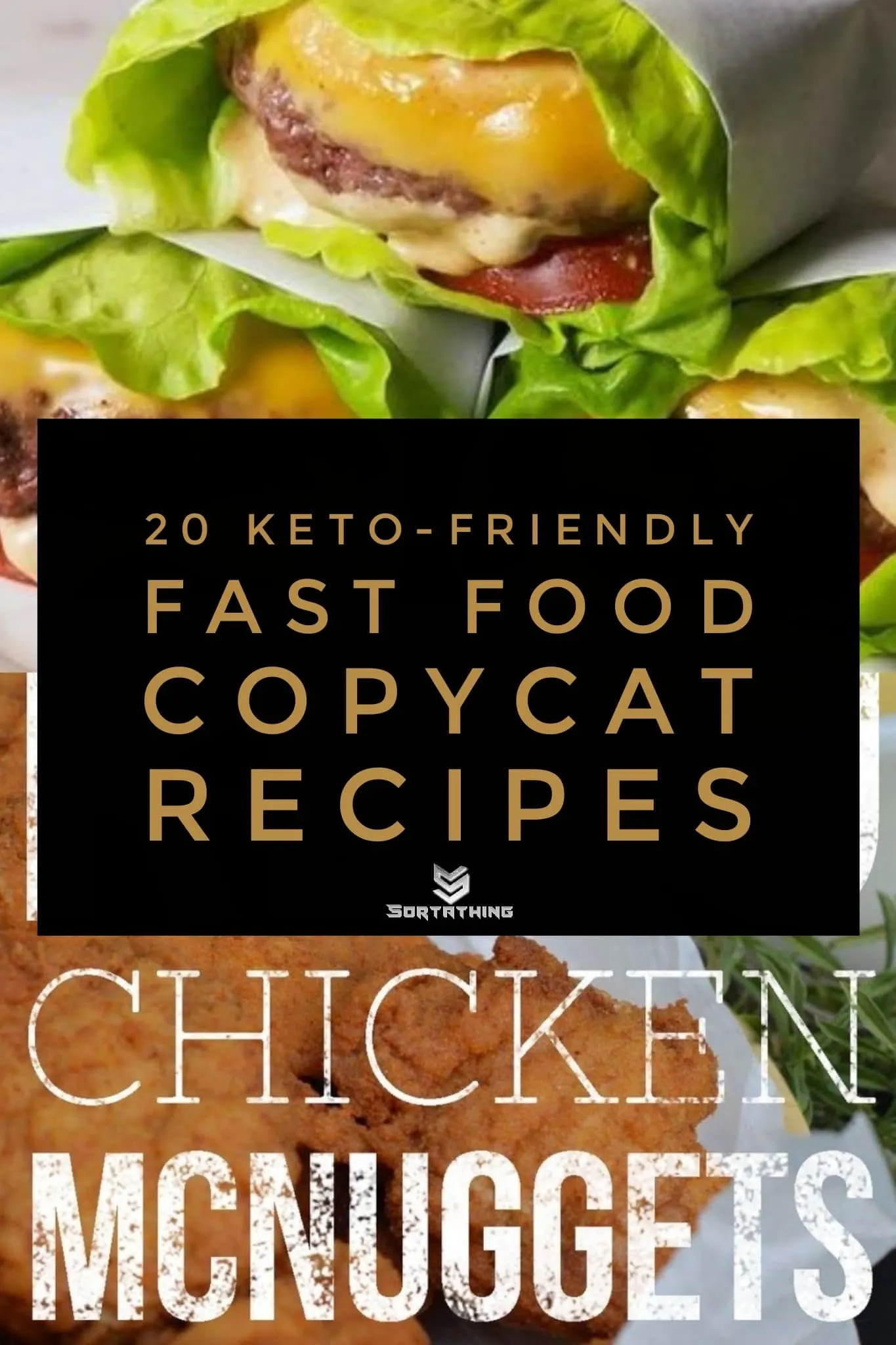 2. Keto Chicken McNuggets
This recipe for Zero Carb McNuggets uses whey protein powder for the crispy coating. Good advice on using a mix of white and dark meat too – white meat on its own can be too dry. Go get 'em.
From: The Primitive Palate
3. Big Mac Salad
Behold – a bunless Big Mac that goes large on the salad. A very quick way to scratch the fast food itch.
From: Low Carb Yum
4. Keto Breakfast McGriddle
"What could possibly be better than an entire American breakfast all wrapped up in one sandwich, with only 2 net carbs??"
Two of them!
From: This Mom's Menu
5. Low Carb Big Mac Bites
Mini bunless burgers that pack all the taste of a Big Mac into a manageable morsel. The sauce recipe in this one is really, really good.
From: Home Made Interest
6. Keto Sausage McGriddle
This one is a real treat: maple-infused pancake bun, savory sausage, perfectly-cooked egg and melted cheese. The perfect flavor combination but, happily, it won't leave you wracked with fast food guilt.
From: Keto Family
7. Keto Sausage & Egg McMuffin Breakfast Sandwich
When I was much younger, some of my friends saw the Sausage & Egg McMuffin as a kind of life raft you could clamber on to after a hard night of partying. It had magical powers, apparently. This version of it does give you the power of keto and all the good that brings, so my friends were at least half right, back in the nineties.
From: Peace, Love & Low Carb
8. Keto Fried Chicken
Moving on… KFC. That's right, Keto Fried Chicken. A lot of crispy coatings for keto dieters use pork rinds or almond meal, but this one, like our McNuggets earlier, uses whey protein isolate and eggs. This recipe claims to be the best fried chicken ever – what do you think?
From: My PCOS Kitchen
9. Keto KFC Copycat Coleslaw
Fast food brands always have a signature side and KFC is known for its coleslaw and they don't hold back on the sugar in their recipe. This keto-friendly version has a secret ingredient that makes it work. No spoiler, but it's celery seeds.
From: Keto on a Dime
10. Keto Chick-Fil-A Keto Fried Chicken Tenders
Chick-Fil-A has its fans and there are also many people who are no fan at all. This recipe is inspired by the chain so it means you can enjoy some of the taste without setting foot in the place.
From: Megan Seelinger
11. Keto Chick-Fil-A Sauce
You'll be wanting something to dip those juicy-yet-crunchy keto copycat tenders into that's equally keto-approved. This recipe also takes care to leave out processed seed oils like canola and soy, using an avocado mayo base instead.
From: Fit Mom Journey
12. Sugar-Free Copycat Chick-Fil-A Frozen Lemonade
Refreshing and ice-cold lemonade to cleanse your palate without the enormous amount of carbs you'd find in the real thing.
From: The Sugar-Free Diva
13. Wendy's Copycat Keto Chilli
It's the beans in the original that would kick you out of keto, so this recipe leave them out while keeping the secret ingredient that makes Wendy's Chilli so distinctive.
From: Hip 2 Keto
14. Low-Carb Gluten-Free Chipotle Steak Bowl
Chipotle has earned a reputation as a go-to restaurant for low-carb dieters – it's easy to steer clear of the beans and rice and head directly to the meat, cheese and avocado. This keto-approved fast food recipe is super simple to prepare but intensely flavorful. Hard not to eat it every day, switching out the steak for chicken, pork or sausages.
From: Tasteaholics
15. Chipotle Copycat Beef Barbacoa
The only slow-cooker recipe, so only technically fast food if it's ready to go. For something with such depth of flavour it's amazing to think it only has 10 ingredients and five minutes to prepare.
From: Wholesome Yum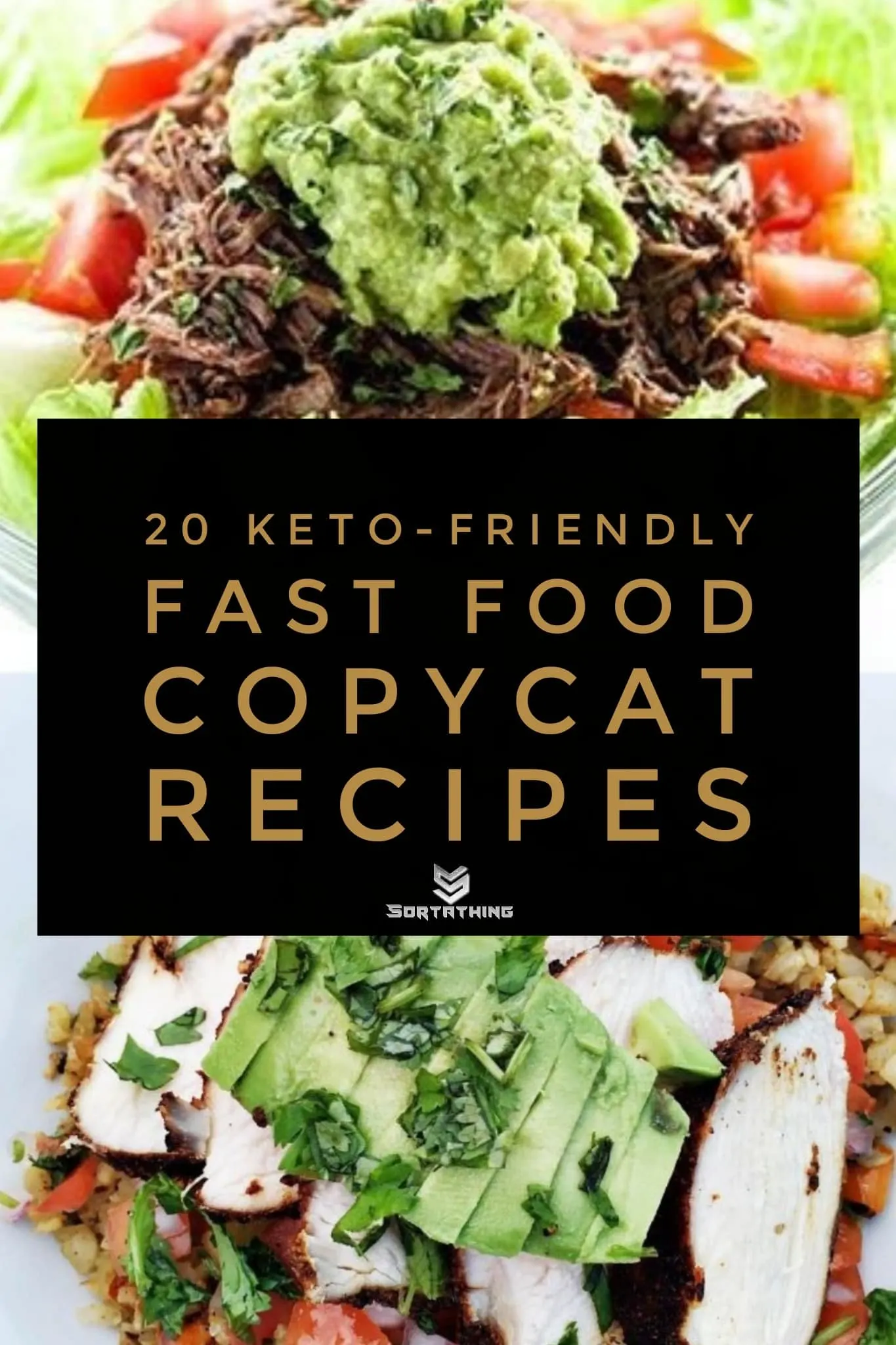 16. Keto Chipotle Chicken Burrito Bowl Copycat Recipe
Easy to make and even easier to demolish with friends and family. This is a good recipe to prepare with keto-friendly cauliflower rice.
From: Momma Fit Lindsey
17. Keto Copycat In-N-Out Burger
What grabs me about this burger is the diced pickles. Gotta confess, I've never bean to an In-N-Out but having found this recipe if I ever find one, I'm going in. Lettuce buns are acceptable, but a nice fathead dough bun would be better.
From: Bon Appeteach
18. Keto Starbucks Copycat Iced Vanilla Latte
Instructions for making a sugar-free concentrate that can be used to conjure up an icy caffeine-packed treat whenever you need it.
From: Joy-Filled Eats
19. Starbucks Copycat Sous Vide Egg Bites
Hard to resist these eggy breakfast treats, but with this recipe you can make them at home. The creator of this recipe works in Starbucks now and the so she's an expert.
From: Fit Mom Journey
20. Copycat P.F. Chang's Lettuce Wraps Copycat
Whole30 and Paleo friendly, it leaves out the sugar and gluten that finds its way into the original. These are really easy to make with good use of coconut aminos and a zing of chilli. Super satisfying and almost addictive.
From: Mrs Happy Homemaker